Foreign exchange traders seek to profit from the volatility in currency valuations by buying one currency and selling another at the same time. While institutional traders have been dabbling in this market for decades, primarily to create commercial hedges for clients, retail trading has become enormously popular among speculators over the last few years. These traders use 50:1 leverage to profit from volatility in a market that's open 24-hours per day 6-days per week.
FXCM Inc. (NYSE: FXCM) is a leading provider of foreign exchange trading and related services to both retail and institutional customers around the world. As of Q2 2013, the company's revenue mix was approximately 77% retail and 23% institutional. Customer equity amounted to approximately $1.17 billion with 182,225 active accounts and 516,960 daily trades on average that generated $140 million in net revenues and $17.3 million in net income last quarter.
In this article, I'll take a look at why FXCM is involved in a highly profitable business, but explore some concerns about the long-term stability of that business.
Dealing with a Slowdown in Forex Trading
Retail interest in online foreign exchange trading may have peaked around 2007, before the global financial crisis hit and disposable incomes evaporated, according to Google Trends data in Figure 1 below. But, a look at search terms like what is forex - an indicator of interest - has been growing sharply in international markets like India. These metrics suggest that international market opportunities may be greater than domestic ones at the moment.


Figure 1 - Online Forex Trading Search Trends - Source: Google Trends
The JPMorgan Global FX Volatility Index moved up 10% sequentially, but remained down 7% year over year in Q2 2013. Overall, volatility remains well below their 5-year averages, which has had an adverse impact on retail forex trading volumes. At the same time, the industry has become a target for increased regulation, such as the Dodd Frank reforms in the U.S. These dynamics have led to a consolidation in the retail and institutional forex business.
Losing Game for Many Retail Traders
There's little doubt that foreign exchange trading is a losing game for many retail clients, after the CFTC required the disclosure of such data by forex brokerages. During Q2 2013, FXCM reported that just 28% of its U.S. customers reported profitable trades, while 72% reported unprofitable trades, as seen in Figure 2 below. Notably, the analysis includes only U.S. accounts, which means that only 22,196 accounts were included in the calculation.


Figure 2 - FXCM Profitability Analysis - Source: FXCM
It's also important to note that the CFTC requires breakeven trades to be classified as unprofitable trades, which means that less than 72% actually lost money. But with 95.4% of its accounts actively trading, relatively few accounts would have been unprofitable due to inactivity, and more than 50% of its clients were likely actively losing money on trades. These dynamics contribute to a relatively high customer churn rate.
FXCM's website also tends to skew towards older, low income, highly educated, foreign audiences, as seen in Figure 3. It's important to note that these are indices, which indicates a greater representation on FXCM.com than the general web, rather than a direct measurement of quantity. But, the differences between FXCM and, say, TD Ameritrade Holding Corp.'s (NYSE: AMTD) demonstrate most forex traders are likely not wealthy long-term investors.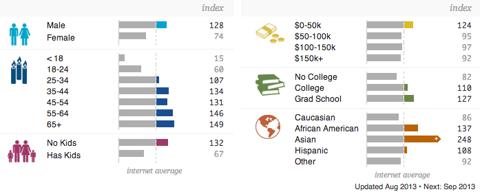 Figure 3 - Quantcast Estimates for FXCM Traffic - Source: Quantcast
These dynamics have led to a high churn rate within the retail forex industry, which keeps marketing costs high and begs the question of just how long retail traders will remain interested in a product that generates losses for so many of its participants.
Taking a Step Back into Reality
The aforementioned data paints a bleak picture for the retail forex industry, but it turns out that institutional and high-end forex traders make up for the difference. On a March 5, 2013 conference call, FXCM CEO Drew Niv explained that the company's core revenues are actually driven from a small group of clients that it's working to expand with institutional acquisitions, international expansion, and a focus on growing its white-label solutions.
On the conference call, Mr. Niv explained:
In terms of success rates, the success rates, the success rates globally, if you take the whole things about the clients about 30% plus, make money sort of 5% or 7% globally a little less than that, that continues on an ongoing basis.

The important thing though is the following; the client group that represents the larger clients, the clients above $10,000, the clients that contribute over - almost 70% of our revenues. That success rates are more like 50% plus. And so, we are - if you look at our overall churn, it includes lots of very small clients that are meaningless to revenue. So do they churn those clients, do they churn faster? Yes.

Do they financially matter? Not so much, okay. If you look at the clients that financially matter, they churn a lot less. This is still a leverage business. This is still a high frequency trading business. So if you look at what's the average customer trade 700 plus times a year, it's essentially 10 years of trading at a normal online discount broker.
Over the next few years, the company anticipates about 50% of its business coming from institutional clients, which should help avoid many of the aforementioned concerns and improve its overall financial stability and performance. Meanwhile, the company continues to gain market share around the world in the retail forex business to help offset weakness in certain markets and constantly reach new customers over time.
The Long & The Short of It
FXCM bulls believe that the company will be able to beat its FY2014 estimates, with rising interest rates and reductions in Federal Reserve asset purchasing leading to an increase in forex volatility. Long-term, the reduction in the firm's number of competitors and expansion into new market niches could help dramatically improve profits. Citigroup's William Katz is one of these bulls that maintains a $22.00 price target, but believes the stock could reach at least $28.00.
On the flip side, bears insist that FXCM's stock has already doubled since last November and could be a little top-heavy at its current valuation. Commentators like those at Barron's suggest that reductions in forex volatility could adversely impact financial results, while large insider holdings could lead to selling and downward pressure after the significant run-up. But in the end, the firm appears better positioned than it may seem on the surface.
Disclosure: I have no positions in any stocks mentioned, and no plans to initiate any positions within the next 72 hours. I wrote this article myself, and it expresses my own opinions. I am not receiving compensation for it (other than from Seeking Alpha). I have no business relationship with any company whose stock is mentioned in this article.