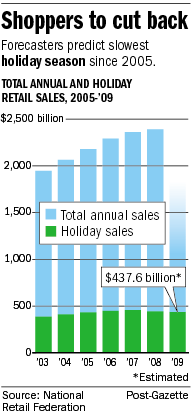 The Pittsburgh Post Gazette this week reported on the latest figures from the National Retail Federation that concluded spending in the months of November and December (excluding cars, gas and restaurants) should hit $437.6 billion. That compares to $441.97 billion in holiday 2008 spending, and $457.75 billion in 2007. If correct, this year will mark the slowest holiday season since 2005, when sales totaled $433.66 billion, and it would be the first consecutive decline in 40 years.

From the Pittsburgh Post Gazette:
Other forecasters are offering slightly different projections but they generally agree on certain issues: Consumers will be drawn to discount retailers, will buy practical gifts and will stick to the budgets and coupon-clipping ways that have become ingrained over the past year. Many retailers are braced for it.

"The expectation of another challenging holiday season does not come as news to retailers, who have been experiencing a pullback in consumer spending for over a year," said Tracy Mullen, president and CEO of the retail federation in a prepared statement. Despite some signs the official recession could be over, the trade group noted continued uncertainty over housing values, jobs and even the stock market have done little to convince consumers that a recovery is solidly in place.

Still, "I think we were a little bit surprised that those numbers didn't come in worse," said James Russo, vice president, global consumer insights at the New York-based Nielsen Co. That organization last week predicted overall holiday sales would be almost flat this year.

Although it runs its calculations a bit differently than the retail federation, the findings don't conflict. The research company found 85% of households planning to spend the same or less this year than last, with a 7% increase in the number planning to cut back. Nielsen found consumers expect to spend more in one category -- gift cards. Mr. Russo said a growing number of shoppers plan to give gift cards to grocery stores as gifts. Talk about practical.

Meanwhile, Wilkes University business professor Anthony L. Liuzzo is sticking to his forecast, made in August, that overall holiday sales will rise 2%. "It seems that things are going the way we thought they would," said Dr. Liuzzo. "It's not terrific but it's better than last year." He agreed with the other observers that retail inventories are tight and he recommended consumers figure out what they want and start shopping long before Thanksgiving. "I think retailers generally are kind of underestimating as a rule," he said, predicting some popular colors of clothing or certain toys could be out of stock early.

But there may be deep discounts on some items for those who wait, according to the National Retail Federation. The group said retail battles for sales in areas such as apparel and electronics could create deflation because of aggressive sales.
Christmas sales have been feeling the impact from a changing demographic landscape even before last year's 3.4% decline. The writing has been on the wall since 2005, as Baby Boomers and their buying habits started to leave the "Christmas Mall" to be replaced by the more value driven Generations X, and in particular, Y.
We believe that retail sales in the key November and December period, on balance, will surprise to the upside by about 1% to 2%. However, there will be winners and losers, with demographically favored retailers offering "value" to their cohorts being best positioned to reap good sales numbers.
Retailers targeting teenagers and children (especially those offering gift cards and discounts through coupons), those pushing Boomer health products (to make them look and feel younger) and those utilizing E-commerce should have a bumper year. Potential winners in the first category would include Ross Stores Inc. (NASDAQ:ROST), Aerospatale (NYSE:ARO), Pacific Sunwear of California (NASDAQ:PSUN), Quicksilver (NYSE:ZQK), GameStop (NYSE:GME) and Children's Place Retail Stores (NASDAQ:PLCE). In the Boomer health category we favor Ulta Salon, Cosmetics & Fragrance Inc. (NASDAQ:ULTA) and Nu Skin Enterprises Inc. (NYSE:NUS). And for e-commerce we believe Amazon.com (NASDAQ:AMZN) has the edge, while Apple Inc. (NASDAQ:AAPL), with its iTunes Store, should also see good holiday sales.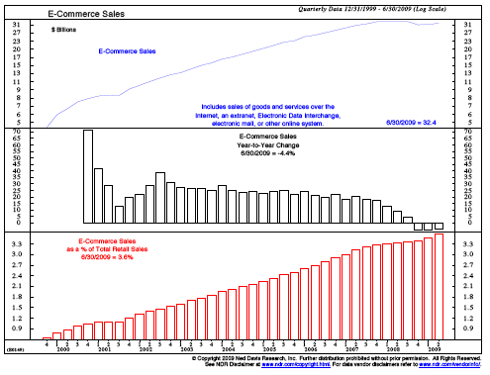 As for the behemoth of retail, Wal-Mart (NYSE:WMT), we believe the closely followed retailer will, by its own high standards, have a disappointing Christmas season.
We would argue that the retail sector's valuations have yet to price in an economic recovery or the potential for a positive Christmas season. Best Buy's (NYSE:BBY) price to sales ratio of 0.3 is considerably below that of its 2003 to 2006 average of 0.7, and even the sector's current darling, Aerospatale's, has a P/S of 1.4, below its 2004 peak of nearly 2.0.
So, no worries. Santa Claus will still come down the chimney this Christmas, so keep a close eye on share price performance, and by early December we should know the season's winners.

Disclosure: No positions, but ROST, GME, PSUN, AAPL, ZQK and AMZN have been featured in our model portfolio.