Patriot Coal Corporation (OTCQB:PCXCQ) is a producer and marketer of coal in the eastern United States - and it's also bankrupt. While I believe that an interesting way to speculate on Patriot's turnaround (albeit highly risky) is to actually own the bonds (convertible debt trades at $0.10 on the dollar, senior debt worth $0.48 on the dollar, and even the debtor-in-possession notes trades slightly below par), the recent doubling of the soon-to-be worthless equity is mind-boggling.
This Business Is In Significant Trouble
It was recently announced that the federal appeals court would keep Peabody Energy (NYSE:BTU) (Patriot's former parent company) on the hook for the health benefits of about 3,100 retired Patriot Coal miners, which actually turned out to be a reversal of the bankruptcy judge's initial ruling that Peabody did not, in fact, own the benefits.
Now, for whatever reason, this sent shares soaring about 60% in the 8/21 session, and the momentum has continued in the 8/22 session with the shares currently up 18%. Interestingly enough, while the judge's decision to put the liabilities back on the shoulders of Peabody, this does not change the fundamental story. If we take a look at Patriot's balance sheet provided in the most recent form 10-Q filing, it is not hard to become skeptical of the equity's recent price move,

Here, it is worth noting that the total liabilities not subject to compromise came in at $1.8B, while liabilities subject to compromise (which includes the obligations to the retirees) came in at $2.1B. The $1.4B burden shifted back to Peabody lessens the latter, but not the former. Now, taking a look at the company's assets, it is clear that this recent settlement "win" doesn't actually help the common stockholders: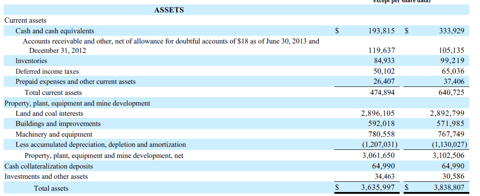 At first glance, it looks as though assets outweigh liabilities at $3.64B against total liabilities of $3.97B - $1.4B = $2.57B. However, the vast majority of Patriot Coal's assets are actually in highly illiquid assets (property, plant, equipment, and mine development). Looking at current assets, it is clear that $474M doesn't even come close to covering the $1.8B in non-negotiable liabilities.
The Business Still Faces Numerous Headwinds, Both Secular And Structural
Even if by some miracle it turns out that the current equity is not wiped out and replaced by a new, post-restructuring equity (again, to which current shareholders will likely have no rights to), the business itself still faces significant headwinds from multiple directions. These include substantially growing environmental liabilities (which the company expects to spend "hundreds of millions" on), particularly with respect to water treatment, increased labor related costs to both current and retired workers alike (Patriot's liabilities cover ~5x the number of current employees), all in an environment of increased regulations and lower demand for coal.
If one wishes to play a potential coal rebound, it would make much more sense to choose a name that need "only" deal with the current secular headwinds, rather than a mess of company specific issues (remember: Patriot is bankrupt). If one wishes to play the restructuring, the bonds are a safer (albeit certainly not risk free) bet.
Now, interestingly enough, this run up reminds me of the violent moves that we have witnessed in bankrupt Eastman Kodak (EKDKQ):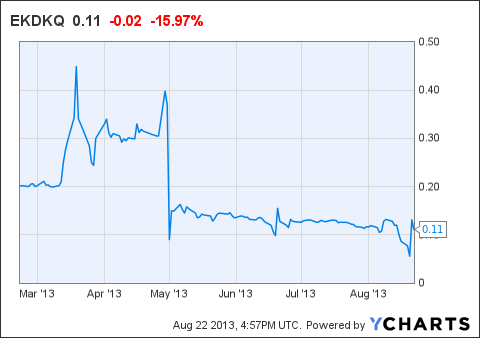 Despite several substantal run-ups in the equity post-bankruptcy, usually driven by positive headlines that included potential patent sales, as well as day traders and HFT trading, the shares are ultimately on their way to zero as they are set to be deleted on September 2nd as the game of musical chairs comes to a screeching halt.
This Business Is Unsustainable
Now, the coal miners are typically highly levered, so the low current assets to liabilities ratio isn't anything new in this space. The problem is that the company continues to bleed money (net loss of $188M in the first half of 2013 thus far), which is what led to the initial chapter 11 bankruptcy filing in the first place. Now, what usually happens after a chapter 11 filing is that the common stock of the company is wiped out, and in the case of a successful reorganization, new shares are issued.
Further, in this particular instance, when new equity is issued, it will be split between the union/pension folks, and the current debt holders. The current equity holders are entitled to nothing (as is usually the case with bankruptcy filings), which is coincidentally what I believe the current Patriot shares are worth.
Disclosure: I have no positions in any stocks mentioned, and no plans to initiate any positions within the next 72 hours. I wrote this article myself, and it expresses my own opinions. I am not receiving compensation for it (other than from Seeking Alpha). I have no business relationship with any company whose stock is mentioned in this article.