Last week, I wrote about the fundamental and technical reasons to expect declines in the SPDR S&P 500 Trust ETF (NYSEARCA:SPY), as an initially positive earnings season saw a long string of significant misses in large-cap stocks, uncertainty saw marked increases with respect to changing Fed expectations, and one of the most reliable bear chart patterns developed from when looking at price history from a short-term perspective. Market activity seen this week has largely confirmed this view with the S&P 500 plunging to lows equivalent to 3.5% below the record highs, with all 10 sector groups in the index participating in the declines. Losses have been broad-based, as the Dow Jones Industrials are now seeing one of the biggest downside moves in more than a year.
Most of these themes continue as the latest round of performance misses can been seen in Staples Inc. (NASDAQ:SPLS), which saw massive declines of 15% after reported weakness in its retail and international businesses, and at Target Corp. (TGT), which pushed lower after posting a 13% decline in profits (driven largely by consumer reactions to higher taxes and relatively elevated unemployment rates). But with the release of the July monetary policy meeting, the proverbial "nail in the coffin" was hammered in for the month of August, as it is now clear that the Fed is open to stimulus reductions before the end of this year. The most direct language in the July meeting minutes reflected a stance of "broad comfortability" in reducing quantitative easing programs, given the Fed's expectation that macro data will continue to improve through the remainder of 2013.
Fed Prepares Markets, Ready to Remove Support
So, while there was no direct suggestion that we will see a $10 billion reduction in asset purchases in September, it is clear that a majority of the voting membership at the Fed sees accommodative policies as increasingly unnecessary. At this stage, markets still have some degree of uncertainty as to when the Fed will move to change policy, but the balance of the evidence will continue to have clear overriding effects: downside pressure on equities, underperformance in emerging markets, and bullish momentum in the U.S. dollar.
But with earnings season now behind us, these changes (and the accompanying impact on stock valuations) will largely depend on the figures released on the macro side. Unemployment rates are holding at their best levels in more than four years, so the Fed's key area of concern has progressed in a way that largely agrees with the accepted timeline for tapering.
For still-skeptical investors, it pays to remember some recent history in stock performance. At the end of May, Ben Bernanke released comments suggesting the central bank was moving toward a more hawkish policy bias - and the S&P 500 fell by 5.8% in the following five weeks. In an effort to calm market activity, several members of the Fed came out in support of extended stimulus - and markets rallied by almost 9% (and pushed to new records in the process). This tells us that sentiment is driven not by earnings or macro data but by the anticipation of changes in Fed policy. Right or wrong, these are trends that will continue, at least until the September deadline passes.
SPY Chart Perspective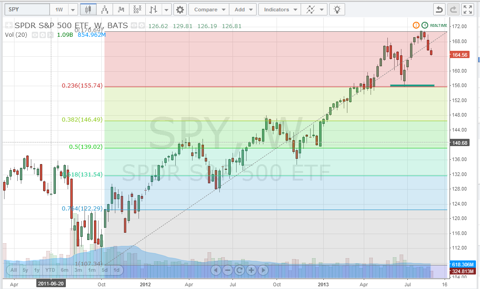 Added uncertainty should continue to pressure stock prices in coming weeks. But these downside moves will create excellent buying activities for longer term investors. Those looking for potential buy entries should look to support levels for price regions that should stall declines. On one of the weekly charts, very strong support can be seen at 156.05, which is the 23.6% Fib retracement of the rally from below 110, as well as an area of historical demand.
Disclosure: I have no positions in any stocks mentioned, and no plans to initiate any positions within the next 72 hours. I wrote this article myself, and it expresses my own opinions. I am not receiving compensation for it (other than from Seeking Alpha). I have no business relationship with any company whose stock is mentioned in this article.