ManTech International (NASDAQ:MANT) provides innovative technologies and solutions for mission-critical national security programs. Federal government contracts were responsible for 98.1% of revenues during the first half of 2009. International customers accounted for just 1.1% of sales.
Core competencies in a number of relevant fields allow MANT to offer comprehensive solutions to support long-term programs. Its expertise includes systems engineering and integration, software development services, enterprise architecture, information operations and computer forensics, information assurance and security architecture, intelligence operations and analysis support, cyber security, network and critical infrastructure protection, communications integration and engineering support, and global logistics and supply chain management.
MANT can provide secure information sharing and collaboration systems; large scale service oriented architecture and data sharing solutions; and strategic and tactical intelligence systems that collect, analyze, and process data and report findings. It also offers secrecy and security-management infrastructure services; comprehensive cyber security warfare and defense solutions; and systems engineering solutions that support the entire systems lifecycle.
In addition, it provides modeling/simulation and testing/evaluation of mission-critical hardware and software used by the armed forces and NASA. Finally, the company designs, installs and manages secure communication systems and networks infrastructures, supports mission-critical logistics, and modernizes classified and unclassified networks and systems. Acquisitions and increased military activity in Afghanistan have fueled growth.
Over the past year, MANT acquired EWA Services, which provides threat analysis and test/evaluation services to the Defense Department. It also acquired Emerging Technologies Group and DDK Technologies. Both provide cyber intelligence analysis, computer and network forensics, and counterterrorism/counterintelligence support.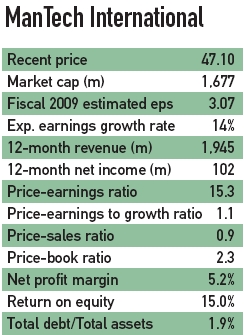 Q2 net revenues climbed 10.6% year-over-year to $514 million, boosted by contracts supporting deployments in Iraq and Afghanistan. Much of the growth came from global logistics and supply chain management contracts for the installation, maintenance, and repair of communication systems and heavily armored vehicles designed to counter or clear mines and improvised explosive devices. Cyber security contracts also contributed to the growth. The operating profit margin improved 75 basis points to 8.73%. Net income jumped 30.3% to $28.5 million or 80 cents per share.
Competition and possible defense spending cuts pose threats to the company's fortunes, but we believe nearterm prospects are promising. MANT generated $422 million in orders during Q2. Backlog climbed 13.1% to $3.89 billion. The supplemental spending bill signed by President Obama in June bodes well for MANT since it includes $80 billion for war funding and $10 billion for the State Department and foreign operations.
At the end of Q2, the company had $13 billion worth of qualified opportunities. Demand should remain strong for classified and cyber-related contracts. Management expects 8.2-15.9% growth in revenues and 15.9-21.1% growth in net income during the second half of this year. We expect the company to use its strong balance sheet to continue consummating strategic acquisitions.