The oil and gas supermajors are great ways to get solid, well protected, dividends. However, the problem is that when most investors think about major oil and gas companies their search is limited to the U.S., but the majority of the supermajors are located outside North America and appear to offer superior dividends at a cheaper price.
The top supermajors include Chevron (NYSE:CVX) and Exxon Mobil (NYSE:XOM) in the U.S., while BP (NYSE:BP), Royal Dutch Shell (NYSE:RDS.A) (NYSE:RDS.B) and Total (NYSE:TOT) are European-based.
As mentioned, I tend to have a greater affinity for the European operators, but let's take a closer look at each of the supermajors to see which is the best bet.
Colossal giant among giants (U.S.)
The 400-pound gorilla, or in this case the $400 billion market-cap company, in the oil and gas market is Exxon Mobil. The company has an 87 billion barrel of oil equivalent reserve base, with almost 30% of it being proved.
Exxon has a stupidly huge and broad portfolio of resources, with copious deepwater, onshore unconventional and LNG projects.
The problem with Exxon's size is that it can be tough to grow. Exxon is expecting modest volume growth of 3% annually through 2017, adding 1 million barrels of oil equivalent per day, around 90% liquids. While the reach of Exxon is unprecedented, nothing about the company really jumps out and says buy me. The dividend is lowest among supermajors and its $40 billion purchase of XTO Energy has yet to be fruitful.
Putting a spin on things (U.S.)
These days it appears that it's tough to show any substantial growth as a full-blown integrated oil and gas company. We've seen a number of top tier companies come out and announce plans to refocus their portfolios to upstream operations. These include Hess (NYSE:HES), and previous spin-offs by ConocoPhillips (NYSE:COP), Valero (NYSE:VLO) and Marathon Oil (NYSE:MRO).
Enter, U.S. supermajor number two, Chevron, which is the latest to make the move. The company has been reducing its downstream and refining presence to better focus on higher-margin exploration opportunities.
And although it hasn't embarked on a full blown spin-off, it's made it known that going forward the company will focus on upstream projects. Part of its initiatives is to sell its marketing businesses in Kenya, Nigeria, Uganda, Western Africa and Brazil.
Chevron's production mix is heavily weighted toward liquids (over 65%), much more than some of its peers. Chevron also has some 3.5 million acres in over twelve unconventional U.S. onshore plays. But its key projects are focused on Australian LNG and deepwater developments in the U.S. Gulf of Mexico.
Exxon is the undisputed leader when it comes to proved and probable (2P) reserves, but it's Chevron that has the greater access to the fast growing liquid shale resources. This is in part due to the fact that Chevron is the largest holder in the Permian basin (around 1.5 million acres).
Source: Credit Suisse
Of the two, it's shaping up that Chevron is a better supermajor than top U.S. comp Exxon. The company has grown cash flow per share more than any of the major supermajors since 2005, behind only Occidental (NYSE:OXY).
Although the two U.S. operators are the largest of the supermajors, they make less than stellar investments for investors, due in part to their growth profiles. Analysts expect Chevron to grow EPS at a mere 0.2% annualized over the next five years.
Double trouble in the U.K.
Shell is over a century old. It's the result of the partnership between U.K.-based Shell and Netherlands-based Royal Dutch. If you've followed oil/gas supermajors, chances are you've noticed that there are two classes of Shell, A and B shares. This came about in 2006 when Shell and Royal Dutch decided to combine, where Royal Dutch shareholders were given a 60% stake in the parent/combined company, A shares, and Shell shareholders were given a 40% stake, B shares.
Shell owns a strong and diversified portfolio of global energy businesses. The oil/gas giant has decided to streamline its downstream portfolio, which includes plans to close 15% of its refinery operations in Africa & Europe this year. This should free up capital to invest in upstream operations. The real beauty of Shell is that the company has a market leading position in natural gas as the world's second largest natural gas producer.
Many of the European oil and gas companies are selling off assets to refocus their portfolio, Shell is no different. As noted above, Shell is taking a similar approach to CVX's, shedding downstream exposure, while also turning to the Eastern markets. Shell plans to increase its presence in the liquid rich areas of the U.S. over the next couple of years.
Overreaction cause gross undervaluing (U.K.)
The Deepwater Horizon explosion and subsequent oil spill rocked BP back in 2010. Since then, the company has reinstated its dividend, now with a yield that's top in the industry. But BP still remains the cheapest in the industry, with a low 5x P/E.
As I've noted previously ...
"BP's biggest problem occurred in 2010 with the oil spill in the Gulf of Mexico. BP's stock price dropped over 50% in the weeks after the spill and cost shareholders $100 billion in market value. The stock reached a low of just under $27 per share before rebounding. This is when many of the smart value investors like Seth Klarman began to buy BP shares.

After this accident BP initiated a corporate divestiture program to raise $38 billion to offset liabilities from the oil spill. By selling these non-core assets, BP shrunk from the world's second largest publicly traded oil and gas company to the fourth. Even though the sales shrunk BP, in my opinion the divestitures re-focused BP and made the company into a much leaner and better-run organization."
The stock is now up to $40 per share, which is still well below the $70+ the stock traded at prior to the Deepwater incident.
BP's balance sheet is holding up nicely with a debt ratio of 15% as of 2Q and cash of $28 billion. BP is in the process of appealing certain claims related to the Deepwater incident, and the second phase of trials are set to begin on September 30th.
On the business side, BP is joining the crowd of asset disposals. BP recently cut loose its refinery in California and Texas, which was around half of its U.S. capacity. It's now planning to refocus on deepwater.
The company remains the largest leaseholder in the Gulf of Mexico, with 700 plus leases. The oil and gas giant plans to have seven drilling rigs in the Gulf by year-end, compared to the current five. While the stock will continue to trade at a discount to other supermajors given the Deepwater overhang, it appears that BP is getting back on the horse and could be a long-term value play.
Lone France
The one supermajor from outside the U.S. and U.K., also happens to be the best, in my opinion. That's France-based Total. The downside to its dividend is the 25% withholding. Even still, the dividend yield is above Exxon and Chevron.
The real beauty of Total? It has more exposure to the high-margin upstream business than many of the other supermajors. Upstream accounts for 80% of net income. Despite the fact that refining and chemicals make up a small portion of income (compared to other supermajors), Total is still the largest European refiner.
As well, the company has a small presence in the saturated North American markets, but impressive exposure to other high growth areas across the world.
Total production profile for 2012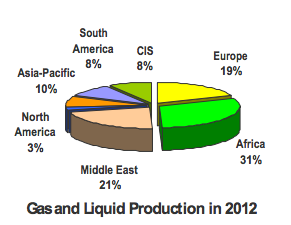 These faster growing markets have proven to have lower decline rates and longer productive lives, both big positives for oil and gas companies. Worth noting is that Total also owns 15% of Russia's OAO Novatek (OTC:NOVKY) and 20% of Novatek's Yamal LNG project, which should help it meet its hydrocarbon production growth of 25% by 2016.
All in all
The major integrated oil and gas companies offer investors solid dividends yields and share repurchases, underpinned by strong balance sheets. Of the major supermajors, I find the European as the most attractive from a valuation perspective. The major European supermajors trade at steep discounts to U.S. counterparts.
Part of this depressed valuation is related to the overhang in the European market. Even still, the dividend yields on the three European operators has well outperformed the two U.S. supermajors over the past 10-years, where Exxon and Chevron had dividend yields that have remained below 5%, but Europe's major operators consistently offer dividends in excess of 4.5%. Currently, Exxon yields 2.7% and Chevron 3%, while BP is at 5.2%, Total 4.6% and Shell 4.6%.
As for the best investments among supermajors, I'm putting my money on Total, in part because it has some of the best growth prospects, but also pays a 4% plus dividend yield. The other supermajor that I like is BP, which appears to be an undervalued mega cap stock. The overhang from the Deepwater Horizon incident still exists, but the company has been in "damage control" mode and should manage to see some multiples expansion going forward.
Disclosure: I am long BP. I wrote this article myself, and it expresses my own opinions. I am not receiving compensation for it (other than from Seeking Alpha). I have no business relationship with any company whose stock is mentioned in this article. I may initiate a long position in TOT over the next 72 hours.