No one expected TriQuint Semiconductor (TQNT), provider of RF solutions to smartphones, networks, and military applications, to report a blow-out quarter - least of all me. I'd been planning on writing a very negative piece on this $1.2 billion market cap iPhone and Galaxy S component supplier. After all, sales and earnings had been lackluster quarter after quarter. As recently as June, even management called business "disappointing." Yet, last quarter earnings, revenue and outlook all exceeded the analysts' wildest expectations. By signaling extraordinary visibility ahead - and giving this take-your-breath-away guidance - I am happily changing the slant of the article. TriQuint is a buy, even up 60% YTD. It is my contention the stock has another 50% left to run over the next 12 months.
Background
TriQuint Semiconductor designs and manufactures products that use gallium arsenide, surface acoustic wave (SAW), and bulk acoustic wave (BAW) technologies. For example, the company supplies power amplifiers, switches, SAW and BAW filters, and front-end modules for smartphones including Apple's iPhone 5 and the Samsung Galaxy S series.
The Last Quarter Surprise
TriQuint wowed the market with a surprise earnings beat (-7 cents versus consensus -11 cents). Sales exceeded expectations by $3 million. However, the shock-and-awe emanated from TriQuint's upbeat outlook. The company forecast Q3 revenue of $245 to $255 million, blowing away the $229 million consensus estimate. Moreover, the bullish guidance suggests a major upturn in the company's fortunes. Quarterly sales have been declining Y/Y for the past 6/7 quarters. This marks an abrupt revenue turnaround for TriQuint as revenue increased 6.7% for this quarter. Much more startling, the $245 to $255 million revenue guidance indicates a 24% increase over year-ago quarter.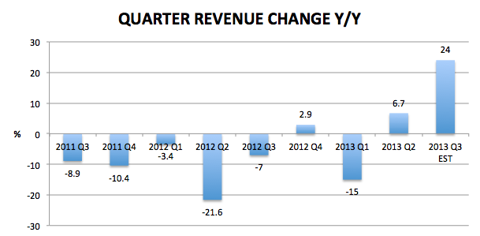 TriQuint guided 9-11 cents for Q3 and 19 cents for Q4 - again, a remarkable turn considering the company lost an average of 2 cents a quarter over the last 2 years. The company forecast a 34-36% gross margin for next quarter, a magnitude not seen for almost 2 years.
Can You Believe The Outlook?
TriQuint has a credible track record of meeting its revenue forecasts. The company has undershot its revenue guidance only once in the last 16 quarters (sourced from 10-Qs). There is a very good reason that TriQuint has a 94% success rate hitting its topline number: By the time of its quarter report, the company routinely has booked 88% to 100% of its revenue to midpoint of its upcoming quarter. The Q3 outlook fits into this reassuring system. As of July 24 (only 3 weeks into the quarter), $113 million has already been booked. Since TriQuint has beaten revenue guidance 5/16 of its last quarters, there is significant potential for an upside revenue surprise.
Further, TriQuint has beaten its gross margin forecast in 3 out of the last 4 quarters (the company didn't guide margin in one quarter). Last quarter, it exceeded the midpoint of its margin outlook by 300 basis points, suggesting that its upcoming quarter's optimistic 34-36% guidance may also be too low.
Unusual Visibility For TriQuint Ahead
In its quarterly report, TriQuint gave its EPS outlook for 2013, boldly forecasting EPS of 19 cents for Q4. This is the most impressive part of the quarter report. To my knowledge, TriQuint has never before guided earnings beyond one quarter. This indicates a high-level of confidence in the company's performance.
The Business
As said, TriQuint sells RF hardware into mobile, networking, and military applications. Of the three, mobile makes up 65% of sales and has experienced the most growth. TriQuint sees its serviceable addressable market increasing 13% a year, reaching $8 billion in 2015.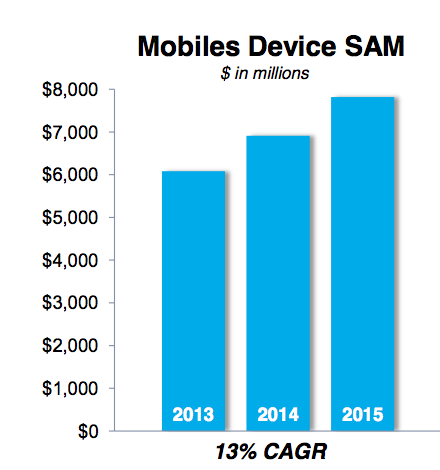 What's Driving Revenue And Earnings
After years of dismal sales and earnings, TriQuint has just turned the corner. The company has identified several triggers that lie ahead.
- Increasing dollar content as smartphones becomes more complex.
- Limited competition in the hot high-performance filter market they control.
- Networks and defense revenue grew 12% to 13% in H1 2013. Sales in base station transceiver cards more than doubled as new products rolled out.
- TriQuint is seeing excess manufacturing capacity disappear even at current sales levels. Management expects 50% of incremental revenue to reach operational income.
CEO Ralph Quinsey explains why profits are about to climb from this revenue ramp:
In Q3 2013, I expect revenue to jump 30% sequentially, bringing significantly improved margins and profitability. I believe Q3 is the beginning of a stronger period of performance for TriQuint, built on a differentiated strategy that is defensible and sustainable.
The Opportunity Grows As Smartphones Become More Complex
TriQuint's RF dollar content dramatically increases as handsets move from 3G to LTE. While power amplifiers, switches and Wi-Fi make up the majority of the RF cost in the 3G smartphone, high performance filters (SAW and BAW) represent 50% to 66% of RF content for LTE handsets. Even more important - while many manufacturers make filters, only a few design SAW filters and, only two, Avago Technologies (NASDAQ:AVGO) and TriQuint produce BAW filters.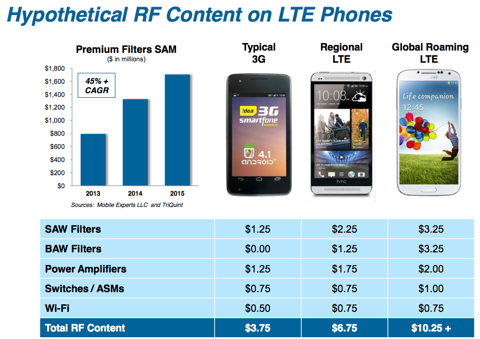 SAW and BAW: Premium Filters Will Drive Earnings
Multi-band handsets require at least eight filters in order to capture and segregate signals in our crowded bandwidth world. As smartphones move to 4G i.e. LTE (Long Term Evolution), high-performance filters are needed for frequencies above 1.5 GHz as regular filters lose their sensitivity above these levels . Per TriQuint's R&D director:
A high-end smartphone must filter the transmit and receive paths for 2G, 3G, and 4G wireless access methods in up to 15 bands, as well as Wi-Fi, Bluetooth and the receive path of GPS receivers. Signals in the receive paths must be isolated from one another. They also must reject other extraneous signals whose causes are too diverse to list. To do so, a multi-band smartphone will require eight or nine filters and eight duplexers. Without acoustic filter technology, it would be impossible.
It is this high-performance filter market that provides TriQuint's new-found growth. The company sees 45% CAGR in the premium filter market.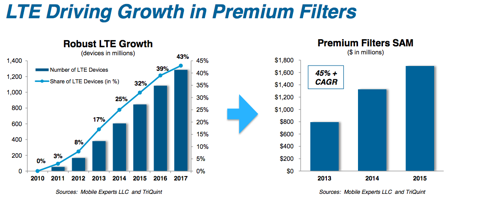 As bandwidths increase in frequency, BAW filters become key.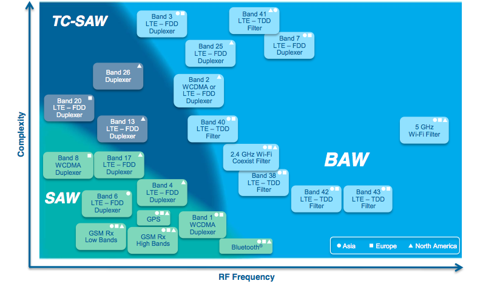 The Hot Product: BAW Filters
BAW filters operate effectively at higher wave frequencies.
Advantages:
- Lower signal loss
- More accuracy
- Better battery life
- Fewer dropped calls
- Optimizes crowded spectrum
The Happy Duopoly In BAW
Only Avago and TriQuint make BAW filters. The two companies sued and countersued each other in a white-knuckle copyright infringement and trade secrets suit over BAW filter patents. Avago alleged IP theft of BAW by two TriQuint engineers while they worked at Infineon AG (Avago acquired Infineon's BAW business in 2008). TriQuint asserted that Avago engaged in monopolistic practices designed to restrict access to BAW technology. TriQuint and Avago settled before coming to trial in May 2012, agreeing to cross license BAW patents. Now these two companies operate in a duopoly. No other company competes in this hot market with high barriers to entry. TriQuint expects to dominate the high-performance filter market for the foreseeable future - simply, there are just too many IP roadblocks and engineering expertise requirements.
Valuation
TriQuint is in a sweet spot as sales ramp. As revenue climbs, TriQuint is poised to pile up earnings. Analyst consensus expects 2014 EPS of 51 cents, 10X 2013 estimated earnings, a number that would put TriQuint near the top of companies making an earnings comeback.
Because TriQuint currently has no earnings, I believe the correct method of evaluating TriQuint lies in its EV/Revenue. The Market has not yet factored in TriQuint's rapidly rising revenue, making the stock woefully undervalued. For instance, TriQuint's 1.42X EV/Revenue is cheap compared to its competitors Skyworks Solution (NASDAQ:SWKS) and Avago. Yet, TriQuint has forecast sequential revenue growth that is 3X that predicted by these companies. As revenue rebounds, TriQuint should see considerable upside as its EV/Revenue rises in-line with those of its peers.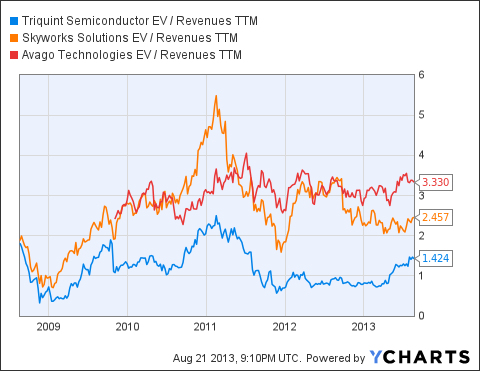 From a historical perspective, shares are inexpensive as well. As previously discussed, TriQuint's sales were disappointing in 2011 and 2012. From 2003 to 2010, EV/Revenue averaged a much higher 1.9 multiple. As revenue increases over the next 12 months, TriQuint's valuation should return to its historical 1.9X levels. Next year's estimated revenue of $1.06 billion (which I believe TriQuint will exceed) suggests a market cap of $1.5 billion using current EV/Revenue. Applying a more appropriate 1.7X EV/Revenue suggests TriQuint should trade at a $1.8 billion market cap, equivalent to a 50% share appreciation.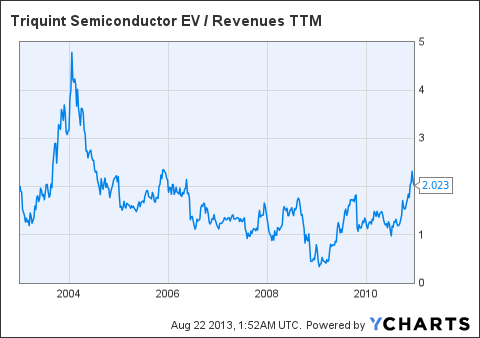 While TriQuint potentially has 50% upside, I see very limited downside risk. Assuming a revenue miss of $0.9 billion in 2014 and a lower 1.2X EV/Revenue implies only a 10% risk.
Bottom Line:
In a marked shift from its lackluster 2010 and 2011 performance, TriQuint is accelerating sales and earnings, leading to an inevitable EV/Revenue multiple expansion. By the time TriQuint makes good on its outlook, the stock will have already moved.
Disclosure: I am long SWKS. I wrote this article myself, and it expresses my own opinions. I am not receiving compensation for it (other than from Seeking Alpha). I have no business relationship with any company whose stock is mentioned in this article.
Additional disclosure: The opinions in this document are for informational and educational purposes only and should not be construed as a recommendation to buy or sell the stocks mentioned. Past performance of the companies discussed may not continue and the companies may not achieve the earnings growth as predicted. The information in this document is believed to be accurate, but under no circumstances should a person act upon the information contained within. We do not recommend that anyone act upon any investment information without first consulting an investment advisor as to the suitability of such investments for his specific situation.