The key to successful investing is to buy low and sell high, right?
Fortunately, there's a reliable way to tell when an asset is truly low--almost everyone hates it.
A couple of months ago, there was nearly unanimous gloom towards gold and mining stocks. Since then we've seen a 15% rise in the metal, a 35% increase in senior gold mining fund (NYSEARCA:GDX) and a 50% surge in junior gold mining fund (NYSEARCA:GDXJ). Pretty exciting, huh?
A quick glance at today's headlines for Indian equities shows the news dominated with gloom:
"India ETFs in a Tailspin with Rupee"
"India ETFs - Behind the Mayhem"
"India ETFs: A Train Wreck Awaits"
To capitalize on the gloom, I've been buying the Indian Small Cap Fund, (NYSEARCA:SCIF) the past couple of days and will continue to buy it into weakness. Why? Mainly because everyone hates Indian stocks right now. The only thing that could be better would for there to be riots and ideally, locals hurling stones at the National Stock Exchange building in Mubai. I don't mean to sound insensitive, but I'm not kidding either. In the first quarter of 2009, at least three countries closed their exchanges during trading hours: Pakistan, Russia, and Brazil. Russia's was closed more frequently than Brazil. In Pakistan, some people threw rocks at the exchange. Which were the three top-performing markets of 2009 worldwide, in order? You guessed it: Pakistan, Russia, and Brazil. The most frequently closed markets subsequently performed the best, and the exchange that was pummelled by rocks was number one.
While we don't have major riots or stone hurling in India that I'm aware of, there is nearly unanimous gloom towards the country and SCIF is currently selling for half of its 52-week high. Even a modest rebound would therefore lead to a 30-50% gain and if this fund were to revisit its 52-week high, a 100% return would result.
(SCIF chart: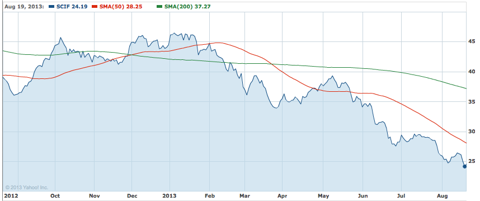 I was speaking to Michael Gayed of Pension Partners recently. Michael is a regular guest on CNBC and a brilliant analyst. He has made some very accurate calls over the past few years and is someone I respect a great deal. Anyway, Michael has become bullish on emerging markets and appears to be right again. Equities in the following countries already appear to have bottomed and have been holding above their 50-day moving averages. These countries are Russia (NYSEARCA:RSX), South Africa (NYSEARCA:EZA) and Egypt (NYSEARCA:EGPT), despite ongoing riots in that nation. India is likely to join the emerging market upswing very soon.
Let's cover a few more reasons I like India right now. Firstly, the Rupee set an all-time low versus the US dollar this week. All-time extremes are very rare and a contrarian's dream come true. Indian equities and their funds like SCIF, (NYSEARCA:SCIN) and (BATS:SMIN) have likely been the baby thrown out with the bath water. While India may not be the exporter that China is, a weaker currency is generally good for a nation's business. Furthermore, after peaking in July, it appears the US dollar has likely begun an intermediate-term bear market. Once the current negative hype about India wears off, the Rupee will inevitably strengthen. This will further boost the above Indian equity funds which trade in US dollars.
(USD bear market begun? Click to enlarge)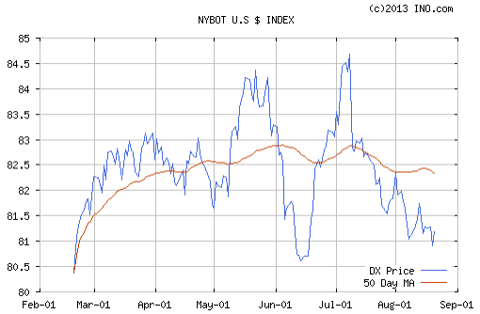 Lastly, my long term mentor, Steven Jon Kaplan has been buying SCIF the past few days. I've been following Steve's True Contrarian email newsletter since 2007 and consider him the "Rainman" of investing for his ability to correctly understand, predict and capitalize on the market's behavior. It's extremely rare for Steve to close a losing trade.
Could Indian equities drop further in the short term? Of course they could. As we saw in the gold mining sector this spring, irrational extremes can lead to outright insanity. That said, will what happens in the short term really matter a year from now? Probably not. Continuing to buy into extended weakness can be unsettling and is not something most investors can tolerate. Even a seasoned contrarian can find it stressful at times. No wonder it's so rare that investors truly buy near a low. You have to put your money into what almost everyone hates and thinks you're crazy to consider buying. C'est la vie.
Thank you for following me here on Seeking Alpha and sharing this article with others. I sincerely appreciate it.
Disclosure: I am long SCIF, GDX, GDXJ. I wrote this article myself, and it expresses my own opinions. I am not receiving compensation for it (other than from Seeking Alpha). I have no business relationship with any company whose stock is mentioned in this article.