A slew of US retailers have produced corporate updates over the last couple of days. The one which caught my eye today was Staples (NASDAQ:SPLS), the retailer that claims: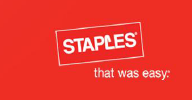 Many of us will have been to a Staples and maybe even bought office supplies, "back to school" materials or even furniture/technology there. The challenges the business model is facing are pretty clear squeezed between lackluster economic growth, corporate spending caps and new online competition.
This was very apparent in the numbers today as summarized in this press excerpt I found below:
Staples, which suffers from waning consumer demand for products such as ink and toner and computer accessories, cut its outlook after second-quarter results were weaker than it expected. Chief Executive Officer Ron Sargent said drops in international operations countered online growth and cost management. International sales fell 8 percent in the period ended Aug. 3, hurt by Europe and Australia.
Not so great.
Looking at the results in more detail, what is noteworthy is the dire performance of the International operations, which not only produced 8-9% declines in sales but also are running at an operating loss.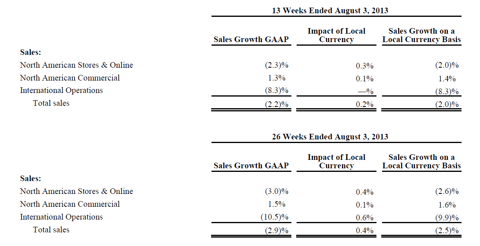 And this got me thinking. Is Staples' performance being overly hit by the International division and if so what value can we attribute to the North American and International divisions separately? I ask this question because I know that too many analysts and investors look at the consolidated numbers all jumbled together.
First though, some company-wide numbers. Staples is expecting a full year (to 2nd February 2014) EPS of US$1.21-1.25. An EPS of $1.21 equates to operating earnings of about $1.4bn. What would be the profits if we excluded the international operations? Conservatively at least $1.45bn.
What else do we know about Staples based on what it told us today? I thought these two statistics were insightful:

There is nothing I like to see more than free cash flow and share repurchases. Cash is king in any business and Staples confirmed that the full year free cash flow would be around $900m. At the current market cap of just under $10bn, that is a free cash flow yield of around 9%. With the dividend yield being just over 3%, that gives plenty of headroom to do something with the cash. The company confirmed that this would include more buybacks. I think this makes huge sense. Company debt is around $2bn or x1 ebitda. That is perfectly acceptable and can be easily financed.
One final observation on the buyback. The average price shares were bought back for was $15.6. With the current share price under $15, I am anticipating the company will continue its share buyback sooner rather than later.
So what value should we ascribe to the various North American businesses which - as shown above - are showing patchy growth and falling margins (attributed to spend on developing Staples.com and raising the profile of the commercial business) but are financially sound, showing greater productivity (smaller stores) and in market share terms important (Office Depot (NYSE:ODP) and OfficeMax (NYSE:OMX) are both less than an eighth of the size of Staples in market cap terms).
For such a business generally I apply a multiple of x8 operating income. So $1.5bn * 8 = a value of $12bn compared to the current enterprise value (market cap plus net debt) of $11.7bn.
In essence what this analysis shows is that at the current Staples share price the North America division (plus all central corporate activities) are worth just above the current share price. The loss-making International business is in for free. Probably this latter point is currently correct but it strikes me that at $1bn equivalent of sales (a quarter of the North America level), either the business is sold for something (accretive) or is makes a little bit of money and is worth something (accretive).
Now the big question is, what happens next? If there is a perception that the company is doing a little bit better than stabilization then the shares will revert to a x10 operating income multiple (both Target (NYSE:TGT) and Best Buy (NYSE:BBY) - two retailers with similar challenges in areas such as online purchasing and a patchy economy - are currently valued at just above this level). At the margin it is good news that the "back to school" season has started solidly.
Outside the International operations themselves, the other way is better operational performance. I was pleased to hear management making the following comment on the conference call:
We remain committed to driving a $150 million in gross savings for the year and given the weaker than expected sales trends, we're going to be more aggressive reducing expenses. We're also focused on driving retail productivity and continue to rationalize our North American store network.
This should help in attaining the earnings targets.
The other aspect worth noting is the proposed merger between Office Depot and OfficeMax. Now this is still ongoing but while the company's number two and three competitors coming together sounds like a problem, I actually think it is good news. Staples on the conference call was quite coy regarding the potential benefits from forced sales and (maybe) less competition, but in my experience such a corporate deal benefits the number one company in two ways. First, there is less competition, which is good for margins and second, while the other companies are trying to put the deal to bed, they are busy "navel gazing" rather than competing (at the margin). This benefit is probably underappreciated by the market today.
Staples remains a share that has performed strongly (up around 35%) over the last year. I believe hopes got too far ahead of reality but that the company is now back to a more reasonable entry price level. Stabilization - as defined above - should bounce the shares back up beyond the year highs north of $17. Additionally, over time, there are the accretive benefits of the use of the spare free cash flow (buybacks, reduction of debt) plus the aforementioned 3%+ dividend yield.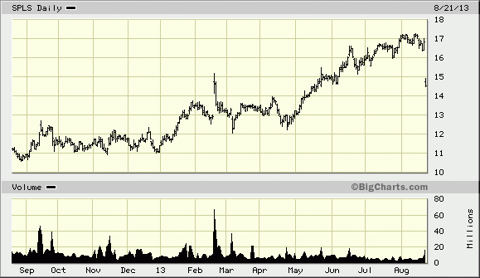 In the event of generalized market uncertainty, levels to add further include $13.5 and then a $12 share price.
Disclosure: I have no positions in any stocks mentioned, but may initiate a long position in SPLS over the next 72 hours. I wrote this article myself, and it expresses my own opinions. I am not receiving compensation for it. I have no business relationship with any company whose stock is mentioned in this article.