Introduction
In this article I'll have a look at Taseko Mines' (NYSEMKT:TGB) operational performance in Q2 by analyzing the financial results and its updated balance sheet. I'll give my opinion about its numbers and will look forward to New Prosperity. As Taseko Mines reports in Canadian Dollars, I used an USD/CAD exchange rate of 1.04 for the calculations into USD.
The Q2 financials
Taseko recorded revenue of $65.5M by selling 20.9M lbs of copper and 238,000 pounds of molybdenum. Even though the company recorded a cash flow from operations totaling $26.6M for the quarter, Taseko reported a net loss of $14.1M, caused by a $10.5M write-down on marketable securities and a forex loss. It's however sneaky to attribute this loss to these write-downs as the company forgot to mention in its statement it generated a profit of $4.6M on derivatives (the copper puts), so the net loss caused by the write downs on all derivatives is "just" $5.9M.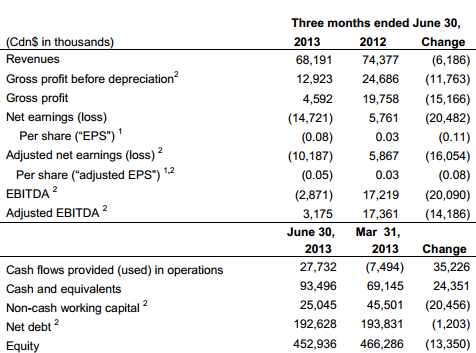 The company's revenue of $65.5M is approximately 8% lower than the $71.4M revenue in the same quarter last year, but let's not forget the copper price was trading 11-12% higher during that same period. Without the drop in the copper and molybdenum price, the company would have generated more revenue than in the same period last year.
As a company's net profit/loss can be caused by a variation of things, I prefer to have a look at the cash flow statements as well. As said before, Taseko generated $26.6M in operating cash flow, but had a net cash inflow of "just" $23.4M. This was caused by the $20.9M investment in properties, plant and equipment which was partially offset by a $19.2M sale of financial assets.
Taseko also paid off $5.3M in debt and $8.4M in interest payments for a total of $13.7M which was partly funded by a fresh debt issue of $10.3M. As spending seems to be slowing down and production ramping up, I'm expecting to see Taseko generating even more net cash flow than the $23.4M in Q2 of this year.
The Balance Sheet
Taseko's balance sheet looks good with a working capital position of $113.6M, of which $90M is held in cash and cash equivalents. The company's book value decreased a bit to $2.35/share. The current ratio is 2.72, which is very healthy as every ratio above 1 indicates the company's current assets are sufficient to cover its current liabilities.
Outlook
According to CEO Russell Hallbauer the company is on a roll as the Gibraltar mine produced 12.2M lbs of copper in July, which is an increase of 30% over the average monthly output in Q2. This was caused by the increased average output of 74,000 tpd for the entire month of July, whilst the final half of the month had a throughput of 83,000 tpd.
I think this throughput increase bodes well for the future as Taseko will definitely benefit from economies of scale as a higher throughput enables the company to spread out its fixed expenses over more produced pounds of copper.
I'm also looking forward to the decision on the New Prosperity Copper-Gold project in British Columbia. The company is in the final stages of the permitting phase, and the public hearings commenced on July 22nd and will take approximately 30 days and should have been concluded yesterday. Now the review panel has 70 days (until October 30) to write and submit a report to the federal minister of environment, after which the government has 120 days to decide whether or not it will issue the mining permit for New Prosperity. This D-Day will fall on February 27th 2014, as that's the final date the government has to decide whether or not to grant the mining permit.
Investment Thesis
Taseko is currently trading at just 4X its operational cash flow generated by the Gibraltar mine, so the company is quite cheap at this moment, especially now the copper price seems to move up a little bit. I do however expect Taseko to have some cash outflow in the second half of this year as it will very likely buy more put options on the copper price to have some downside protection should the copper price dive.
The big catalyst however will be the issue/denial of the New Prosperity mining permit, and I have the impression everybody is waiting for the decision of the federal government. It might be interesting to write Put 2's expiring in January 2014 at $0.25. If Taseko expires under $2/share, you will be assigned shares at a net cost of $1.75 ($2-$0.25). If Taseko expires at a share price higher than $2, you can keep the option premium in your pocket.
Disclosure: I have no positions in any stocks mentioned, and no plans to initiate any positions within the next 72 hours. I wrote this article myself, and it expresses my own opinions. I am not receiving compensation for it (other than from Seeking Alpha). I have no business relationship with any company whose stock is mentioned in this article.