The stock market has dropped for 6 consecutive days in a row. This decline seems fueled by concerns over when the Federal Reserve plans to "taper" its bond buying program. Many believe that the Fed will taper in September, but others believe that is way too soon.
It does seem premature for the Fed to taper because the last thing Bernanke wants to do is further roil the markets. Furthermore, the recent rise in interest rates has already possibly created the slowdown in the housing and auto sectors. If the Fed were to taper in September and create the appearance of a somewhat aggressive stance on policy, it could damage what is already a very weak economic recovery. In addition, Bernanke has already been quoted as calling the recent spike in interest rates as "unwelcome." A recent Bloomberg article notes that "Bond King" Bill Gross believes that the Federal Reserve won't tighten until 2016. The Bloomberg article states:
Bernanke told the Senate Banking Committee last week that tighter financial conditions as a result of rising yields over the past two months are "unwelcome."
I believe the market is overly worked up about Fed tapering (just as it was about the "Fiscal Cliff" and even the government budget cuts or "Sequestration"). The tapering in September (if any), will be probably be "taper light," meaning that it will be for a very nominal reduction in the level of bond buying. Investors often "buy on the rumor and sell on the news," and in this case I believe investors are selling on the rumor and that they will buy on the news. That means dividend stocks that have been badly beaten up over fears about tapering could be offering investors a significant buying opportunity right now. I believe the Fed will do very little tapering or even none at all in September, and that either way, investors just need clarity.
The biggest issue seems to be the fact that the Fed is trying to keep all options open and that is creating ongoing anxiety and uncertainty. This is why the markets and dividend stocks (and other bond proxies such as closed-end funds or ETFs) could be poised for a big "relief rally" once the Fed announces to either taper a bit or to leave things alone. It's worth noting that whether the 10-year bond yields 2.5%, 2.8% or even 3%, many investments offer much higher yields and can outperform over time. With this in mind, there are a number of oversold stocks, closed-end funds and ETFs that offer generous yields. The picks below could rebound significantly in the coming days and weeks once the Fed offers the markets clarity.
One of the most compelling sectors for higher yields is in closed-end funds. As I mentioned in another recent article about closed-end funds, the Pioneer Diversified High Income Trust (HNW) is one of my favorites because it has a very short average duration of just about 3 years and it yields nearly 10%. Barron's is also taking note of the bargains in this sector with a recent article suggesting that contrarian investors consider closed-end funds now. Here is another closed end fund to consider:
Helios Advantage Income Fund, Inc. (NYSE:HAV) is a closed-end fund or "CEF" that primarily invests in high yielding bonds. This fund's share price has declined in recent weeks due to the sell-off in the bond market. However, this appears to be a significant buying opportunity because this fund has a very short average duration and a dividend yield that is about 9.5%.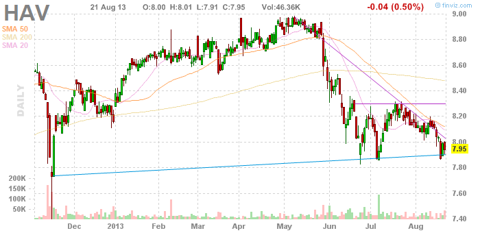 As the chart above shows, this fund is now trading at the low end of the recent range. It also shows that the share price is now at strong support levels as indicated by the light blue trendline. Investors who have bought near this level in the past several months have been well-rewarded. With the share price at key support levels, the downside risk might be limited now and it could be poised for a sharp rebound.
This fund has around 133 holdings which shows it is well diversified. This lowers risks for investors. Another potential downside for bond investors is duration risk. Investors who own long term bonds that mature in 20 or 30 years could be significantly impacted in a rising rate environment. One big reason why high yield or junk bonds have partially rebounded from the recent sell-off is because these types of bonds tend to be around 6 years in duration. However, this fund has an average duration of just 4.22 years, which greatly diminishes this potential risk. This is a big reason why this fund does not deserve to be part of the recent sell-off in many bond-like assets. Another potential downside for investors in high yield or "junk bond" funds includes the risks of a recession as well as liquidity risks. However, investors who have accepted these potential risks have done very well in recent years. The 3 and 5 year performance returns for this fund have been strong. For example, it has returned an average of nearly 14% annually over the past 3 years, and just over 11% annually over the past 5 years.
When compared to the SPDR Barclays Capital High Yield Bond (NYSEARCA:JNK), which is an exchange traded fund or "ETF." Closed end funds like the Helios Advantage Income Fund, Inc. and the Pioneer Diversified High Income Trust (mentioned above) look even more appealing since these funds offer investors a much higher yield and less risk due to shorter durations. For example, in the SPDR Barclays Capital High Yield Bond ETF, the average maturity is about 6.82 years. This fund offers a monthly dividend of about 20 cents per share which provides a yield of 6.2%. Over time, the difference of having your money compound at 6.2% versus 9.5% to 10% is huge and that is why investors should consider the bargains in closed end funds today.
For the past year, the Helios Advantage Income Fund has traded (on average) at a 4.5% discount to net asset value or "NAV." However, a rare buying opportunity has been created by the bond market selloff which allows investors to buy at a whopping discount of about 13%. As of August 20, 2013, the net asset value is $9.17 per share. If the share price rebounds to its historical average, it would once again trade for nearly $9 per share and that would give investors capital gains of about 10%, in addition to a very generous yield. This fund pays a dividend of just over 6 cents per share on a monthly basis or 75 cents per share on an annual basis and that provides a yield of over 9.5%.
Here are some key points for HAV:
Current share price: $8.02
The 52 week range is $7.87 to $9.34
Earnings estimates for 2013: not applicable
Earnings estimates for 2014: not applicable
Annual dividend: 75 cents per share (or 6.25 cents per month), which
yields 9.52%
Here are some key points for HNW:
Current share price: $19.40
The 52 week range is $18.56 to $22.69
Earnings estimates for 2013: not applicable
Earnings estimates for 2014: not applicable
Annual dividend: $1.92 per share (or 16 cents per month), which yields 9.91%
Here are some key points for JNK:
Current share price: $39.32
The 52 week range is $38.21 to $41.95
Earnings estimates for 2013: not applicable
Earnings estimates for 2014: not applicable
Annual dividend: about $2.40 or (20 cents monthly) per share which yields 6.2%
Philip Morris International (NYSE:PM) shares have experienced a pullback just like many other dividend stocks. However, by taking a look at the chart below and a few other positive factors, it's easy to see why this could be a solid buying opportunity. This stock was trading for over $95 per share just a few weeks ago, but it now can be bought for less than $84.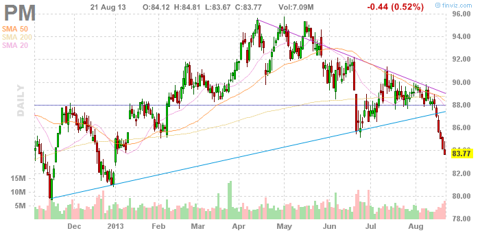 As the chart above shows, Philip Morris shares have been in a solid uptrend since November 2012. It is now deeply oversold and below the lower end of the trading range as shown by the blue uptrend line. Investors who have bought on pullbacks at or near the blue trendline level in the past have been rewarded, sometimes with quick gains. With the stock way below this level now, it is extremely oversold with a relative strength index rating of just around 25. This looks like another buying opportunity, but there are other reasons to consider this pullback:
Philip Morris is one of the world's largest makers of tobacco products and it owns brands like Marlboro, Merit, Parliament, Virginia Slims, L&M and Chesterfield. This product line provides a steady source of revenue, however it also has created downside risks in the past with product liability litigation. Another potential downside risk is that regulations are making it harder for smokers to light up in the United States and this could lead to reduced consumption. However, growth potential from emerging market countries could offset these issues.
Philip Morris offers dividend growth as it has been raising the dividend each year for a number of years. For example, in 2008 the quarterly dividend was 46 cents, but thanks to steady annual increases, the dividend is now 85 cents per quarter. This means the dividend has nearly doubled in just a few years. If this trend continues, it could help boost the share price in the coming years.
There has been recent insider buying and since many insiders already have plenty of stock or options, it can be notable to see them buying more: On August 7, 2013, Graham Mackay (a director) purchased 1,325 shares at $88.65 each, in a transaction valued at about $177,000. On August 5, he purchased 123,500 shares at $89.15 each, in a transaction worth about $11 million.
The average yield for the S&P 500 Index (NYSEARCA:SPY) is just around 2% and the average stock trades for about 16 times earnings. However, Philip Morris yields about double, and it trades for around 14 times earnings estimates of $6.08 per share in 2014.
Earlier this year, analysts at Stifel Nicolaus gave this stock a buy rating and set a $95 price target. This implies upside of about 10%, and investors are rewarded with a generous dividend yield of 4%, which has been growing in recent years. Plus, with the stock at oversold levels, investors who buy now might be poised for a rebound.
Here are some key points for PM:
Current share price: $83.77
The 52 week range is $82.10 to $96.73
Earnings estimates for 2013: $5.44 per share
Earnings estimates for 2014: $6.08 per share
Annual dividend: $3.40 per share which yields 4%
Data is sourced from Yahoo Finance. No guarantees or representations are made. Hawkinvest is not a registered investment advisor and does not provide specific investment advice. The information is for informational purposes only. You should always consult a financial advisor.
Disclosure: I am long HAV, HNW. I wrote this article myself, and it expresses my own opinions. I am not receiving compensation for it (other than from Seeking Alpha). I have no business relationship with any company whose stock is mentioned in this article.