In a recent article, I briefly discussed Statoil (NYSE:STO) and a few reasons why it's a strong long-term investment. After announcing recently that it would be divesting its share in the Gullfaks and Gudrun fields for $2.65 billion its CEO Helge Lund commented:
"In terms of disposal of assets, the key for us is all the time that we try to capture maximum values -- value from all our fields, and that is the guiding principle for our portfolio management."(You can read the entire transcript about the deal here on SA.)
Just like any oil company, whether it's Exxon Mobil (NYSE:XOM), ConocoPhillips (NYSE:COP), BP (NYSE:BP) or Chevron (NYSE:CVX), it's all about the right portfolio of assets and how many barrels of oil those assets can produce. I will lay out few key points to why Statoil at its current price range is a strong buy for future long-term gains.
Technology
Statoil has long been known for its operational excellence and its ability to operate in difficult environments, most notably the Norwegian Continental Shelf or NCS. In the past decade, Statoil has developed some amazing technology surrounding deep sea exploration and production.
Currently, Statoil has close to 500 subsea stations, which are branched out along the North Sea floor connected to large refining platforms. Essentially these are mini underwater oil extraction stations that allow for the extraction of oil. This technology has allowed Statoil to extract much more oil and gas than ever before and without building the very expensive platforms and with less energy. This alone will help to dramatically increase its production going forward.
Also, Statoil's advances in fracking technology has propelled it in expanding to new areas and offers its technical expertise to smaller producers through ventures. This has led to its strong presence in the North American shale fields where fracking is prevalent.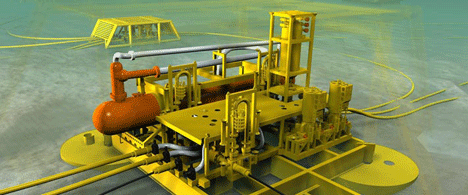 (Subsea station. Source: Statoil.com)
Strengthening Portfolio
I personally like to invest in companies that have a global footprint. This eliminates a lot of risk and opens doors for more immediate growth. Statoil has set an aggressive goal of 2.5 million barrels per day, or mbpd (Currently producing roughly 2 mbpd). In order to reach its goal, STO has been investing a lot in exploration internationally. By the end of 2013, Statoil expects to have added a total of 50 wells. STO also expects to invest $3.5 billion in exploration with total investments around $19 billion for 2013. A few of the international projects for 2013 (outside the NCS) are as follows:
- Bay du Nord (East Coast Canada)
- Sake (Gulf of Mexico)
- Cachalote & Buzio (Mozambique)
- Ceduna Basin (Australia) 30% venture with BP (70%) as operator
- Espirito Santo Basin (Brazil) 6 licenses in proven oil rich basin
When looking at the STO decreasing its portion of the Gullfaks and Gundrun (Statoil still maintains operatorship status in those fields), and the new planned international projects, it is clear that Statoil is looking for growth outside the NCS. In the second quarter of this year STO had record international production (outside Norway) which is a strong sign moving forward.
"From our operations outside Norway adjusted earnings were NOK5.9b. Our earnings have almost doubled from the same period last year and we produced more than one-third of our volumes outside Norway. And the cash flow per barrel from our international portfolio is at least as good as from our Norwegian production." (Source: statoil.com)
Its technical expertise also makes them very attractive partners for joint ventures as stated earlier, especially when it comes to deep water wells. Below is a list of Statoil's International and North American producing wells.
2Q 2013 Equity production DPI
DPI equity production
Produced volumes - Statoil share
1000 boed
Statoil share
Liquids
Gas
Total
ACG
8.56%
58.3
58.3
Agbami
20.21%
45.3
45.3
Alba
17.00%
3.3
3.3
Dalia
23.33%
50.0
50.0
Gimboa
20.00%
2.1
2.1
Girassol
23.33%
26.6
26.6
In Amenas**
45.90%
8.7
8.7
In Salah
31.85%
45.5
45.5
Jupiter
30.00%
0.7
0.7
Kharyaga
30.00%
10.1
10.1
Kizomba A
13.33%
12.3
12.3
Kizomba B
13.33%
13.2
13.2
Kizomba Satellites
13.33%
8.5
8.5
Mabruk**
12.50%
4.4
4.4
Marimba
13.33%
1.8
1.8
Mondo
13.33%
5.8
5.8
Murzuq**
10.00%
11.4
11.4
Pazflor
23.33%
50.5
50.5
Peregrino
60.00%
38.0
38.0
Petrocedeño*
9.68%
11.1
11.1
PSVM
13.33%
12.3
12.3
Rosa
23.33%
18.1
18.1
Saxi Batuque
13.33%
7.3
7.3
Shah Deniz
25.50%
13.8
42.9
56.7
DPI production
413.1
89.1
502.2
North America:
2Q 2013 Equity production DPNA
DPNA equity production
Produced volumes - Statoil share
1000 boed
Statoil share
Liquids
Gas
Total
Marcellus*
Varies
16.1
80.2
96.3
Bakken*
Varies
42.0
3.1
45.1
Eagle Ford*
Varies
15.4
10.5
25.9
Tahiti
25.00%
18.5
1.3
19.8
Caesar Tonga
23.55%
7.9
1.0
8.9
Leismer Demo
60.00%
8.4
-
8.4
Terra Nova
15.00%
6.7
-
6.7
Hibernia
5.00%
6.5
-
6.5
Spiderman
18.33%
-
1.5
1.5
Zia**
35.00%
-
-
0.0
DPNA production
121.5
97.6
219.1
* Statoil's actual working interest can vary depending on wells and area.
** Currently shut-in due to flowline issues.
(Source: statoil.com)
This gives a potential investor an idea of the amount of area that Statoil is currently operating in. STO often gets knocked for being heavily reliant on the NCS for a majority of its production. I believe this is changing. As stated in the second quarter conference call:
"In 2011 and 2012 Statoil was among the companies finding most and largest discoveries. The drillbit has delivered 550m barrels so far this year and this compares well with the success the last two years, where more than 1b barrels were discovered. So we made five discoveries in the quarter and we secured attractive exploration acreage. In Norway we were awarded seven licenses in the twenty-second round. In Russia we signed new agreements in a joint venture with Rosneft. We will explore offshore Azerbaijan in the Caspian with SOCAR. And in Brazil we were awarded six licenses in the eleventh round. In Tanzania we farmed into block six and in Australia we farmed into four offshore licenses in the south. So it's a long list. So by this we take important new steps to position Statoil for the future." (source: statoil.com)
Although it recorded disappointing earnings for the second quarter, the thing to keep in mind for long-term investors is the value of its expanding international profile. Currently trading around $21.20 on August 22, just above its 52-week low of $20.02, I believe STO has much more upside. The near 5.5% dividend also can't be ignored.
Conclusion
Of course there is always risks when talking about oil companies and a lot of things can go wrong. It is a capital intensive industry and can be hampered by lower oil and gas prices. However, Statoil is a mature energy company with proven assets, technical expertise, and large increasing operations internationally. I believe it is positioned to do very well moving forward.
Disclosure: I have no positions in any stocks mentioned, and no plans to initiate any positions within the next 72 hours. I wrote this article myself, and it expresses my own opinions. I am not receiving compensation for it (other than from Seeking Alpha). I have no business relationship with any company whose stock is mentioned in this article.
Additional disclosure: All earnings, production numbers and future company outlook was gathered through recent Statoil company earnings transcripts and operational outlook presentations. As an investor, it is best to do your own due diligence before investing in any recommendation made by the author of this article.