Online travel broker Priceline (PCLN) reported stellar second quarter results. Revenue surged 27% year-over-year to $1.7 billion, slightly above consensus estimates. Non-GAAP earnings per share jumped 24% year-over-year to $9.70, far ahead of consensus expectations. Free cash flow year-to-date totaled $740 million, an impressive 25% of total revenue.
Our Fair Value Estimates Are Forward-Looking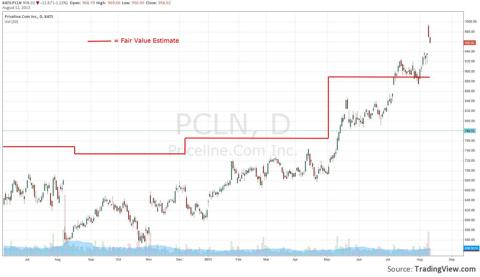 After finishing its acquisition of Kayak in May, Priceline posted gross bookings (total amount spent on travel/rental cars/etc.) of $10.1 billion, 38% higher than the same period a year ago. International bookings drove the lion's share of the growth, surging 44% year-over-year to $8.6 billion.

Image Source: PCLN 2Q 2013
With such robust growth, we think a few trends are driving success at Priceline. Undoubtedly, the firm continues to take share from traditional travel agencies as well as other online services. This is a powerful trend that will help the firm maintain growth over the next several years.
Additionally, as we can see from the above chart, it seems travel spending has accelerated. As evidenced by the relatively low 1.8% growth rate in airline ticket sales, we can see that there isn't much more travel occurring. However, the monstrous growth in hotel room nights and rental car days demonstrate that travelers are staying longer and doing more on trips than before.
From a strategic perspective, much of the conference call centered on mobile. Without question, we believe mobility will help boost growth going forward, particularly since Priceline has significant capital to invest in its mobility apps relative to some of its smaller competitors. CEO Jeff Boyd added some additional commentary about how Priceline views mobility, saying on the conference call:
"Second thing we don't know is how sticky ultimately the customer is and I think that you could hypothesize that ad customers, for example, would be sticker. If you get them to download and use the app, you don't have to pay for them again; therefore they would have high lifetime value relative to advertising costs. And those theories are being acted out not just in the travel space, but all over the Internet trying to figure out what the real value of an app download is and how to drive one that's effective in terms of the usage. And again, I just think it's too early to map that out."
In other words, mobility could help boost brand loyalty to Priceline, thus increasing the value of the platform and helping to maintain margins.
Speaking of operating margins, the metric fell 410 basis points year-over-year to 44.1%. Priceline blamed weaker advertising ROIs, off-line advertising spend, and an unfavorable mix shift. Management didn't seem too concerned about the decline, as the team remains bullish on long-term margin prospects. Nevertheless, we'll keep a close eye on profitability to see if the downward trend can be reversed in the back half of the year.
There may be reason to believe that Priceline's margins are under pressure from its smaller competitors. For one, Orbitz Worldwide (NYSE:OWW) posted 20% growth in bookings, but just 12% revenue growth during its second quarter. With Priceline brandishing assets such as Kayak and Bookings.com, smaller competitors may resort to lowering take-rates in order to steal market share from Priceline. Industry margins may decline slightly, but we aren't overly worried about competition at this time.
Looking ahead, Priceline forecasted a strong third quarter. Revenue is expected to increase 27%-34% year-over-year, while earnings per share are expected to rise 23%-31% year-over-year to $15.40-$16.40.
Valuentum's Take
Priceline continues to generate fantastic amounts of free cash flow and achieve robust operating margins. With another quarter of spectacular growth, we plan to re-evaluate our fair value estimate, but we still contend shares look fairly valued at this time (the shares are trading within our fair value estimate range). Thus, we won't look to add them to the portfolio of our Best Ideas Newsletter.
Disclosure: I have no positions in any stocks mentioned, and no plans to initiate any positions within the next 72 hours. I wrote this article myself, and it expresses my own opinions. I am not receiving compensation for it (other than from Seeking Alpha). I have no business relationship with any company whose stock is mentioned in this article.