The Institute for Supply Management has released its latest services sector report, and the results were encouraging: The group's non-manufacturing index indicated that service sector activity expanded in September for the first time in almost a year.
The index rose to 50.9%, slightly above the 50% mark that is the demarcation between an expansion and a contraction. The index's data subsets painted a picture of a service sector in which demand is picking up, but prices are tumbling — ISM's business activity index rose to 55.1% and its new orders index rose to 54.2%, but the group's price index fell from 63.1% in August to 48.8% in September.
Interestingly, while the overall index indicated an expansion in the service sector, only 5 of the 18 industries within the sector expanded: Utilities; Health Care & Social Assistance; Retail Trade; Construction; and Wholesale Trade.
Given that data, I thought it would be a good time to look for some service industry stocks that pass my Guru Strategy computer models. Here's a bunch that get strong interest from two or more of my models, including several companies from those five growing industries ():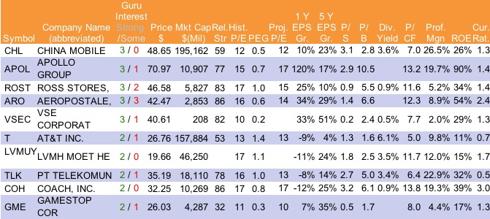 Disclosure: I'm long CHL, APOL, ROST, ARO, T, TLK, COH, and GME.