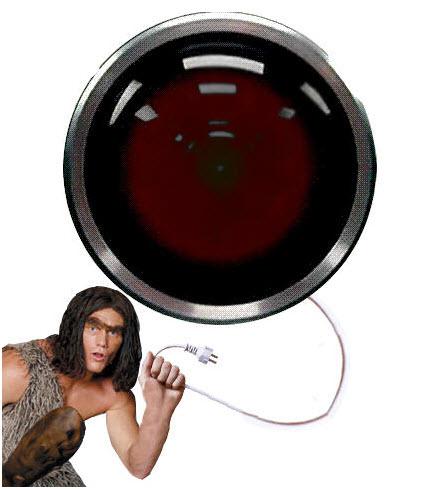 The story of the day was the outage in electronic trading, which shuttered the Nasdaq for most of the afternoon on Thursday. Once trading resumed, the HAL 9000s trading algos were back in business as if nothing happened, at least on the Nasdaq. I'm sure there will be more to this story that will leak out over time.
However, I must point out that just before the halt of trading on the Nasdaq, there was some strange trading going on involving Apple (NASDAQ:AAPL). When the stock broke below $500, that's when the lights went out as the stock was stuck at $498 for nearly 20 minutes. While Apple was in the dark, Carl Icahn's stream of tweets were fixated on his upcoming dinner with Andre Tim Cook. However, among Icahn's tweets was his speculation that he anticipates Apple will conduct large stock buybacks. HFTs and algos can make a living off tiny arbitrage opportunities when one exchange goes dark. I don't know how or what securities or options were involved and I'm just imagining this as a fact.
This crash of course is just another turnoff for Main Street.
Meanwhile, markets rebounded as China Mfg PMI increased to 50.1 vs. 47.7; German Mfg PMI rose to 52 vs. 50 while U.S. PMI Flash also increased to 53.9 vs. 53.2. FHFA Home Price increased by 0.7% overall. These better reports were what bulls focused on. Ignored was a poor Jobless Claims report, which showed an increase to 336K from 320K. Gallup polls showed unemployment by their measures at 8.9%, which isn't focused on by bulls, and if it was, it would be spun as QE positive. Bloomberg Consumer Comfort was quite negative, -28.8 vs. -26.6, and this shows up in many retail earnings reports.
As noted again Wednesday, the trusty McClellan Oscillator ($NYMO) was in short-term oversold territory, meaning the odds for a rally were high.
Leading sectors higher included the S&P 500 (NYSEARCA:SPY), Financials (NYSEARCA:XLF), Small Caps (NYSEARCA:IWM), Materials (NYSEARCA:XLB), Biotechs (NASDAQ:IBB), Energy (NYSEARCA:XOP), Miners (NYSEARCA:XME), Transports (BATS:IYT), Homebuilders (BATS:ITB) and so forth. Even beaten down overseas sectors included Emerging Markets (NYSEARCA:EEM), China (NYSEARCA:FXI), India (NYSEARCA:EPI) Russia (NYSEARCA:RSX), Brazil (NYSEARCA:EWZ), Thailand (NYSEARCA:THD) while Turkey (NYSEARCA:TUR) struggled. There was some yield curve plays in motion as the 10 year Treasury (NYSEARCA:IEF) declined in price while the long term Treasury (NYSEARCA:TLT) rose in price. In European trading, the European 350 ETF (NYSEARCA:IEV) and German ETF (NYSEARCA:EWG) were strong. The dollar (NYSEARCA:UUP) was also strong while gold (NYSEARCA:GLD) rose slightly. Oil prices (NYSEARCA:USO) rallied again and base metals (NYSEARCA:DBB) were flat.
Volume returned to its ultra-light rally ways, while breadth per the WSJ was positive.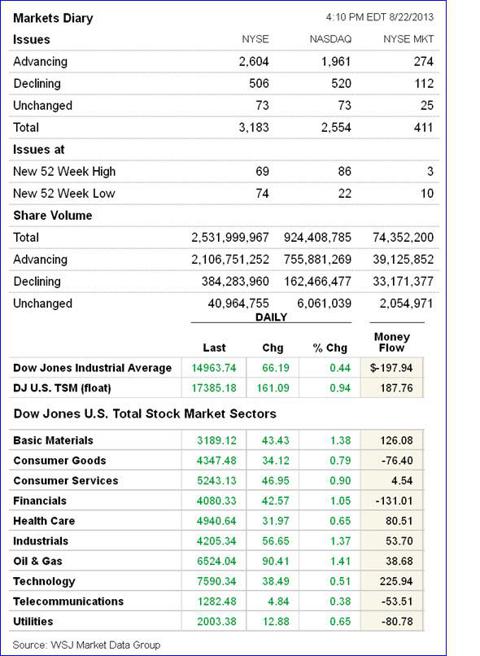 NYMO

The NYMO is a market breadth indicator that is based on the difference between the number of advancing and declining issues on the NYSE. When readings are +60/-60, markets are extended short term.

NYSI

The McClellan Summation Index is a long-term version of the McClellan Oscillator. It is a market breadth indicator, and interpretation is similar to that of the McClellan Oscillator, except that it is more suited to major trends. I believe readings of +1000/-1000 reveal markets as much extended.

VIX

The VIX is a widely used measure of market risk, and is often referred to as the "investor fear gauge." Our own interpretation is highlighted in the chart above. The VIX measures the level of put option activity over a 30-day period. Greater buying of put options (protection) causes the index to rise.

SPY 5 MINUTE

.SPX WEEKLY

INDU WEEKLY

RUT WEEKLY

QQQ WEEKLY

SPY DAILY

IGV WEEKLY

IBB WEEKLY

ITB WEEKLY

XLF WEEKLY

KRE WEEKLY

XRT WEEKLY

XLY WEEKLY

IYT WEEKLY

IYR WEEKLY

XLB WEEKLY

HVPW WEEKLY

MUB WEEKLY

IEF WEEKLY

TLT WEEKLY

UUP WEEKLY

FXE WEEKLY

FXA WEEKLY

GLD WEEKLY

USO WEEKLY

VEA WEEKLY

IEV WEEKLY

EWG WEEKLY

VWO WEEKLY

EPHE WEEKLY

THD WEEKLY

IDX WEEKLY

EWM WEEKLY

EWY WEEKLY

FXI WEEKLY

RSX WEEKLY

EPI WEEKLY

EWZ WEEKLY
...
Okay, this was a strange day. It didn't surprise me to see a rally with the NYMO once again oversold, but now it's not. I guess you could judge the rally today powerful given the NASDAQ situation being such a negative. There doesn't seem to be enough fear from my view, given that much of the world's markets are in freefall due to currency declines. Again, this is similar to the Asian Crisis of 1997, which even constrained the dotcom run then for two-thirds of that year.
The yield curve games being played Thursday were odd as yields on shorter-term paper rose while long dated maturities yields fell. What's that game all about?
Friday brings us New Home Sales data and a Janet Yellen speech from Jackson Hole.
Let's see what happens.
Disclaimer: The charts and comments are only the author's view of market activity and aren't recommendations to buy or sell any security. Market sectors and related ETFs are selected based on his opinion as to their importance in providing the viewer a comprehensive summary of market conditions for the featured period. Chart annotations aren't predictive of any future market action rather they only demonstrate the author's opinion as to a range of possibilities going forward. More detailed information, including actionable alerts, are available to subscribers at www.etfdigest.com.
Disclosure: I am long IGV, IBB, HVPW, VEA, EWG, FXI. I wrote this article myself, and it expresses my own opinions. I am not receiving compensation for it. I have no business relationship with any company whose stock is mentioned in this article.