JPMorgan's (NYSE:JPM) share performance has been disappointing over the last year. While Bank of America (NYSE:BAC) and Morgan Stanley (NYSE:MS) have shot up almost 80%, JPMorgan lags seriously behind with only half that performance. Obviously, JPMorgan faces serious headline risk due to the London whale derivative scandal and probes by US government agencies over the manipulation of energy markets and a DOJ investigation over energy trades. The uncertainty related to those inquiries, and possible settlements/fines, made a clear impact on the stock price. JPMorgan shares increased 44% over the last year and 22% year-to-date only outperforming Wells Fargo (NYSE:WFC) with a 28% increase over the course of 52 weeks and 27% year-to-date. Almost the entirety of share gains were booked this year, a clear sign that the derivative trading loss resulting from its London trading desk in 2012 ruined it for shareholders.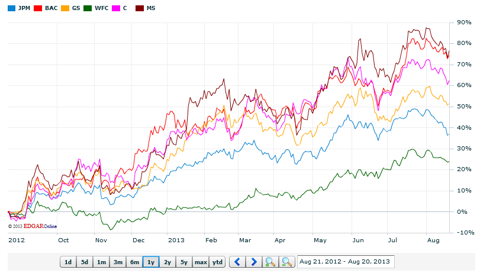 I believe that the market needs to focus more on fundamentals rather than headlines and needs to rationally assess how potential fines affect JPMorgan's profitability. While billion dollar fines make great news, they become less exciting if put into context. Based on the analysis provided below, I think that JPM has an annual normalized earnings power of around $24 billion a year after considering preferreds. A fine of $1 billion would account for only 4.5% of net income available to common shareholders. Annoying, but not really significant and worth the drama. In fact, analysts and investors got a taste of JPMorgan's earnings power when it handsomely outperformed EPS estimates over the last four quarters.

JPMorgan shares hit a 52-week high in July at $56.93 and are down 9% since. So, is the pullback an attractive entry point to snatch up an undervalued business? A focus on relative and absolute valuation metrics should clear the view that JPMorgan is a steal at $52 a share.
Low relative valuation
JPMorgan trades at the lowest forward P/E of its peer group, even lower than Citigroup (NYSE:C) which is battling provision issues for years and JPMorgan's credit provision history is significantly better than Citi's. The financial sector in general does not seem to be very loved which I take from fairly depressed P/B for a variety of firms. Bank of America, Citigroup and Morgan Stanley trade at significant discounts to accounting value artificially deflating the book multiple for the entire group. So far only Goldman Sachs (NYSE:GS) and Wells Fargo manage to trade at premium to book value. I think that P/B multiples will increase when sentiment towards banking franchises changes. Bank of America is the only other stock of the peer group that has a single-digit earnings multiple making it also an interesting long candidate.

Growth in equity value driven by earnings growth and multiple expansion
My estimates for 2014 yield a basic EPS of $6.29 only 3% higher than the $6.10 average EPS estimate from analysts. I estimate net sales consisting of net interest income and noninterest expenses to hit $107.7 billion in 2014. Out of total sales 31% would be derived from net interest income and 69% out of noninterest income. JPMorgan has relatively low provisioning expenses both compared to its peak provisioning in 2009 and compared to peers. Delinquency trends for home equity, prime- and subprime mortgages and credit cards are down substantially and justify a lower run-rate for provision modeling.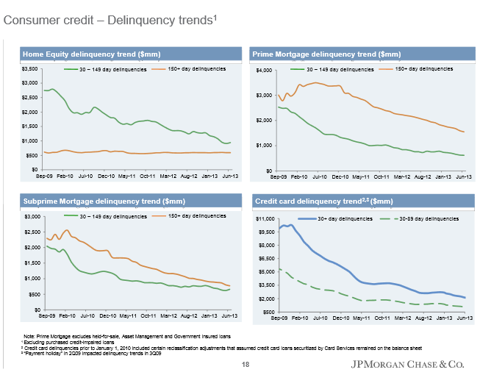 As a result, I estimate that JPMorgan could earn $23.7 billion in 2014 which is not far from the $19.9 billion it earned in 2012 and the $22.9 billion it managed to rake in over a 12-month rolling period. A breakdown of my valuation is provided below.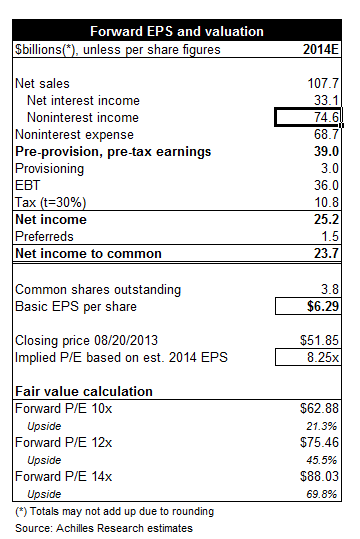 Conclusion
Based on a 2014 EPS of $6.29 and a normalization of P/E multiples, which I predict to expand in an accelerating economy, fair value estimates range from $62.88 to $88 per share, giving JPMorgan shares upside potential of between 21% to 70%. Bargain-hunting investors could use the recent pullback in share price to snatch up one of the prime investment banks in the US at a comparatively low price relative to fundamentals and peers.
Disclosure: I am long BAC, GS, C, JPM. I wrote this article myself, and it expresses my own opinions. I am not receiving compensation for it (other than from Seeking Alpha). I have no business relationship with any company whose stock is mentioned in this article.