Knightsbridge Tankers Limited (VLCCF) is a small shipping company. Most recently the company has restructured itself and currently, after selling all of its crude carriers, it consists of only four Capesize vessels. This is quite a big change in Knightsbridge strategy - due to specific situation in the whole shipping business the company, for the time being, finished its operations in oil business and focused totally on dry bulk shipping. As a result we presently have a small dry bulk operator with a strong balance sheet paying decent dividends. What's more, as most of shipping operators, Knightsbridge market value is deeply depressed. Some basic metrics are in the table below: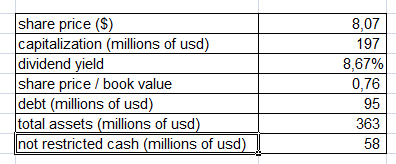 As the table shows, current company's dividend yield is 8,67%. It looks decent but on the other hand Knightsbridge pays one of the least dividends it has paid in its history.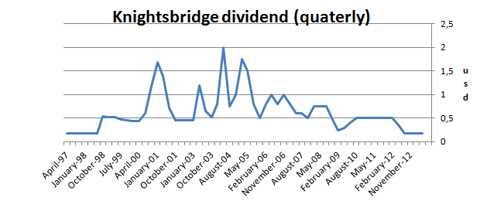 So what are the prospects for the company and what about the sustainability of its dividends ?
Current situation in dry bulk carriers market.
After boom years between 2004 and 2008 the shipping rates crashed in the Fall of 2008. For example, average Capesize time charter rates crashed from about $160.000 a day in May 2008 to $20.000 a day in November 2008. It was a total disaster in the sector. Since that time the rates have leveled off and today stay at very low levels (the temporary bottom was reached at $8.500 a day in August 2012). According to RS Platou, most recently the rates have recovered a little bit and today stand at $13.000 a day. What's more, the market starts to show some signs of strength - spot rates are higher than time charter rates.
Trying to find the reason for that slight recovery one should look at China. The main demand driver in the sea transportation in the last decade was China and its imports of commodities. Generally, when Chinese economy is more or less prosperous it means Chinese businesses import a lot of iron ore, coal, grains etc. These are commodities carried by dry bulk carriers and due to Chinese demand shipping rates are inclined to rise. But, as it was many times vividly described by many Seeking Alpha contributors, the main feature of shipping industry last years was dramatic build up of supply of dry bulk carriers. This, together with economic crisis of 2007 - 2009, was the reason for rapid decline of the shipping rates. But now there is a slight improvement - e.g. China steel production is growing and iron ore imports are bigger than a year ago. In June, according to RS Platou, Chinese iron ore imports were 10,8% higher than a year ago. This, together with decreasing bulk carriers order book, has a positive push for shipping rates.
Conclusion: presently the dry bulk shipping rates seem to be slightly recovering. The sustainability of that recovery is rather hard to predict due to many questions about the health of Chinese economy but the second factor, i.e. stabilizing global supply of bulk carriers is, in my opinion, a limiting factor for further declines of shipping rates.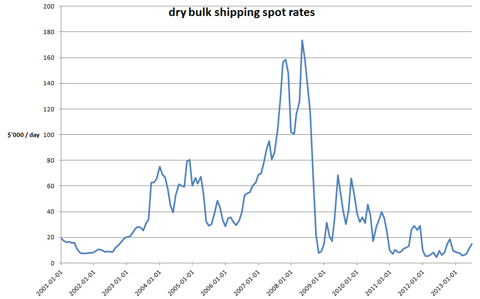 source: RS Platou
Knightsbridge dividend sustainability.
Today Knightsbridge owns four Capesize dry bulk vessels of total 694.000 dwt. It also holds newbuilding contracts for two 182.000 dwt Capesize vessels with estimated delivery in 2015. The company policy is to hold rather new ships - the oldest carrier operated currently was built in 2009. Therefore the shipping expenses are kept as low as possible.
Another company policy is to hire vessels to its customers on time charter rates rather than on spot market. In this way Knightsbridge limits the risk of having its ships unemployed but on the other hand such a policy sometimes limits also the revenues (when spot market rates are higher than time charter rates). Presently three vessels are hired on time charter basis and one operates in spot market. This situation may change in the coming months - the longest time charter expires in 2014 and it is not determined whether the company will find customers on time charter basis.
Trying to assess the sustainability of company's dividends the cash flow projections should be built. In these projections I assume that after the time charters expirations the vessels will be operated on spot market rates; in that case the vessels expenses will be covered by Knightsbridge (in case of time charter part of the expenses is covered by the customer). This is rather pessimistic assumption but cautious as well.
Well, let's look at the cash flow projections for the nearest three years.
Basic assumptions for these projections are:
 
time charters expire in 2013 and 2014; on time charter expiration the vessel operates exclusively on the spot market with the shipping expenses going up
new vessels don't start operating until 2016 (there are no revenues from newbuilding in projections)
depreciation, administrative and other expenses are estimated taking second quarter 2013 as a basis
$0,175 a share dividends are paid quarterly through the whole projections period
Knightsbridge current debt ($95 millions) is rolled over at expiration
installments for newbuilding are paid in 2014 and 2015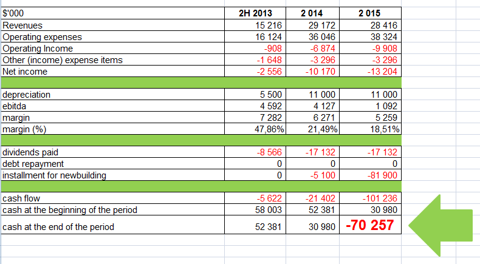 The crucial result is in the cell indicated by the green arrow. This is a hypothetical cash position of the company at the end of 2015. In my projections that value depends on spot market rates at the beginning of projections (to simplify it). Generally, when spot rates are going up so goes the cash position of the company. Even small change in spot rates is able to change the cash flows dramatically. The table below shows how the cash position at the end of 2015 depends on spot rates:

As can be seen, the cash position is rate sensitive. Rates at today's very depressed level would result in negative cash position at the end of 2015. Of course, it's technically impossible - the company would have had to take some drastic steps to protect itself against such a case (selling its vessels, taking out the bank loans, issuing new shares - these are just a few examples). Generally speaking, it would mean troubles. But looking at the spot rates history I guess there is very low probability that these low rates will hold much longer. The break-even spot rate is $32.600 - then Knightsbridge would have been able to keep its operations going, sustain its dividends at current level and finance its newbuilding. Keeping in mind that since January 2001 till May 2008 the average spot rate was $49.700 the break-even seems to be attainable.
Conclusion: taking into consideration recovering shipping rates and shrinking supply glut of new dry bulk vessels Knightsbridge Tanker Limited seems to be well positioned for the coming years. Therefore sustainability of its decent dividends isn't rather endangered.
Disclosure: I am long VLCCF. I wrote this article myself, and it expresses my own opinions. I am not receiving compensation for it (other than from Seeking Alpha). I have no business relationship with any company whose stock is mentioned in this article.