Agriculture is one of my favorite long-term themes as a crowded planet modernizes - but the recession has certainly hit the names in the sector more than I expected; I thought these would be a bit more recession-proof. In the first few days of the week, two underachievers of late - Mosaic (NYSE:MOS) in fertilizer and Monsanto (NYSE:MON) in seeds/herbicide have reported, and despite disappointing numbers have not been hammered. In fact Mosaic rallied after its report Monday evening but then again as we noted - by midday yesterday almost every stock was up.
At some point all the bad news will be in these stocks, but it is unclear if that point is now. The fact this sector has not participated in the "kill the dollar, buy any commodity-related stock on earth" is also troubling - the only commodity sector somewhat similar is natural gas, and even there it's more about the raw commodity that has stunk, not the individual corporations whose stocks have still been run up even as the commodity languishes.

First, Mosaic reported yet another poor quarter, but as they have done the past three quarters in a row, they promise things will improve a quarter or two out. Considering they've been wrong for nearly a year, it is hard to believe their forecasting skills now - but yes, at some point things will be rebounding in their sector as farmers worldwide rebound.
Mosaic Co., which makes plant nutrient potash and fertilizer, said Monday its

fiscal first-quarter profit fell nearly 92 percent, hurt by lower market selling prices for its some of its products.
Revenue dropped 66 percent to $1.46 billion from $4.32 billion
Earnings for the three months ended Aug. 31 slid to $100.6 million, or 23 cents per share, from $1.18 billion, or $2.65 per share.
Analysts polled by Thomson Reuters, on average, had predicted a higher profit of 35 cents on revenue of $1.54 billion.
Sales of phosphate fell 69 percent and sales of potash dropped 66 percent.
Additionally, the average price for phosphate fell 73 percent and the average potash price dropped 22 percent.
The company cited "significant" declines in selling prices for phosphate and potash, as well as reduced potash sales volume compared with a year ago. The decline in potash sales volume and selling prices comes as customers pull back on purchases amid volatile grain and oilseed prices.
Phosphate sales volumes in the first quarter were about even with a year ago.
These comments are not very different from what was said one quarter ago, two quarters ago, or three quarters ago - just change the timestamp.
Jim

Prokopanko

, Mosaic's President and Chief Executive Officer: "Phosphate fundamentals have improved. The potash market is evolving and we expect strong demand in calendar year 2010 for both nutrients.. Our long-term outlook for crop nutrients remains positive and we continue to execute our strategic plans designed to drive strong cash flow and shareholder value."
"We believe farmers will increase application rates in response to high 2010 new crop prices and the need to replenish the large amount of nutrients withdrawn by the record crop this year," Chief Executive Officer Jim

Prokopanko

said in a statement.
"Gross margin has improved from the fourth quarter of fiscal 2009 and we look for further modest improvement in fiscal 2010."
These type of companies run very levered models, so when times are good it really flows to the bottom line... and vice versa
Mosaic said it isn't providing financial guidance on potash sales volumes until market conditions normalize.
Thus far, all I see with Mosaic is a company that "filled a gap" perfectly and is now rallying into resistance, potentially setting up another short opportunity. A move back over $52 would be constructive and a move over $56 would be bullish. In this market there are very few stocks below all 3 moving averages (20, 50, and 200) - I screen for that often, and for liquid stocks (decent volume) over $300M its been in the 70 to 90 range - so Mosaic is in a (ahem) select group.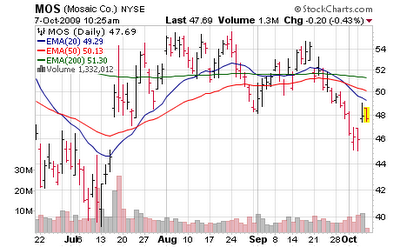 As for Monsanto, there was little surprise in the report as they company just pre-announced early last month [Sep 10: Monsanto Offers Disappointing Guidance for 2010] - herbicides continue to be a thorn in their side as they transition to a focus on seeds.
Leading chemicals and biotech seed developer Monsanto Co (MON) reported a higher fourth-quarter loss on Wednesday, though results slightly beat Wall Street estimates, as a downturn in its herbicide business ate into revenues.
The company warned last month that results would be hard hit by a slide in its Roundup herbicide business tied to tough competition from China, and a global glut of glyphosate, the key ingredient in Roundup.
Monsanto reported a net loss of $233 million for the fourth quarter, compared with a loss of $172 million in the same period last year. The company reported a loss per share of 43 cents on an as-reported basis, compared to a loss of 31 cents a share a year ago. On an ongoing basis, the company reported earnings per share of 2 cents, compared to a loss of 3 cents a share a year earlier.
The results slightly beat estimates as analysts were looking for quarterly earnings on an ongoing basis of 1 cent a share, according to Thomson Reuters I/B/E/S.
Company officials said Wednesday that net sales for the year hit a record $11.7 billion because of growth in global corn seed and genetic traits revenue, as well as increased soybean seed and traits revenue in the United States.
The company also said it was seeing revenue growth in its cotton seed and traits business in India and Australia.
Profits from seeds and genetic traits overall made up more than 65 percent of total company gross profit in 2009, up 17 percent over fiscal year 2008.
Monsanto will push overall seed pricing up 8-10 percent in 2010, Monsanto chairman Hugh Grant said. He also said the company will introduce at least one new product every year for the next seven years.
Analysts said the Roundup downturn was well known and Wednesday's results held no surprises. "While the super spike they saw in Roundup was nice while it lasted, it is going to make for some nasty comparisons going forward," said Morningstar analyst Ben Johnson. "The seeds business is really the long-term growth driver as a whole."
Guidance
The company affirmed its full-year ongoing 2010 earnings guidance in the range of $3.10 to $3.30. Monsanto's full-year 2010 EPS guidance on an as-reported basis ranges from $2.85 to $3.11.
Chart wise - all the same issues as Mosaic.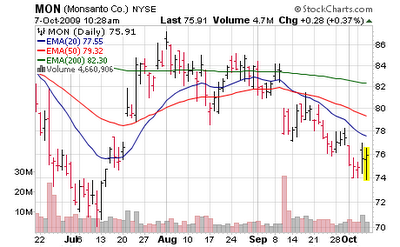 No positions