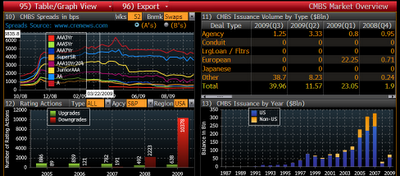 This is a Bloomberg summary page of conditions in the Commercial Mortgage-Backed Securities market. Note the chart in the upper left hand corner which shows a history of spreads on various types of CMBS. All spreads have been declining since last April, even as news stories of commercial real estate calamities proliferate. In the bottom right chart, note the increased issuance of CMBS this this year, versus last year—this market is coming back to life, despite all the horror stories you are hearing.
The bad news is summarized in the bottom left chart, which shows huge increases in downgrades of CMBS this year. The bad news is all over the place, and unlikely to get much worse; otherwise spreads would not be contracting. And while you can bet that rating agencies are doing their utmost to downgrade things, upgrades are still higher this year than they were last year.

The Manheim index of used car prices has risen over 20% this year through September. That's the biggest increase on record. The cash for clunkers program hasn't had much to do with this, since the rising price trend has been firmly in place for many months. I note reports in the news today that BMW is now beginning to increase output at its factories in response to strong demand, after cutting production sharply earlier this year. Sounds like a V-shaped recovery to me, and while some sectors are experiencing tough price competition, that's not the case for everyone, as this chart makes clear.
These two charts put the goings-on in the mortgage market into a long-term perspective, and thus may be helpful. The first chart shows how new applications for mortgages have rebounded this year, and how the volume of new applications is running about three times the rate of 1990. The second chart shows a significant rebound in mortgage refinancings which began about three months ago. And both charts show the yield on conforming MBS, which is an important driver of refis and new mortgage applications.

A few points: by any measure, activity is picking up in recent months, and activity is relatively healthy from an historical perspective; and mortgage rates currently are at very low levels, which is likely to encourage yet more activity and sales. Bottom line: the housing market has some favorable tailwinds at work, in addition to lower and more attractive prices.