We are seeing an interesting phenomenon right now with both India and Brazil facing serious economic problems due to their currencies falling versus many of the world's key currencies. Brazil has announced a new program to try to halt this fall and the inflation which is now running rampant across the country but India is faced with tougher decisions based on their fiscal situation which is much more dire than anything Brazil is facing right now.
We would point out that both of these countries have large socialist programs and large, inefficient state-owned corporations that carry out activities that would be best suited for corporations with shareholders demanding returns on capital rather than a country looting the profits for programs which they cannot afford based on tax revenues.
We have received quite a few inquiries regarding our view on Petrobras (NYSE:PBR) and the bottom line is that we find it quite hard to get excited in the short-term over the company's prospects. Long-term it should be a viable play, but right now we see little reason to subject our portfolio to that volatility and sideways movement when there are so many great domestic opportunities here in the US which offer tremendous upside. Stick with that which is working and try not to get too cute by being a contrarian. There is a time for that, but right now is not that time.
Chart of the Day:
It appears that copper may have reached an interim high unless we can see a move higher that takes us through the $3.40/lb level. The market might require a reset or consolidation here before we get that move as we have seen a huge move over the past month. If China continues to report bullish economic news look to copper to confirm whether the numbers are bullish or not. This is a 'China Trade' for sure, and investors should recognize that before becoming involved.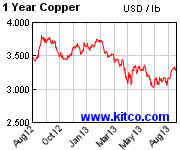 Source: Kitco
Commodity prices this morning are as follows:
Gold: $1375.30/ounce, up by $4.50/ounce
Silver: $23.14/ounce, up by $0.105/ounce
Oil: $105.22/barrel, up by $0.19/barrel
RBOB Gas: $2.9744/gallon, up by $0.0096/gallon
Natural Gas: $3.53/MMbtu, down by $0.015/MMbtu
Copper: $3.347/pound, up by $0.017/pound
Platinum: $1541.30/ounce, up by $1.20/ounce
Oil & Natural Gas
It has been a while since we last discussed one of our leading indicators, Cheniere Energy (NYSEMKT:LNG). The stock came back to life yesterday with a $1.09 (3.95%) move to the upside with the shares finishing the session at $28.67/share as 1.7 million shares were traded. We do not want to get too excited about this move as the chart indicates that we need a move above $30/share to get excited, but we are within striking distance and the fact that one of our leading indicators is trying to break out of a period of sideways movement at the same time some of our other names are attempting to do the same thing speaks volumes to us. This is a name readers need to watch if heavily invested in the oil and natural gas E&P names.
Moving towards a breakout at the same time that other names are trending higher indicates to us that we might see many names within the sector test all-time and 52-week highs over the next few weeks.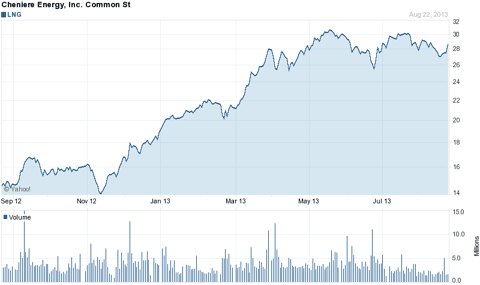 Source: Yahoo Finance
One of the other names which seems to be confirming this is Gulfport Energy (NASDAQ:GPOR), which happens to be our largest position in our various portfolios. The company looked poised to make this move before their latest quarterly conference call but disappointed with the announcement that their exit rate would meet previous guidance but full year production would not because of some internal moves the company made. The stock pulled back, consolidated and now we once again find ourselves with a stock whose momentum wants to carry it higher. In Gulfport's case the table appears to be set perfectly as we are due some drilling results and if history is any guide all the analysts who are bullish will reiterate their bullish opinions on the shares with new reports when figures are released. It is important for readers to remember that many of these analysts now have price targets around the $70/share level so many believe that this name has a good bit further to rise.
The Gulfport chart resembles the Cheniere chart and with both moving higher now it does appear that something is up. We think it is the beginning of the next leg up in the sector.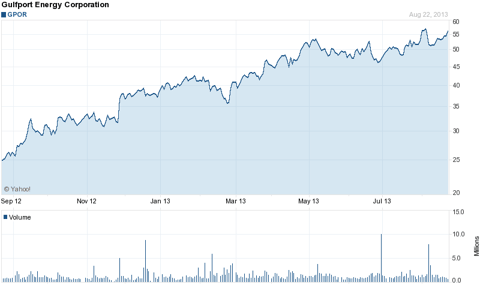 Source: Yahoo Finance
Diversified Miners
Our bullishness of oil is well documented. The fact that we also like the NGL play in the shales should be no surprise either. These two facts are part of the reason we warmed up to Freeport-McMoRan (NYSE:FCX) long-term when we did. Admittedly it was not a 'conviction buy' type of call, but we laid out the case for why we liked this diversified miner over other names and ironically the roadmap we laid out for the stock to follow is taking place. Yes, it is taking place much quicker than we anticipated but the fact of the matter is that oil and natural gas prices have remained steady as a whole and the next leg of copper and then gold seems to be taking place. The strength in copper prices has surprised us as we have watched the move over the past few weeks, but the economic data out of China has improved dramatically.
We still are not sold on the entire turnaround story coming out of China, which is why we are not as of yet bullish of a name like Vale (NYSE:VALE). The day will come when that will be prudent, but right now Brazil is facing some serious inflation caused in part by capital fleeing the country and ending up in what appear safer assets. It would take a bullish China story with strong iron ore sales to help the economy back in Brazil and until that currency can find stability we would be worried to use Vale as trading tool as they have a lot of exposure to Brazil. Yes, their cost to mine is decreasing but as we have learned that will only increase the probability of a strike as inflation squeezes workers and wages will have to increase while all of the company's sales within Brazil face inflation pressures and the company's holdings in Real terms see purchasing power whittled away by that rising inflation.
Disclosure: I am long GPOR. I wrote this article myself, and it expresses my own opinions. I am not receiving compensation for it (other than from Seeking Alpha). I have no business relationship with any company whose stock is mentioned in this article.