If you look at the movement of Brent Crude oil and Saudi Aramco production statistics over the past two years, you see an interesting pattern. If the price gets at or close to $125 per barrel Saudi production picks up. If the price drops to or close to $100 per barrel, Saudi production is ratcheted back.
In the period between 1986 and 2002, the Saudi oil ministers managed (with their sometimes-compliant OPEC member states partial assistance) to maintain oil in a range somewhere between 25 and 30 dollars. The official "price band" was said to be between 26 and 28 dollars per barrel. While there were occasional breaches of the price band, the Saudis were pretty good at keeping the price at the desired level, a level which seems low by today's standards but seemed awfully high compared to the $2 per barrel level of the 1950's and 1960's.
Now, virtually everyone these days agrees that to the extent there might still exist spare production capacity in the oil producing world, that capacity can be found in the Persian Gulf and specifically, the Kingdom of Saudi Arabia.
From the graphs of price data for Brent Crude oil (the new global benchmark price for oil given the local supply constraints at Cushing, Oklahoma over the past few years) as well as Saudi production data, it seems that the Kingdom has set its sights on a new price band, between $100 and $125 per barrel for oil. Here is Saudi production from Stuart Staniford at Early Warning.
Here is the price of Brent crude oil represented by BNO, the ETF that tracts the price of Brent on futures exchanges. When BNO is around 70, Brent is around $100 a barrel. In this short term chart the impact of contango or backwardation can be ignored as not statistically significant.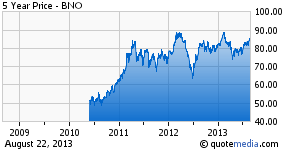 The most important thing to notice is that when the price of Brent crude fell to close to and briefly below $100 in mid-2012 (due to global economic weakness), the Saudis cut back production by nearly a million barrels a day rather quickly. The price of oil reversed direction and surged, throughout the remainder of 2012 and early 2013.
However, Saudi production in 2013 began to increase back toward the high water mark of 10 million bpd seen just the previous year. What this means is that should demand exceed the levels of production that are available from KSA and other suppliers within the price band, the upper limit of $125 per barrel i.e. the "new price band" will be broken.
From there, it is not clear where prices go, but in all likelihood it will be somewhere in the $150 to $200 per barrel range, or at least high enough to trigger another global recession.
In terms of trading, this means that there is a floor under oil prices (the "Saudi put") at $100 on Brent. But as the Saudis are close to their maximum sustainable output (on an historical basis) there is a potential for a breakout from the $100-125 price band, with an upside potential of 50% to 80%, should the call on OPEC not be answered.
More than an 80% rise in oil prices usually results in a recession which means oil prices head back downward. So, let's not get greedy. Be prepared to cash out at a 60-70% bump in oil prices.
The trade is simple. Leveraged or non-leveraged positions in Brent crude [BNO] or products (UGA, UHN) or the Cushing-traded alternatives (USO, USL) with some acknowledgement that the Brent-WTI Spreads could widen up again and diminish the returns of this trade for holders of Cushing petroleum contracts.
Disclosure: I am long USO. I wrote this article myself, and it expresses my own opinions. I am not receiving compensation for it (other than from Seeking Alpha). I have no business relationship with any company whose stock is mentioned in this article.