Alpha and Omega Semiconductor (NASDAQ:AOSL) is a small-cap company whose 2010 IPO can only be described as a complete disaster. Within only a few months of its offering, share prices plunged from the asking price of $18 per share to just over $10 per share. In its short history, the stock has done nothing but disappoint shareholders, slapping them in the face with its current market value of around $7.50 per share.
Valuation has gotten so low that the company looks like a prime takeover target via any one of the major consumer technology companies it supplies. Its portfolio of close to 250 patents (and over 200 more pending) is valued at exactly $0, adding bonus points to the already appealing $11.12 book value per share. Furthermore, rapidly shrinking margins and net income are masking healthy growth in operating cash flow.
This all adds up to a stock that's down but not out. If any of several near-term catalysts serve to regain even a little bit of investor confidence, shares have up to 75% upside before returning to normal semiconductor industry multiples around $12.92.
Hitting Rock Bottom: Time For A Rebound
There has to be a limit to how far this company's shares can sink. With not much debt to speak of, and a newly acquired, state-of-the-art fabrication facility in Oregon added to the books, the company trades at a 32% discount to its book value.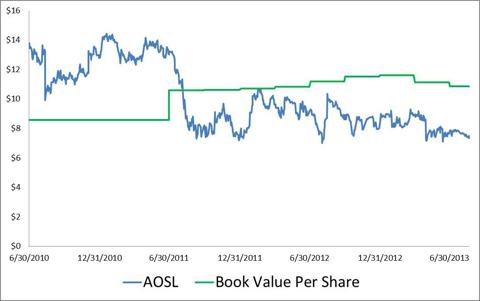 Any company considering a takeover of Alpha and Omega will be paying a lot of attention to both of these numbers, plus a patent portfolio that isn't included in the book value. Notice that over the past 2 years, AOSL has steadily diverged from its book value. On a marginal basis, every decline in AOSL's price makes entry more appealing and takeover more likely.
Thankfully, AOSL seems to have reached a price floor. The following chart illustrates Alpha and Omega's entire price history, from IPO to today. It seems investors have entrenched themselves and set up resistance at about $7.40, as evidenced by several bounces off of this price floor since 2011.

Bad Timing: Illusion of A Flawed Business Model
IPOs can be a big gamble for investors, but sometimes even bigger for the company. Alpha and Omega may have picked the worst time in years for a public offering. A look at global semiconductor sales shows that the company went public at precisely the time semiconductor sales reached their highest ever. Afterward, the company was forced to swallow its bad luck by tumbling down a slope of declining global semiconductor sales.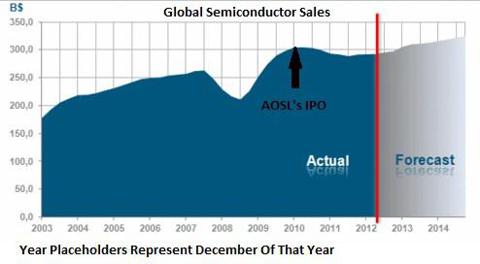 At present, Alpha and Omega has never been publicly traded during a bull period in semiconductor sales. The entirety of its publicly traded life has seen recession in sales. This downward trend has dogged the company and denied it the chance to showcase the true value of its business.
Looking forward, projections anticipate an inflection in semiconductor demand, beginning this year and continuing to the end of 2015. This long term catalyst should be a huge boon to the company's top line and to investors' confidence, as the company will finally be able to ride the tailwinds of a favorable semiconductor market.
Underlying decline in global semiconductor industry sales has been masked by the illusion that the company's business model is deteriorating. Alpha and Omega's quarterly revenue and earnings performance has been ugly the past few years and investors are well aware. Sharp declines in both gross margin and operating margin seem to be revealing a business model bound for failure. However, cash flow is the company's light at the end of the tunnel.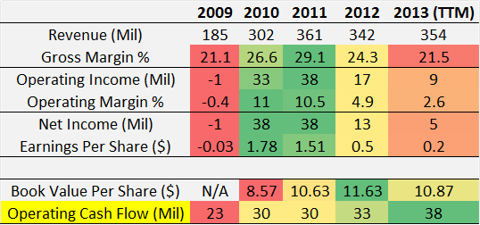 When operating cash flow is moving in the opposite direction as net income, investors are bound be misled. Ominously declining net income and earnings per share have spooked them to such an extent that operating cash flow is being completely ignored. Alpha and Omega's operating cash flow has never been higher than in the past 12 months, pointing to a business model that is humming along quite nicely. Meanwhile, stock price has never been lower, and operating cash flow yield has soared to over 19%.
This divergence boils down to simple accounting. Depreciation expense has skyrocketed to 24 million dollars a year and still rising. At 24 million dollars, depreciation was double taxable income for 2012. Since depreciation has no cash relevance, its value is added to taxable income when calculating cash flow. This is reminiscent of telecom companies, which rake in far more cash than their pretax income suggests, because much of their recorded expense comes the depreciation of capital.
As an investor, it is important to understand that depreciation represents a capital expense for which the company has already paid, but may have financed with debt. For Alpha and Omega, this means that net income is useless to investors, since it has already paid off most of the debt incurred to finance its capital. From an accounting perspective, the company is actually reaping monetary benefits from reporting low net income. With low, and sometimes negative net income in recent quarters, the company pays nearly nothing in taxes while still pulling in tens of millions in real cash. Thus, savvy investors should consider the divergence a tax advantage rather than an ominous trend.
Invisible Assets: A Juicy Off-Balance Sheet Patent Portfolio
Alpha and Omega considers its greatest strength to be its array of over 1,000 products (240 new products in 2012 alone). Upholding these products is a portfolio of nearly 250 US patents and over 200 patent applications. Research and development expenses of approximately 25 million per year have constantly paid into this patent portfolio, which has no value on the company's balance sheet.
The following chart shows Alpha and Omega's balance sheet intangible asset account, broken down into more detail (latest 10-K report).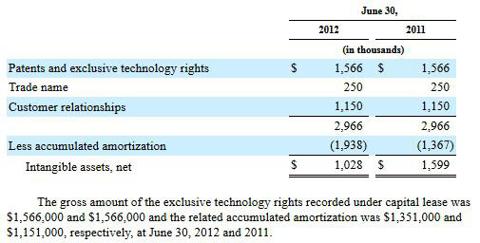 The category "patents and exclusive technology rights" is entirely comprised of exclusive technology rights, as indicated by the footnote. Patents are not declared, and have no value from an accounting standpoint, but this is not uncommon for a research and development driven company.
Alpha and Omega has done nothing wrong, and indeed there is no reason for them to be reporting a tangible book value for their patents. Under GAAP, patents are only required to have value on the company's balance sheet if acquired from another company. Because they are essentially invisible, most managers give little thought to their patent strategy. In fact, it is actually in a manager's best interest to keep patent value quiet because it means they cannot be held responsible for underperformance of these assets.
This is especially applicable to Alpha and Omega, which has historically been an R&D driven company. GAAP treats research and development quite nebulously, which can be hard for investors to understand. A 1 million dollar investment in R&D may yield a patent worth $10 million in a practical sense. Such a disconnect has no place in current accounting practice, since it cannot explain $9 million the patent's value that sprung up out of thin air. GAAP's compromise is that these companies are allowed to expense R&D while keeping their balance sheet completely free of the patents develops. However, patent accounting is quite different when a takeover is on the table.
M&A investors remember Google's (NASDAQ:GOOG) 12.5 billion dollar acquisition of Motorola Mobility, for which Google paid a 63% premium to Motorola's previous close, largely in exchange for its portfolio of over 24,500 patents and patent applications. At the end of the day, this 63% premium amounted to a 7 billion dollar bonus for Motorola shareholders, who were used to seeing $0 on the balance sheet.
Another case of purchasing $0 assets occurred when AOL (NYSE:AOL) sold 800 patents to Microsoft (OTCPK:MFST) for a total of 1 billion dollars in 2012. Before the sale, AOL's book value was 973 million dollars. Afterward, book value more than doubled and AOL stock leaped by 43%.
The moral of these stories is that "invisible assets" have a way of becoming quite visible when it comes to takeovers. The result is a big payday for shareholders. When the acquiring company absorbs its target's assets, intellectual property must be given a value and reported under intangible assets, sometimes doubling the original book value of the target. For Alpha and Omega, whose share price is already a huge discount to book value, shareholders should expect an extremely generous premium for its patent portfolio if the company is acquired. In terms of R&D expenses that have essentially amortized this patent portfolio, the company has poured in over 123 million over the past 5 years. Any company attempting a takeover will likely have to add at least this 123 million to market cap before deciding upon a premium.
Oregon Fab: The Gears Have Shifted
Up until this point, Alpha and Omega's strategy has been to constantly expand its portfolio of technology to cover as many product applications as possible. The end users of Alpha and Omega's products use them to manufacture portable computers, flat panel TV's, LED lighting, smart phones, battery packs, consumer and industrial motor controls and power supplies for TV's, computers, servers and telecommunications equipment. These applications span the consumer, industrial, tech, and healthcare sectors. With these high volume applications, the company has been supplying Samsung Group (OTC:SSNLF), Dell (DELL), Hewlett-Packard (NYSE:HPQ), and LG Electronics, among others.
To execute the strategy and meet demand, the company has leveraged its intellectual property assets far more than property, plant, and equipment assets. Through its "fabless" business model, manufacturing was subcontracted to third party companies who possessed adequate facilities. Most recently, Shanghai Hua Hong NEC Electric Company accounted for 49.9% of Alpha and Omega's wafer fabrication (product manufacturing). Several other fabricators accounted for the rest.
This need to outsource has taken a huge bite out of the Alpha and Omega's bottom line. Since much of their fixed assets (two large facilities in Shanghai) are dedicated to packaging and testing needs, outsourcing created a highly inefficient gap in the company's business cycle. Products were developed through Alpha and Omega research, outsourced to a third party for manufacturing, and then brought back to Alpha and Omega for packaging and testing.
Starting in January 2012, the company initiated a new strategy. A 36 million dollar fabrication facility, which the company calls "Oregon fab," was acquired from Integrated Device Technology, Inc. The plan is to use the facility to bring manufacturing back in-house, substantially reducing operating costs associated with subcontracting to third parties, and filling a gaping hole in the product cycle. In essence, Alpha and Omega is finally moving from a research and development company to a manufacturing company.
However, the plan is not without drawbacks. Transition from outsourcing to manufacturing at Oregon fab has created quite a hiccup in the company's top and bottom lines. The company provided the following guidance concerning the transition...
"During the ramp-up period of our Oregon fab which was acquired in January 2012, our gross margin for the third and fourth quarters of fiscal year 2012 was adversely affected by approximately 2.0% to 3.0%, and this negative impact may continue for the next one or two quarters. However, we expect our gross margin will gradually improve as production of the facility ramps up in subsequent quarters. In the long run, we anticipate that the "fab-lite" model will positively impact our gross margin by accelerating the development of new technology and allowing more cost-effective and efficient development of high-value products." (2012 10-K Report)
Indeed, they were correct. Q1 of 2013 sent net income deep into the red as transition was in full force. Operating cash flow for the quarter was -1 million. Share prices during the quarter seemed squashed between a rock and hard place, as investors were forced to decide between exiting at what appeared to be a price floor and staying with a company who appeared to be losing its most important driver of shareholder value: cash flow.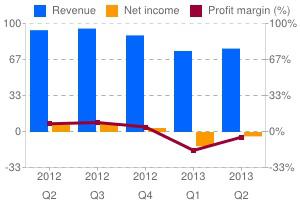 However, Q2 showed strong signs of growth. Operating costs dropped by 9%, due to manufacturing finally being brought in-house. Revenue and net income saw healthy rebounds, while operating cash flow returned was back in the black at 13.6 million.
In the company's Q2 earnings call, CFO Mary Dotz indicated that Oregon fab utilization was at "less than 50 percent" during Q2 but "getting closer... to a 50-50 level." From that statement, there is obviously still work to be done on the transition, but at full utilization, the Oregon fab could do amazing things for both the top and bottom lines.
The Future: Off The Brakes And Onto The Gas Pedal
Q2 of 2013 showed us that the company's new strategy is working. With 4 quarters of transition under its belt, and the most recent quarter showing great promise, there massive upside to be had. Bad timing in the semiconductor market, a massive patent portfolio that is invisible on the balance sheet, and an aggressive strategy that has sent the company and its financials into transition mode make this a classic case of buy low... really low. These factors have aligned in such a way Alpha and Omega appears to be at the very bottom right now.
This is the time to buy. The future has been sliced wide open for a company which now has the ability to process its entire product cycle in-house. The consensus is that the semiconductor industry is set for inflection and growth through 2015 at least, finally giving Alpha and Omega the opportunity to prove itself under favorable tailwinds.
In The Cross-Hairs: Takeover Time
Even if share price stubbornly remains in the doldrums, you can bet Alpha and Omega is sitting on many companies' shortlist of acquisition targets at its current price to book ratio of 0.7, a 92 million dollar mountain of cash, and an unappraised patent portfolio that has essentially been amortized as a yearly R&D expense amounting to 123 million over the past 5 years. This all adds up to a company that could be purchased cheaply, while still delivering shareholders a generous premium. The sum of total book value (281 million) and unrecorded value (123 million in patents), shows that an acquirer could offer anywhere between current share price and $15.61 per share while still purchasing assets at less than their fair value.
Furthermore, what makes this company a prime takeover target in addition to value is the application of its products, particularly to a mega-cap tech company. The array of over 1000 products focus primarily on high volume application. For large tech companies like Samsung, Dell, Hewlett-Packard, and LG Electronics, who are already Alpha and Omega customers, this acquisition offers a way to both improve existing products through a diverse portfolio of technology and cut operating costs by absorbing a supplier.
Alone, Samsung Group accounted for 13.9%, 11.5%, and 10.3% of Alpha and Omega's revenue in 2012, 2011, and 2010, respectively. At 13.9%, Samsung already shells out 13 million a year for Alpha and Omega chips and seems to want more, judging by this trend.
Final Thoughts
The only conclusion that can be drawn from this analysis is that Alpha and Omega has had a perfect storm of unfavorable trends, bad luck, and poor timing that have culminated in a perfect buying opportunity. The company has sent investors all the wrong signals, from a fragmented production cycle - now fixed, to ominously deteriorating net income concealing healthy cash flow growth. With share prices still sitting at a clear price floor well below book value, Alpha and Omega could do almost anything positive and still be a worthwhile play. Regardless, its trajectory for the next few quarters is up and out of its slump.
After Alpha and Omega's IPO, price to cash flow sat comfortably at 8.5, which is fairly consistent with the semiconductor industry average of 8.8. The company had gone public at the absolute height of global semiconductor sales, and investor confidence was strong. When full Oregon fab utilization and tailwinds from the rebounding semiconductor industry regain investor confidence, investors will have their first opportunity to see the company's manufacturing business bloom, and an opportunity to return to that multiple.
Given that the company's CFO has plans for only 15 million in capital investments over the next 4 quarters, we should begin to see cash returns from the company's Board of Directors. 2012 saw a net cash increase of 22 million dollars to an already large mountain of cash. With growing cash flow, shrinking capex, and nothing to do with cash on hand, the BOD will have ample funds to begin stock repurchases or dividends to drive shareholder value. If that is the case, you are looking at a stock that could rise to $12.92 within the next two quarters, using a P/CF multiple of 8.8 and current cash flow. That represents a 75% upside.
Furthermore, any takeover attempt will need to impress shareholders with at least 123 million more in market cap to account for the company's unappraised patents. If a takeover occurs, shareholders could see a premium of 63% for this patent portfolio, while still giving the acquirer a bargain.
Disclosure: I have no positions in any stocks mentioned, and no plans to initiate any positions within the next 72 hours. I wrote this article myself, and it expresses my own opinions. I am not receiving compensation for it (other than from Seeking Alpha). I have no business relationship with any company whose stock is mentioned in this article.