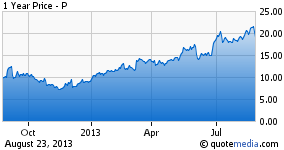 Shares of Pandora (NYSE:P) are witnessing a serious correction after the release of its second quarter results. While earnings were roughly in line with estimates, investors had expected a beat. The cautious outlook on future non-GAAP earnings made many hesitant as well.
As Pandora has finally managed to outgrow advertising and subscription revenues compared to the "expensive" license costs, the next problem arises. Runaway marketing and selling costs and increased competition makes investors really cautious after a large run-up over the past year.
I remain on the sidelines given this year's momentum and the continued challenges ahead.
Second Quarter Results
Pandora generated second quarter revenues for its fiscal 2014 of $157.4 million, up 55.4% on the year before. Revenues came in slightly ahead of consensus estimates at $156.6 million.
GAAP net losses widened from $5.4 million to $7.8 million, as losses per share increased by a penny to $0.04. Non-GAAP earnings came in at $0.04 per share, two cents ahead of consensus estimates.
CEO and Chairman Joe Kennedy commented on the second quarter performance, "Our second fiscal quarter was an important inflection point in Pandora's history. Strong momentum in our mobile business, with non-GAAP total mobile revenue growing 92% year-over-year to $116 million, clearly demonstrates the leverage in Pandora's business model,"
Looking Into The Results
Non-GAAP revenues rose even quicker, advancing 58% to $162.0 million. More important, non-GAAP mobile revenues almost doubled as they rose by 92% to $116.0 million. The discrepancy between GAAP and non-GAAP revenues is caused by $4.7 million in revenues related to subscription return reserves.
Advertising revenues rose by 44% to $128.5 million, while non-GAAP subscription revenues increased by an impressive 153% to $33.5 million.
License costs were up by 35.3% to $81.9 million, thereby comfortably trailing revenue growth. As a percentage of total revenues, costs fell by almost 8 percent points to a still hefty 52% of total revenues.
Unfortunately the growth in advertising and subscription revenues did not come cheap. Sales and marketing expenses nearly doubled, and were up by 95% to $45.8 million over the past quarter.
Listening hours rose by 18% to 3.88 billion hours over the past quarter, as the market share for July reached 7.08% which was up 106 basis points on the year before. The active user base increased by 30% to 71.2 million users.
Looking Ahead
Third quarter non-GAAP revenues are seen between $174 and $179 million. Non-GAAP earnings per share are seen between $0.03 and $0.06. Consensus estimates for revenues stood at $170.4 million, while analysts expected earnings as high as $0.08 per share.
Full year non-GAAP revenues are seen between $640 and $655 million, with non-GAAP earnings per share seen between flat and $0.05 per share, based on a share count of 197 million diluted shares.
On average, analysts expected Pandora to guide for revenues of $635.7 million, and non-GAAP earnings of $0.05 per share. The guidance implies that fourth quarter revenues will come in roughly between $175 and $185 million.
Valuation
Pandora ended the second quarter with $68.9 million in cash, equivalents and short term investments. The company operates without the assumption of debt, for a modest net cash position.
GAAP revenues for the first six months of its fiscal 2014 came in at $282.7 million, up 55.4% on the year. net losses narrowed from $36.4 million last year to $25.6 million.
Trading around $19 per share, the market values Pandora around $3.3 billion, or around $3.7 billion on a fully diluted basis. This values the business at roughly 5.7 times this year's non-GAAP revenues and at a non-meaningful earnings multiple.
Some Historical Perspective
Pandora went public back in June of 2011 when it sold shares to the general public at $16 per share, far above the initial guided price range of $10-$12 per share. Shares kept on slumping to lows of $7 in 2012 as investors were fearful about the continued losses and worried about dilution.
Ever since shares have nearly tripled as they recently hit highs at almost $22. Shares have seen a 15% correction ever since, driven by the disappointing earnings, currently exchanging hands at $19 per share.
Investment Thesis
Pandora traditionally had two large problems. The relative expensive license or royalties costs prevented the company from making profits, while competition has, and might arise from all corners. Web-based solutions such as Spotify are emerging while Apple (NASDAQ:AAPL) will enter the market with its iTunes Radio next month.
The investments in sales and advertising, with expenses up 95% on the year, are at least paying off to some extent. Revenue per thousand listening hours have increased from $29.48 to $38.87 over the past year, putting relative content-acquisition costs under pressure.
Another relief is that the success of mobile is not disastrous for Pandora as revenues on that platform are increasing as well. Mobile revenues per thousand listening hours came in at just $33.90, compared to desktop revenues of $59.31. The gap between desktop and mobile revenues is closing rapidly as mobile revenues totaled just $22.17 per thousand listening hours last year. While the gap hurts current revenues, as users shift towards mobile, 70% already accesses Pandora by their mobile.
All in all, revenues from licenses fell by almost 8 percent point to 52% of total revenues. Margin gains were made largely undone as sales and marketing costs ballooned.
This positive operating leverage, as gross margins are increasing, gives Pandora more cash to invest in the business. In return, this drives topline growth and allows the company to build its market share.
Subscription revenues increased by an incredible 153% to $33.5 million. These will undoubtedly come under pressure as Pandora will abandon the listening cap of 40 hours a month, which will most likely lead to defections from this subscription form, as soon as the 1th of September. Pandora states that it expects that additional advertising sales might fill up a substantial portion of the gap, and more than offsets increased license costs.
Still the developments should be closely watched as Pandora generated 20% of total revenues from this $34 per year service which allows customers to listen to music without commercials.
For now, given the gross margin expansion, Pandora is focused on growth instead of short term earnings. The worries about mobile are overdone as it already generates 70% of total revenues and revenues per thousand listening hours are on the increase, closing the gap with the traditional desktop numbers. Still the relative expensive license costs impact profitability, especially as Pandora is stepping up sales and marketing efforts, undoing all the gross margin gains.
Ye the fundamental business model of the business has improved notably, with relative license costs falling rapidly. Pandora states it is still early in the game, having some 71 million subscribers. At current levels these are valued at around $50 per user each, while the average user listens some 15-20 hours of radio per month. This compares to Facebook (NASDAQ:FB) for example were the average user is valued at almost $100. That being said, the switching costs to another radio platform are much lower for consumers compared to social networks.
The valuation is tricky as it is entirely based on future projections. As such some insight and imagination is needed to properly value a current $4 billion business addressing a huge market opportunity.
For now I remain very cautious given this year's momentum, but I could foresee revenues of $2 billion by 2016/2017, allowing Pandora to report some meaningful profits. Attaching the right valuation multiple to that is tricky, especially given competitive developments and uncertain business model developments.
For now I remain on the sidelines on the strong momentum. I might reconsider my stance after a more prolonged correction, or after witnessing continued improvements in gross margins and a leveling off of marketing expenses.
Disclosure: I have no positions in any stocks mentioned, and no plans to initiate any positions within the next 72 hours. I wrote this article myself, and it expresses my own opinions. I am not receiving compensation for it (other than from Seeking Alpha). I have no business relationship with any company whose stock is mentioned in this article.