A.O. Smith Corp (AOS) is a leader in providing gas, electric and oil, water heaters, water treatment products, and boilers for both the residential and commercial markets. The company also provides copper-tube boilers and expansion tanks, commercial solar systems and swimming pool and spa heaters.
It reports revenue in two segments, North America and the rest of the world. The North American segment largely consists of sales in United States and Canada. The rest of the world segment is responsible for 24% of sales, primarily driven by China and India. Strong growth in these business segments guided A.O. Smith to prosper in terms of revenue.
Normally companies that record impressive growth for a number of quarters face a situation where there is stagnation in the markets, and the growth trajectory tends to fall flat. There are a number of reasons that cause the downfall, reduction in demand for the products is one of them. In contrast to this, A.O. Smith has been observing quarter-over-quarter growth in the past couple of years mainly driven by rising demand for its products. Also, it has posted compelling recent quarter results.
Solid Earnings
Recently, on July 24, 2013 A.O. Smith announced compelling second quarter results with a 13% year-over-year revenue increase to $549.1 million. Solid sales in North American and Chinese markets were the primary reason the company observed this growth. The North American market's second quarter sales increased around 6% year-over-year to $389 million. The improved economic conditions and the recovery of the new housing market in the U. S. contributed heavily to the 6% growth. For the rest of the year, management expects that constant market acceptance of high efficiency boilers will also bring lucrative revenue generating opportunities to the water heater replacement business.
A.O. Smith experienced an impressive 35% year-over-year growth in revenue in the Chinese market to $143.6 million during the second quarter of 2013. Increased demand for its premium water heaters with higher value features and a higher priced product mix drove the rise in sales. Looking at this strong growth, the company expects sales in the Chinese market will grow an additional 18% in fiscal year 2013, which includes more than 10% growth in the second half of this year.
Considering these exciting results, AO Smith has raised its guidance range for GAAP earnings between $1.62 per share - $1.68 per share. This is in comparison to GAAP earnings of $3.00 per share - $3.16 per share disclosed during the first quarter of 2013. The EPS guidance for the second quarter is almost half of the EPS guidance announced during first quarter because of the 2-for-1 stock split plan approved by the board in April 2013. Moreover, it laid out its 2015 revenue aspirations of $2.4 billion - $2.45 billion by 2015, which consists of organic growth of 7% per year.
We believe it has the potential to achieve the desired guidance. If the company does so, it would imply a CAGR of 8.1% in revenue from $1.9 billion in 2012. The earnings aspirations from the existing businesses are now expected to be approximately $2.25 per share by 2015 versus the previously anticipated $2.15 per share. All of these aspirations are based on expectations for higher revenue due to the rise in new construction in the U.S. and 10% revenue growth of Lochinvar branded products through 2015. Lochinvar is a manufacturer of water heaters and boilers A.O. Smith acquired in 2011. Moreover, it is aggressively looking forward to pursue acquisition opportunities this year that will add value in terms of revenue and aims to have a broader product pipeline
Stock performance goes hand-in-hand
Taking into account the past year stock price performance of A.O. Smith, it has provided notable 64.66% returns to its shareholders. The constant upward movement in the stock price in the past one year is due to 13.4% year-over-year revenue growth in fiscal year 2012. The company is providing consistent performance - it posted strong numbers in the first half of this year that is allowing the stock price to rise accordingly.
AO Smith has engaged in the share repurchase, dividend distribution and stock split activities that attracted new investors. This indicates that it is using its cash flow very wisely and will guide the company to provide additional returns to its investors and attract new investors.
Going forward, we assume the growing demand for AO Smith's products in the North American and Chinese market will support it to continue to observe a regular uptick in the stock price. Additionally, it is also looking forward for potential acquisitions, which we believe could positively impact the revenue generation capacity and the upward stock price movement.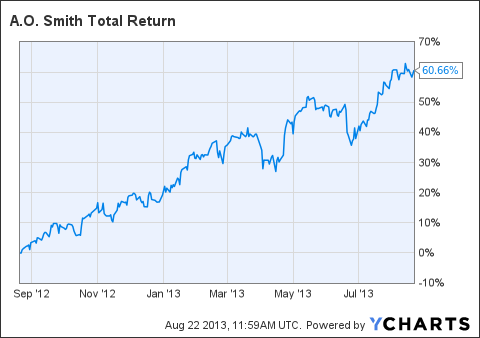 AOS Total Return Price data by YCharts
U.S. and China Pushing A.O. Smith ahead
As discussed above, A.O. Smith is currently experiencing strong demand for its products in the U.S. and Chinese market, let's find out how these markets continue will with the solid contribution in upcoming years.
· U.S.
A.O. Smith is the leading water heater manufacturer in the U.S. The demand for its products is mainly based on volatility in the U.S. housing markets. The U.S. Census Bureau and the Department of Housing and Urban Development have released new residential construction statistics for May 2013. Annual data for housing completion was 690,000, up 12.6% compared to May 2012, and the annual rate for new housing starts was 914,000, up 28.6% year-over-year.
We believe that this continuously improving U.S. housing market will further create demand tailwinds for A.O. Smith's water heaters. Moreover, Lochinvar is expected to contribute a larger share in revenue as it will also benefit from the improving housing conditions. We support the company's estimates of a unit increase of around 200,000 in residential water heater sales this year. This will help the company to generate $1.25 billion in revenue from the U.S. market in this fiscal year compared to $1.20 billion in fiscal year 2012.
· China
Asian markets, especially the China market, have been a top priority for A.O. Smith; it has been successful in contributing a considerable chunk to the total revenue. With market share of 20% in China, it continues to see good business momentum and rising demand for its water heating products.
According to the IMF, Chinese GDP is expected to grow 8% in 2013, which will positively impact the housing market in China. A.O. Smith is targeting the Tier 1 and Tier 2 cities since the growth in these cities is expected to be faster. This will further increase the demand for its water heating and water treatment products. Historically, housing units constructed in China typically don't have basic appliances, water heaters being one of these. We expect that this changing trend will boost to the demand for these products.
During the last quarter, A.O. Smith closed 300 underperforming outlets in China which weren't contributing significantly to the top line. It ended the first quarter of 2013 with approximately 5,200 retail outlets, but going forward, it expects an addition of 300 outlets by the end of this year. We assume this would bring it back to the same 5,500 level reached at the end of 2012. This will aid the company to generate $515 million in revenue from China in this year, which was $449 million in the previous fiscal year.
Potential risk factors
Risks to attaining revenue growth include the inability to incorporate potential acquisitions successfully, as an acquisition could fail to contribute a significant share to the total revenue. This can occur due to several reasons, one being the acquired company may not create expected synergies. A.O. Smith is also undergoing rapid growth in Asian markets that could result in disruptions in supply or unpredictable changes in demand. Growth rates in China have been unpredictable, and if same-store sales decline, the sentiment could be negative. Volatility in steel prices can also decrease margins. We expect these risk factors to only affect its revenue generating capacity minimally since it has strong opportunities lined up that can negate the effects.
Efficient cash flow application
In the first half of this year, A.O. Smith had $66.8 million in free cash flow, which was negative $26.7 million in the first half of 2012. More than 7% revenue growth in first half of this year, due to the increase in sale of its products in the U.S and China, supported it to generate this cash flow. This cash flow guided the company to repurchase shares and distribute dividends. It repurchased 322,800 shares worth $14 million in the first six months of this year. It had 412,000 shares remaining in the existing repurchase authority in the first quarter of 2013, but in the second quarter of 2013, the board approved the addition of 2 million shares under its repurchase authority. AO Smith now has approximately 2.5 million shares remaining under its repurchase authority. Going forward, it is expecting to generate $100 million in free cash flow based on its growing business. We believe its capacity to generate free cash flow and its existing cash are sufficient to support the repurchase program.
In addition to the share repurchase, A.O. Smith has been keeping its shareholders happy by consistently paying dividends in every quarter over the past 13 years. In 2013 itself, it announced three dividend payments, which are worth $0.56 per share compared to $0.76 per share in fiscal year 2012. On the flip side, in the recent dividend offering, the company reduced the dividend from $0.24 paid in May to $0.12 to be paid in August. The reason behind the dividend reduction was a transfer of residential water heater production from its plant in Fergus, Ontario, to other North American facilities. We believe for the remainder of this year,the dividend level should be back on track. The reason for this is its growing business, and the company is expecting net pretax savings of around $3 million - $4 million in 2013 from the transfer of water heater production.
Dividend Distribution History
| | | |
| --- | --- | --- |
| Dividend Amount | Declaration Date | Payment Date |
| 0.12 | Jul 8, 2013 | Aug 15, 2013 |
| 0.24 | Apr 15, 2013 | May 14, 2013 |
| 0.20 | Jan 15, 2013 | Feb 15, 2013 |
| 0.20 | Oct 8, 2012 | Nov 15, 2012 |
| 0.20 | Jul 9, 2012 | Aug 15, 2012 |
| 0.16 | Apr 16, 2012 | May 15, 2012 |
| 0.16 | Jan 13, 2012 | Feb 15, 2012 |
The above-discussed activities indicate that A.O. Smith has been using its cash wisely. With its successful share repurchase and impressive dividend distribution, the company announced a 2-for-1 stock split in April 2013. We assume it created this stock split to attract retail investors since the stock was trading between $65 per share - $70 per share previously. After this stock split, the company had approximately 92.7 million shares outstanding, which is 99.13 million outstanding as on that date. The stock price has shown significant upside movement in the past and is expected to continue rising based on the strong and profitable growth in its global operations.
Leaving the peers and industry behind:
We've taken the EV/EBITDA ratio to present the growth potential of AO Smith in comparison to its peers. EV/EBITDA is a commonly used metric for estimating the business valuations as it compares value of a company, inclusive of debt and other liabilities, to the actual earnings. We're comparing EV/EBITDA of Belden (BDC) and OSI Systems (OSIS), two other players from the industrial electric equipment sector with almost the same market cap.
| | |
| --- | --- |
| Company | EV/EBITDA |
| AO Smith | 12.76 |
| Belden | 13.28 |
| OSI Systems | 15.09 |
Source: Yahoo Finance
As illustrated in the table above, A.O. Smith has a lower EV/EBITDA ratio that is 12.76 in comparison to Belden and OSI Systems. This low EV/EBITDA is because of a lower market price per share, resulting in a lower market cap, and hence a lower EV. Therefore, A.O. Smith looks undervalued compared to its peers. A low EV/EBITDA is also indicative of the growth opportunities that exist for a company going forward. We believe that this low multiple will help the company in its inorganic growth initiatives, particularly through the route of potential acquisitions. It also has the ability to attract more investors, which will boost investor sentiment.
When compared to the industrial electric equipment industry, A.O. Smith has an impressive performance that depicts it has better growth opportunities than the industry standard. We're comparing the price-to-book ratio, or P/B ratio, in order to justify this opinion. P/B ratio compares a stock's market value to its book value, and a lower P/B ratio also depicts that the stock is undervalued. Here, the P/B for the industrial electric equipment industry is 3.8 times, compared to A.O. Smith's 3.11 times. This shows that the company is undervalued and has better growth prospects when compared to the overall industry.
Additionally, if A.O. Smith is compared to the industrial electric equipment industry in terms of P/E ratio, it shows another reason investors shouldn't avoid this stock. The P/E ratio for the industry is 54.8 times, whereas AO Smith's P/E ratio is less than half that at 24.84 times. This signifies that the stock is highly undervalued in comparison to the industry. Investors usually use the P/E ratio to decide how pricey the stock is compared to its earnings. This clearly shows that A.O. Smith is less costly compared to the industry. It also allows investors to measure a company's past performance and take into account market expectations for a company's growth.
Conclusion
Given A.O. Smith's domestic and international expansion and strong balance sheet, the growth potential seems to be very strong going forward. The growing demand for its products and increased investor sentiment will take the company to new and different levels in the years to come. This shows that the stock still has further upside potential, and it can provide a yearly return in the future of more than the 64% it provided in the last 12 months. We won't be surprised to see a lot of value investors lining up to have a share of the A.O. Smith pie.
Disclosure: I have no positions in any stocks mentioned, and no plans to initiate any positions within the next 72 hours. I wrote this article myself, and it expresses my own opinions. I am not receiving compensation for it (other than from Seeking Alpha). I have no business relationship with any company whose stock is mentioned in this article.