According to the NPD group, in the first quarter of 2013, y-o-y smartphone sales increased by 42 percent, with 36% of the volume increase coming from prepaid smartphone sales. In fact, y-o-y prepaid smartphone unit sales doubled in Q1 and accounted for 32 percent of total smartphone unit sales, which is an 11 point increase y-o-y and a 10% point sequential increase from the record-high share of 22% reached in Q4 2012.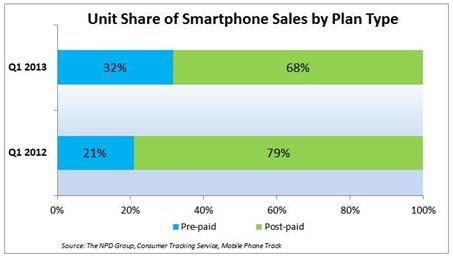 The prepaid phone market has one simple purpose: To provide wireless service to people who are unable to secure a regular contract account or people who don't want one.
Prepaid plans enable people to pay for their device in cash and then choose any kind of plan they want. And because users pay up-front for the device, they tend to buy a lower priced device. People who simply want to talk and don't ask much more from their smartphone, are apt to choose this route.
In Europe this is extended to prepaid sim cards as well. In other words, you buy a device and then choose a carrier by buying a prepaid sim card. In this particular case you don't have any monthly bills at all. If you don't make many calls -- but mostly receive calls -- you can go by with a 10 euro prepaid sim card for months. Here is an example of a sim card for Blackberry (BBRY) phones.
Obviously, as more and more people go on a prepaid plan, the percentage of people that will fork out $700 for a high end phone will be less, right?
That might be true for some consumers, however it also works the other way around. In other words, because people have a lower fixed monthly bill, they can afford to pay a little extra for a better device up-front.
And indeed, as far as the U.S. market is concerned, this is exactly what has been happening. NPD tells us that "both LG and Apple (NASDAQ:AAPL) made significant inroads into the segment since Q1 2012, with LG's unit share doubling and Apple's unit share increasing fourfold".
In fact NPD tells us that the Apple iPhone 4S was among the two top-selling phones in 2012. Consumers looking at prepaid phones look for value, and that does not necessarily mean cheap or obsolete phones, says NPD group.
So in the prepaid market, surprisingly enough, Apple has actually scored points, despite the fact that it's a high-end high priced device maker. LG however is probably the biggest winner, because NPD tells us it doubled its market share, while Samsung (OTC:SSNLF) has remained in the number one position having retained its market share. The biggest surprise of all however is that Nokia (NYSE:NOK) is not on this list.

The bottom line is that the prepaid phone market is not necessarily bad for smartphone makers. Surprisingly enough, people are willing to pay more money up front for a high-end device, in exchange for a lower phone bill.
Disclosure: I have no positions in any stocks mentioned, and no plans to initiate any positions within the next 72 hours. I wrote this article myself, and it expresses my own opinions. I am not receiving compensation for it (other than from Seeking Alpha). I have no business relationship with any company whose stock is mentioned in this article.