In recognition of the 150-year anniversary of the Saratoga Race Track in Saratoga Springs, NY, I am offering the Utility Trifecta Box bet of Southern Company (NYSE:SO), Dominion Resources (NYSE:D) and ITC Holdings Corp (ITC). Combined, these three offer investors the best combination in the utility sector: diversification of assets, diversification of opportunities, and diversification of income.
Southern Co services the Deep South with regulated electricity. Dominion Resources services the Mid-Atlantic and Northern Tier Southern states with regulated electricity, the Midwest with natural gas and the Northeast with power generation. ITC services major utilities in the Midwest with regulated transmission assets.
Below are service maps of each:
Southern Company: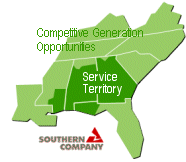 Dominion Resources: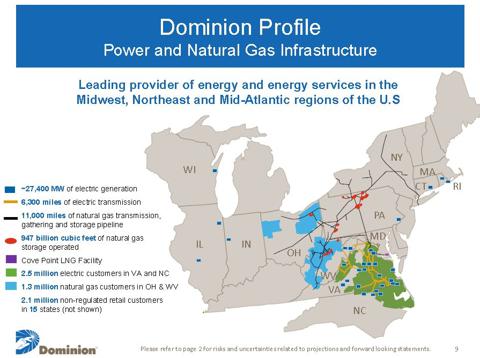 ITC Holdings: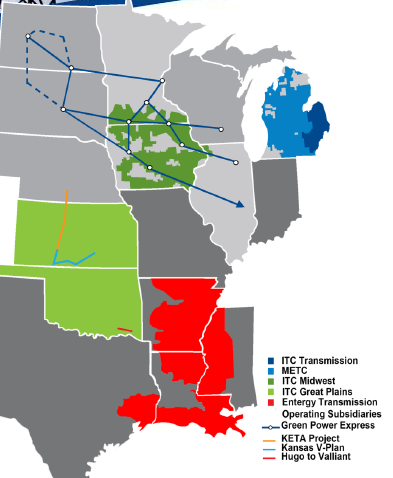 Return on Invested Capital (ROIC) is an important matrix for evaluating management's ability to create shareholder value. ROIC incorporates all capital utilized by the company - both total debt and equity. Below is a graph of the ROIC, net profit margin and return on equity of each as reported by Fastgraphs.com:
Southern Company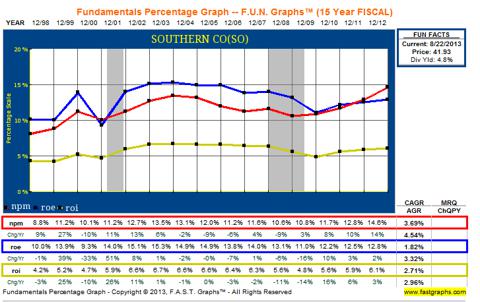 Dominion Resources: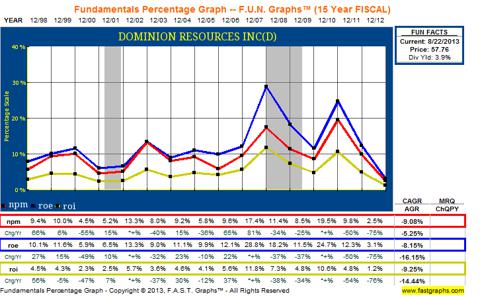 ITC Holdings: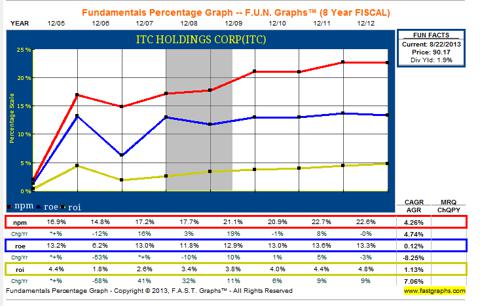 Standard and Poor's Credit Group offers an assessment of the regulatory environment by state for utilities. The local Public Utility Commissions (PUC) set the allowable returns for the utilities in their jurisdiction and allowable returns is critical in determining a utility's credit rating. While a few years old, below is a listing of the regulatory environment by state for each of these utilities services:
More Credit Supportive: Georgia, Mississippi, Alabama, Florida
Credit Supportive: Ohio, Virginia, North Carolina
Less Credit Supportive: West Virginia.
ITC is regulated the Federal Energy Regulatory Commission (FERC) and not the state PUC. Historically the FERC has allowed a higher return on regulated assets and this trend is anticipated to continue. ITC's allowed return is upwards of 30% higher than even the most generous state PUC.
The current preference given to alternative energy power generation is tipping the scales on profitability for some utilities. For example, wind power is both subsidized in cost and is required to be the preferred electricity source when available. This regulatory preference is creating an imbalance of supply and demand for electricity on the grid and is showing up as negative pricing for some base-load power generators. Alternative energy is being sold to the public as if it a base-load source when in reality it is an intermittent load source. During times of oversupply of power, the base-load generators will realize negative pricing for their product. This situation has been problematic in Europe for some time and is now showing up in the US. For example, according to the company, two of Exelon's (NYSE:EXC) nuclear power plants in Illinois currently operate at negative pricing modes about 15% of the time.
Two of the trifecta three companies discussed are not in the sweet spot for current wind power generation. Southern Company and Dominion Resources are a good distance from the main wind corridor running from the Midwest and Texas. ITC Holdings actually benefits from the disruptive nature as it provides the transmission lines to connect the alternative energy generation facilities in the Midwest to the urban areas and to the grid.
Recent developments for Southern Company include larger than anticipated cost overruns on its construction of a new "clean" coal generating facility in Mississippi and new nuclear facilities in Georgia. This has created some selling pressure on its stock that should be a buying opportunity for long-term investors.
Dominion Resources is working on a natural gas export facility at one of its LNG import facilities. The project should be approved over the next several months.
ITC is in the process of acquiring the transmission assets of Entergy (NYSE:ETR) in the Deep South to augment its Midwest exposure. While the PUC in Mississippi and Louisiana is not pleased with the planned transfer of regulatory justification from them to the FERC, and may require some potential short-term negatives for ITC to gain their approval, in the long-term ITC continues to expand its transmission footprint and FERC regulated asset base.
Utility investors should review this trifecta of opportunities as some of the best prospects available.
While past performance is not a guarantee of future gains, below are Morningstar 10-year total returns of an initial investment of $10,000. These three investments have amply rewarded their long-term investors.
Southern Company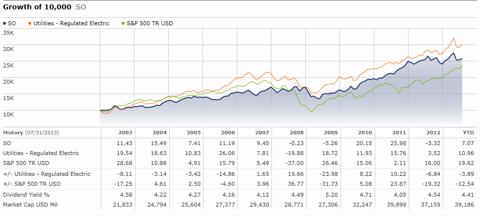 Dominion Resources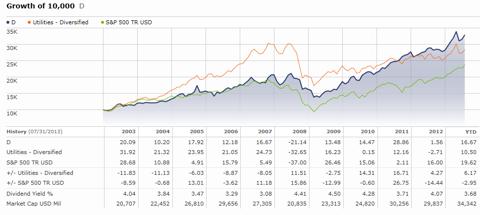 ITC Holdings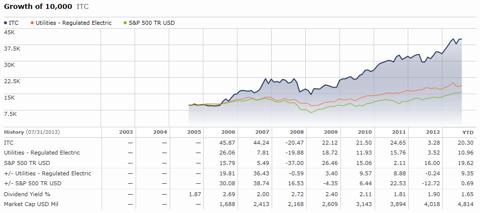 Author's Note: Please review important disclaimer in author's profile.
Disclosure: I am long ITC, SO. I wrote this article myself, and it expresses my own opinions. I am not receiving compensation for it (other than from Seeking Alpha). I have no business relationship with any company whose stock is mentioned in this article.