There continues to be tremendous outflows from bond funds, and the winners are US equity funds. The largest of these is SPY, the S&P 500 Index Fund. However, there are alternatives, and a way to get a better dividend is by investing in the Vanguard High Dividend Yield ETF (NYSEARCA:VYM).
This article will examine that ETF in detail, starting with its place in the universe of investing and suitability for an individual investor. The composition of the fund is examined and measurements of its performance reported.
VYM - Its Place in the Universe of Investing
There are nearly an infinite number of ways of investing in the common stocks of the many publicly traded companies in the world. A way to buy them all is to purchase shares in the Vanguard Total World Stock ETF (NYSEARCA:VT). A fund is also available that consists of all US stocks, Vanguard Total Stock Market ETF (NYSEARCA:VTI).
Even more widely held are funds that hold those stocks of the S&P 500 Index, the first of these was a mutual fund started by the founder of Vanguard, John Bogle, in 1976. Among current top offerings of that index in ETF format are SPDR S&P 500 (NYSEARCA:SPY) with holdings of $139 billion and Vanguard S&P 500 ETF (NYSEARCA:VOO), a clone of SPY with slightly lower expenses. A holding of the either of these makes a good core holding and has a 99% correlation with the broader US market even though it does not include the small-cap stocks of the total market. If an investor only could own one fund, this could be a good choice. A special low-cost offering of the Vanguard version is the common stock holding, the C fund, of the Government Employees TSP Fund.
VYM performs with a high correlation to the S&P 500 index. However, it has an emphasis on dividends. Vanguard describes it as follows,
Seeks to track the performance of the FTSE® High Dividend Yield Index, which measures the investment return of common stocks of companies characterized by high dividend yields.
Provides a convenient way to track the performance of stocks with histories of above-average dividend yields.
Typically, its yield averages about 100 basis points higher than the yield of the S&P 500 Index, that is, it currently yields about 3% rather than the S&P 500's 2%. Perhaps it should be named the Vanguard Above Average Yield Large Value Fund, which is a name that probably would not get far with the marketing people, but provides a more accurate description. That said, if offers the stability of large value stocks with a yield higher than the market as a whole. It has low expenses of 0.10% and $6 billion in assets.
This fund is suitable as a core holding for an investor who wants exposure to the broad US stock market with an emphasis on stability and an above average dividend yield. If purchased through a Vanguard brokerage account there is no transaction fee, which makes this fund suitable for periodic small investments.
Yield and Dividend Growth
VYM - Vanguard High Dividend Yield Index ETF

The below is included as a point of reference for comparison.
SPY - SPDR S&P 500 ETF

Portfolio Holdings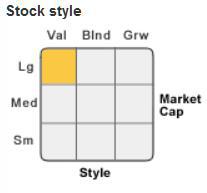 Any fund is but a collection of stocks that meet a certain criteria. In concept, this is no different from a portfolio assembled by an individual investor using a screen to select stocks with certain characteristics. The below stocks are an impressive collection of strong US companies. In general, they have high credit ratings and are well-capitalized firms. There is a diversity of sectors represented here and this alone is a very good portfolio, and it includes the typical picks of many dividend growth investors. For an in depth look at any fund, I find it most useful to look at the individual holdings. These top 25 holdings are representative of VYM, as they are nearly 60% of the total value of this market weighted portfolio of 392 stocks.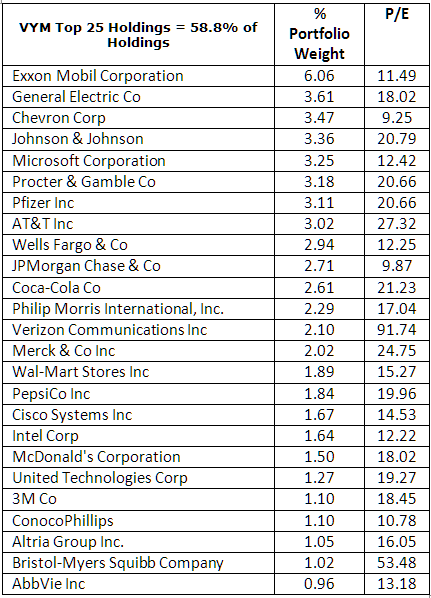 Portfolio Characteristics

*This chart is adapted from Morningstar. It represents forward expectations. Note, it includes a projected dividend yield of 3.47%.

Consumer staples, industrials, energy, utilities and telecommunications are the most over weighted sectors. This is unlike some ETFs emphasizing dividends, which are very heavy in utilities.
The Upside Is Better Than the Downside
VYM has a three-year beta of 0.77, which means it is less volatile than the broader market. As is characteristic of portfolios with dividend paying stocks, the fund lags the market on the upside, however, it does not realize nearly the losses of the broader market when stocks decline. This link will take you to the calculation of the values in the adapted Morningstar chart below, and a complete definition of the upside/downside capture ratio. In brief, it shows you whether a given fund has outperformed - gained more or lost less than - a broad market benchmark, here the S&P 500, during periods of market strength and weakness.

The low beta and stronger upside than downside could be good reasons to own this sleep-well-at-night fund.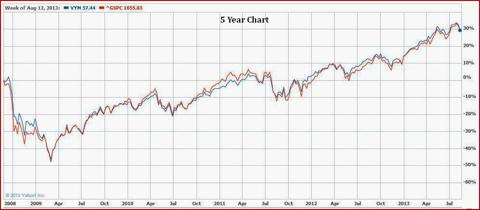 Disclosure: I have no positions in any stocks mentioned, and no plans to initiate any positions within the next 72 hours. I wrote this article myself, and it expresses my own opinions. I am not receiving compensation for it (other than from Seeking Alpha). I have no business relationship with any company whose stock is mentioned in this article.