Dividend growth investing has been proven over time to significantly boost an investor's return via the magic of compounding. By identifying stable companies that raise their dividends like clockwork and simply reinvesting the dividends received, outstanding results can be had. I find that most model portfolios are dominated by slower growing companies, thus lacking the newer upstarts that will blossom into the next champion. Perhaps this is a function of needing a higher current payout as most of the upstarts tend to have lower payouts. My portfolio is geared to companies that are buying back consistent amounts of their shares along with raising dividends. I believe this combination will offer superior overall total returns.
I have broken down my holdings into six different categories and will highlight each one individually. I do have a position in Japan via an index. The holding is the Wisdom Tree Japan Hedged Equity Fund (NYSEARCA:DXJ). I am a big fan of Shinzo Abe and view him as a potential revolutionary leader. The Japanese market has been horrible for a long time and looks ripe for major change. Time will tell if this will play out. I have a large capital gain in the position and I am comfortable holding and allowing the story to play out. For more on DXJ, please click here. One of the ways that I generate additional income while holding this position is by writing covered calls against it. I tend to write calls at the 52 or 53 strike and bank the premium.
| | |
| --- | --- |
| Holding Name | Dividend Yield |
| Apple Inc (NASDAQ:AAPL) | 2.43% |
| International Business Machines (NYSE:IBM) | 2.05% |
| Oracle (NYSE:ORCL) | 1.48% |
| Motorola Solutions Inc.(NYSE:MSI) | 2.2% |
| Taiwan Semiconductor (NYSE:TSM) | 3.12% |
The first of six sectors is the technology sector, with the holdings detailed in the table above. The holding that I would like to highlight currently is MSI. MSI makes a host of products ranging from two way radios to mobile computing and wireless products. The company's largest customers are government and public safety agencies offering a semblance of consistency to sales. Once the products are installed, it tends to be very difficult to dislodge them. Furthermore, the products need constant upgrading, offering the company an annuity-like revenue stream. Currently in the US, public safety municipalities are switching from analog to LTE, a similar technology seen in modern cell phones. The rollout has been lumpy as budget cuts have slowed the adoption to the new technology. I don't view this to be a problem going forward, as tax revenue is on the rise and public safety is a proven politician favorite. It tends to be hazardous to the health of a politician's career to advocate for cuts to public safety budgets. I expect them to find the money from somewhere and the build out to continue, thus providing MSI with a growing revenue stream. Since splitting off into a separate entity in 2010, MSI has increased the dividend from 22 cents a year in 2011 to its present rate of $1.14. More importantly, the company's shares outstanding have dropped from 336 million in 2010 to 276 million at the end of 2012 and will decline further by the end of this year. Management balances rewarding shareholders via a dividend bump and share repurchases, and I expect the same to continue going forward.
The second sector is the healthcare sector, which currently consists of two holdings. The holdings are Bristol Myers (NYSE:BMY) and UnitedHealth Group (NYSE:UNH). Both have performed quite well since I added them to my portfolio. BMY has two promising compunds in various stages of testing that if successful would bolster future sales and profitability. As for UNH, all the positives that I mentioned previously are intact. In my opinion, UNH is transforming itself into a dividend growth payer and will have a much higher payout as it matures further as a company.
| | |
| --- | --- |
| Holding Name | Dividend Yield |
| Visa (NYSE:V) | 0.74% |
| Wells Fargo Inc. (NYSE:WFC) | 2.82% |
| Bank of New York (NYSE:BK) | 1.93% |
| Allstate (NYSE:ALL) | 2.02% |
| Paychex (NASDAQ:PAYX) | 3.55% |
The third sector is the financial sector, which consists of five distinct holdings. The one I will highlight here is ALL. The insurer has been aggressively repurchasing shares, shrinking share count from 536 million in 2008 to 479 million at the end of 2012. The dividend is on an upswing after being cut in 2008. ALL should benefit from rising interest rates as its investment portfolio should produce better gains. As an insurer, ALL invests the proceeds from the premiums (known as float) into investments usually bonds. As interest rates rise, it will be able to invest the future float into higher paying securities, augmenting its investment gains. ALL is the newest addition, replacing Omnicom (NYSE:OMC) in the portfolio. OMC was jettisoned the day it announced a merger with Publicis. The deal will take regulatory approval and will take management's focus away from share buybacks and dividend hikes. Once the words were uttered on a conference call, it was time to go. I am not a fan of most mergers as they tend to destroy shareholder value over time.
| | |
| --- | --- |
| Holding Name | Dividend Yield |
| Coca-Cola (NYSE:KO) | 2.92% |
| Phillip Morris (NYSE:PM) | 4.04% |
| Colgate Palmolive (NYSE:CL) | 2.33% |
| Coca-Cola Enterprises (NYSE:CCE) | 2.14% |
| Kroger (NYSE:KR) | 1.61% |
| DIRECTV (NYSE:DTV) | 0% |
The forth category happens to be my largest concentration of holdings, which I have dubbed consumer. My best performing stock this year is KR, the giant supermarket chain, which I highlighted here. Who would have ever thought buying groceries could ever be so profitable? The company I would like to highlight here is CCE, the bottler of all Coca-Cola products in Europe, primarily in the UK, France and Scandinavian countries. The company recently turned down an offer to buy the bottling operation in Germany and has decided to buy back $1 billion dollars worth of shares this year. The math worked out to at the time of my purchase of roughly 10% of the existing shares available. Management consists of the same management team that ran the North American operations that Coca-Cola (KO) acquired in 2010. Management has raised the dividend from 12 cents a share in 2010 to the current rate of 80 cents. In the same timeframe, shares outstanding have shrunk from 332 million to 282 million at the end of 2012. I am very impressed with management's focus on shareholder value and envision future gains. An added kicker, in my opinion, is the European angle as CCE gets all of its revenue from Europe. Europe is on the mend and CCE should benefit from this.
The fifth category happens to be the energy sector, where I have two holdings. The holdings are Exxon Mobil (NYSE:XOM) and Schlumberger (NYSE:SLB), the giant oil services company. Both of the above mentioned are leaders in their respective fields and are well managed. I choose the biggest in their respective fields due to staying power and inexpensive access to capital. With constant capital needs, size is truly a competitive advantage.
The final sector I have dubbed miscellaneous. My holding here is Northrop Grumman (NYSE:NOC), the defense contractor. The shares have preformed fabulously since I have originally highlighted them. In my view, NOC is a case study in how to reward shareholders even when a company is faced with flat to declining revenues. Wesley Bush, the current CEO, took over the company in 2010 and through a series of strategic moves has moved the shares sharply higher. With a sharp focus on cutting costs and removing underperforming divisions, net margins have increased from 5% to 7.8% in a period of declining defense spending. The dividend has been continuously raised from $1.84 in 2010 to its current rate of $2.44 cents. The key catalyst that has sent the shares skyward is the announcement of the company's intent to retire 25% of all shares outstanding by 2015. As we can see from the chart below, the shares have been on a tear since the announcement, far outpacing the market's advance. Buybacks are extremely effective, especially in companies that trade at low P/E multiples such as NOC.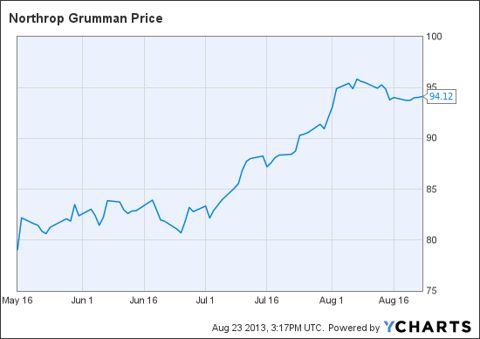 The dividend yield for the above portfolio works out to over 2%. All dividends received are currently being reinvested into the companies that pay them out. I refuse to trim back positions in the instances where one has gotten larger than others. I actually welcome this. I view this as a success and feel with 22 holdings, I have more than enough diversification. Warren Buffett used an example of this in one of his annual letters to shareholders. When asked why he didn't trim his position in Geico, he mentioned that it would be similar to a corporate manager asking the board to sell off its most valuable division. Geico, went on consistently outperform to the point where Buffett eventually bought out the remaining share he didn't have. I hope the above model helps some in making their own investment decisions.
Disclosure: I am long ALL, IBM, AAPL, ORCL, MSI, TSM, BMY, UNH, V, WFC, BK, ALL, PAYX, KO, PM, CL, CCE, KR, DTV, XOM, SLB, NOC, DXJ. I wrote this article myself, and it expresses my own opinions. I am not receiving compensation for it (other than from Seeking Alpha). I have no business relationship with any company whose stock is mentioned in this article.
Additional disclosure: Investors are always reminded that before making any investment, you should do your own proper due diligence on any name directly or indirectly mentioned in this article. Investors should also consider seeking advice from a broker or financial adviser before making any investment decisions. Any material in this article should be considered general information, and not relied on as a formal investment recommendation.