Friday's release of the latest housing market data fueled a massive risk-off session where gold (NYSEARCA:GLD) and US Treasuries (NYSEARCA:TLT) saw enormous buying. The rally in gold was strong enough to push it through its 100-day moving average to briefly touch $1400 per ounce in late afternoon trading. New home sales in the U.S. dropped 13.4% month to month in response to rising mortgage rates. Speaking of bond yields, buying in the bond pits was strong enough to see the 10-year yield (NYSEARCA:IEF) pull back from their high at 2.92% to close the week mostly unchanged.
After the release of a set of FOMC minutes in which the members of the committee went out of their way to not say anything at all, traders in emerging markets read between the lines and sold bonds into US dollar (NYSEARCA:UUP) strength as late afternoon trading on August 21st saw everything being sold in New York into the close - equities, commodities, bonds, precious metals. Nothing was spared a knee-jerk move into cash on the implication that the Fed would - at some nebulous point in the future - begin tapering off its purchasing of US treasuries and mortgage-backed securities.
That selling prompted a bloodbath in Asian markets that night. This article at Zerohedge has the details, I don't need to go over them here. What's important to understand is that this extreme weakness in Asia is prompting selling of US debt by foreign central banks to defend their currencies. I've discussed this effect before and this week's action has seen this situation intensify. So, any weakness in the U.S. economy will only exacerbate an already difficult situation for the Fed as it will not be able to stop buying US debt without allowing interest rates to spike even higher.
In previous articles (like the one linked above) I've made the connection between total Fed credit and interest rates and was expecting to see a large increase in Fed credit this week, north of $40 billion, but $60 billion would not have surprised me. Instead we got an increase of just $24.1 billion and with it a large spike in interest rates with the 10-year yield moving up nearly 20 basis points between the August 14th report and the August 21st report.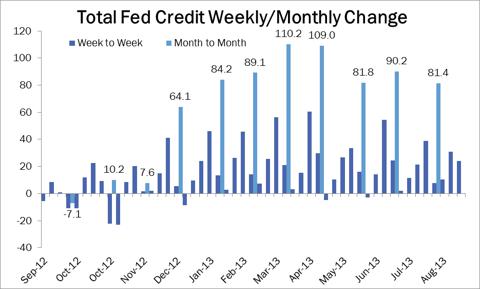 So, is this the beginning of the taper, then? No. The Fed is still on pace to buy $85 billion in US treasuries and mortgage-backed securities. In fact, since the first week of 2013 through this week the Fed has been consistently buying $10.3 +/- $1.8 billion in US Treasuries every week. I broke down the weekly H4.1 total Fed credit reports for the year and the data is pretty clear. The Fed buys and sells MBSs in a four-week cycle and so far in August, that pattern has held true to form.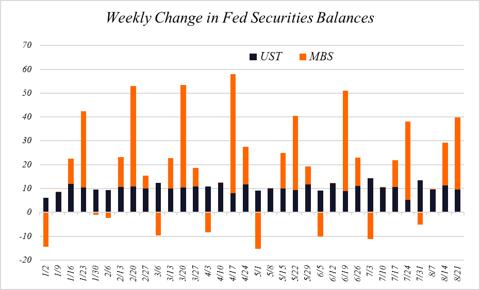 If that's the case then why didn't the total credit number increase by $40 or so? Because the Fed let $1.16 billion in central bank liquidity swaps expire and divested $13.1 billion in other Federal Reserve assets, which hit a low of $19.7 billion. These other assets are defined as (cf. footnote 13 of the H4.1 report) as:
Includes accrued interest, which represents the daily accumulation of interest earned, and other accounts receivable. Also, includes Reserve Bank premises and equipment net of allowances for depreciation.
I'm not about to speculate on what these other accounts receivable could be but the last time it was exactly 3 months ago that a similar sell-off in Other Assets took place, that time for $9.3 billion. I bring this up simply to note the irregularity of the data.
What does this mean for gold, however, is the main question. At this point the Fed has not begun to taper its bond purchases. If it does so, it will have a number of effects beyond the obvious that US interest rates will rise:
It will accelerate capital flight out of SE Asia and other emerging markets like Brazil and India. India is already under pressure to sell back to the IMF the 200 tons of gold it bought back in 2007 to stabilize the rupee.
Those central banks will continue to dump USTs to defend their currencies and prevent draining of their foreign exchange reserves. I expect China and possibly Japan to help the ASEAN nations suffering the most - Indonesia, Thailand, Malaysia - via the Chiang Mai Agreement.
This will increase the amount of High Quality Collateral available to fund the repo markets. This is perversely positive for gold as repo collateral stress is highly correlated with downdrafts in the price of gold. A repo market well-supplied with AAA bonds will not go selling gold to raise cash.
Local currency stress is driving local Asians to buy physical gold to protect themselves so it is reasonable to expect that to continue the higher US interest rates rise.
What it looks like to me is that if there is going to be a tapering of bond purchases, the Fed will be forced to rotate out of MBS and increase the amount of USTs it buys per month to keep interest rates from rising too far too fast to help keep the housing market from completely imploding. I've thought for years that the Fed is trapped and at this point it looks like we're rapidly approaching the moment where the market realizes it as well.
Regardless of what I think, what is at stake now is the reputation of central banks in general. Right now confidence in central banking's ability to stave off the worst is close to an all-time high, but if the Fed gets this (no)-exit from QEIII/IV wrong, that will undermine that confidence and drive even more investment into gold.
This week's close at $1398 is technically very strong and puts gold in a position to test the June high of $1423.60. An August close above this would be a classic two-bar reversal on the monthly chart. Silver's (NYSEARCA:SLV) close above $24 this week is helping to set this up, as is the close in Brent Crude (NYSEARCA:BNO) above $111.
Disclosure: I have no positions in any stocks mentioned, and no plans to initiate any positions within the next 72 hours. I wrote this article myself, and it expresses my own opinions. I am not receiving compensation for it (other than from Seeking Alpha). I have no business relationship with any company whose stock is mentioned in this article.
Additional disclosure: I own gold, silver and dairy goats.