ConocoPhillips (NYSE:COP) has been in the news quite a bit lately. As a long time shareholder who follows the company quite closely, I thought it was time for me to add my 2 cents to the noise: COP is still a compelling investment that could run to $80/share over the next 12 months while paying a generous (and safe) dividend.
The Dividend Is Not Only Safe...It's Growing
There have been several articles lately trying to convince investors that COP's dividend is either no good or not safe. My favorite was a recent article by Seeking Alpha contributor Valuentum, Why ConocoPhillips' Dividend Is Not Great...Anymore because it was very puzzling. The second paragraph starts off:
ConocoPhillips' dividend yield is excellent, offering a 4.1% annual payout at recent price levels.
I guess the title should have been: The Safety of ConocoPhillips' Dividend Is Very Poor, because that is what the article attempted to convey citing its "Dividend Cushion" metric as proof. However, isn't this the same argument we have heard ever since COP started its multi-year strategic plan? Here's the truth: ConocoPhillips has paid out the following dividends since the strategic plan started (changes only shown):
10/2010: $0.55 ---> 07/2012: $0.66 ---> 07/2013: $0.69
So shareholders saw a significant dividend payment increase in 2012 and another increase just last month. Does this performance look like a company that is worried about its future or in its ability to cover its dividend? Hardly. You can see COP's full dividend history here. And this analysis doesn't even consider COP's biggest recent dividend to shareholders: the spin-off of its midstream and downstream units into Phillips 66 (NYSE:PSX).
Non-core Strategic Asset Sales
Part of the Conoco's strategic plan was to sell non-core assets to fund its transformation cap-ex plan (and its dividend), and it has executed this plan to perfection. In fact, COP recently announced two more asset sales:
Clyden oil sands property to Exxon Mobil (NYSE:XOM) and Imperial Oil (NYSEMKT:IMO) for approximately $720 million.
Its wholly-owned subsidiary, Trinidad and Tobago Holdings LLC, to the National Gas Company of Trinidad and Tobago for a total $600 million.
Including these transactions, COP has announced expected proceeds of approximately $14.1 billion from the sale of non-strategic assets as part of its 2012-13 asset disposition program. All proceeds are expected by year-end 2013.
Now, in its Q2 earnings release, the company not only raised its full-year production guidance, but excluding a $0.7 billion increase in working capital, ConocoPhillips generated $4.4 billion in cash from operations. The company spent $3.9 billion capital program and paid dividends of $0.8 billion during the quarter. Considering the company nearly completely covered cap-ex and dividend payments from CFO in Q2, it puzzles me that Valuentum's "Dividend Cushion" metric came to the conclusion the dividend is at risk - especially since the company will have an influx of $14.1 billion this year from its non-core strategic asset sales. I would argue the company has an ample "dividend cushion" for a long time into the future.
As to the debt issue, the company's current debt-to-capital ratio is 31%, which is essentially where it has been for the past year. It doesn't bother me in the least for COP to have that level of debt so long as it is organically growing production and has a great asset base: it is and it does.
Gulf Of Mexico Update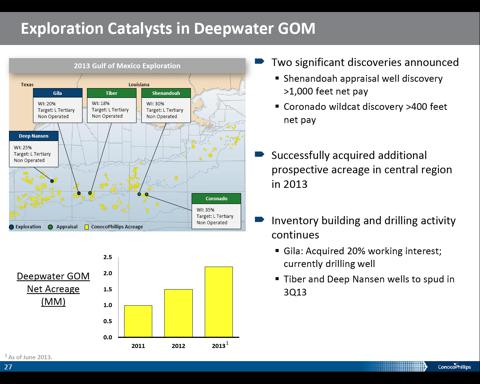 Although it was disappointing that Cobalt International Energy (NYSE:CIE) announced the Ardennes #1 well did not contain commercial hydrocarbons, COP's interest was only 30% and dry holes are simply part of the business. Yet, ConocoPhillips has an excellent presence in the Gulf of Mexico (see slide above), and investors should not forget the two recent discoveries: Coronado (35%) and the massive Shenandoah (30%) well that came in with greater than 1,000 net feet of paydirt.
Libya
Yesterday Bloomberg reported Libyan exports resumed from Brega. Brega was one of four Libyan ports that declared force majeure as protests by members of the Petroleum Facilities Guards over pay and corruption allegations dropped Libya's exports to less than half the 1.6 million barrel-a-day level pumped before the 2011 revolution.
Conoco's 16.3% stake in Waha Oil, a foreign partnership with Libya's National Oil Company, is estimated to be worth $2-3 billion. Libya contributed 49,000 boe/day to COP's Q2 production. Considering COP's large and secure North American asset base, one has to wonder how much longer the company wants to deal with the constant headache of doing business in Libya. If security conditions cannot be improved, perhaps it would be best just sell its Waha stake back to the NOC.
Oppenheimer's Opinion & Venezuela
Seeking Alpha reported that Oppenheimer raised its price target on ConocoPhillips from $70 to $80 citing:
An improved financial outlook as a result of asset sales
Secure annual dividend growth
Share buybacks
3%-5% production and margin growth and total production of 1.9M boe/day by 2017 as it ramps up unconventional production in North America, led by Eagle Ford.
A settlement of the confiscated Venezuelan assets could be worth $5B-$10B
The Venezuela issue is interesting and I had actually contacted a COP company spokesperson a couple weeks ago on this matter. My question was this: since an arbitration panel had ruled on an Exxon Mobil case against Venezuela's nationalization of assets back in early 2012 (which you can read about here and here), why hadn't COP's claims been ruled on and what was the current status? Here is what I found out.
There were actually two different actions between COP and Venezuela. The first case was a breach of contract suit against Petroleos de Venezuela for production cuts mandated by OPEC which affected ConocoPhillips' Venezuelan oil operations in 2006 and 2007. That case was settled in late 2012 when an international arbitration panel awarded COP $66.8 million.
By far the bigger case is COP's expropriation suit against Venezuela filed in 2007. In that suit, COP is seeking $30 billion in compensation for stakes in two Orinoco projects -- Petrozuata and Hamaca -- and two joint venture exploration agreements in the Gulf of Paria. That case is pending and in the hands of the World Bank and the International Chamber of Commerce arbitration panel.
A Reuters article in late 2012 reported that settlements were expected in late 2013. Industry analysts estimate Venezuela will end up paying considerably less than Exxon and Conoco want (a total claim of ~$40 billion between them) - perhaps around $7-$9 billion. COP's cut would likely be roughly 75% of the settlement - $5-7 billion based on the estimates.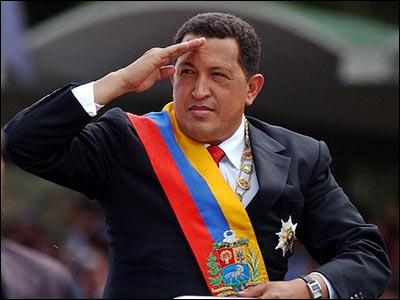 The suit was filed so long ago that most investors have forgotten about it. Analysts say new Venezuelan President Nicholas Maduro may want to mend the fence with the United States to help fix its oil dominated economy. Venezuela's proven reserves are the largest of any nation - 77 billion barrels. In addition, oil accounts for 95% of the country's exports. But under Hugo Chavez's self-imposed economic isolation, Venezuela's oil production has declined 25 percent since 2001. President Maduro is likely aware that he needs American oil companies to help reverse the declining oil production curve as well as his country's economic slide. Resolving these court cases with Conoco and Exxon would be a good step in the right direction.
Summary and Conclusion
ConocoPhillips' dividend is safe, secure, and growing. The company has executed flawlessly on its multi-year strategic transformation plan, including three of its primary components:
Strategic non-core asset sales.
The Phillips 66 spin-off.
Eagle Ford exploitation.
When COP raised its full-year production guidance with the Q2 earnings release, we are now beginning to see the 3-5% organic production growth the company has been promising - the last and most important part of its strategic plan moving forward. So I agree with Oppenheimer's assessment and their $80 price target. Now that the PSX spin-off and the largest and most difficult divestments have been made, the price target now is centered on the strategic plan's goal of growing organic production and margins by 3-5%. Considering COP is one of the very few companies I follow that has done everything it said it would do over the last few years, I am confident it'll hit production and margin targets. In addition, with 1.237 billion shares outstanding, a $5 billion settlement on the Venezuela case would be an unexpected surprise of $4/share.
COP is a BUY.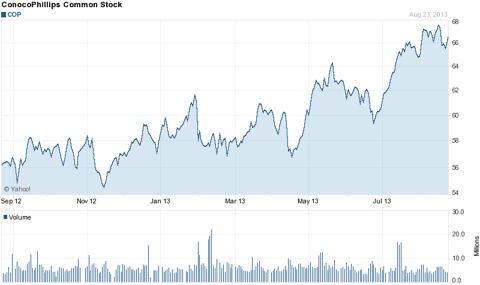 Mkt Cap = $81.4 billion
P/E ((ttm)) = 11.1
EPS ((ttm)) = $6.00
Div (Yield) = $2.76 (4.1%)
Data provided by Yahoo.finance
Disclosure: I am long COP, PSX, XOM. I wrote this article myself, and it expresses my own opinions. I am not receiving compensation for it (other than from Seeking Alpha). I have no business relationship with any company whose stock is mentioned in this article.
Additional disclosure: I am an engineer, not a CFA. The information and data presented in this article was obtained from company documents and/or sources believed to be reliable, but has not been independently verified. Therefore, the author cannot guarantee its accuracy. Please do your own research and contact a qualified investment advisor. I am not responsible for investment decisions you make. Thanks for reading and good luck!