Altria Group (NYSE:MO) is no stranger to dividends or dividend growth. It announced an annual dividend increase on Friday. Here are a few quick points from the announcement:
The new yearly dividend per share is $1.92, up 9.1% from the previous $1.76 per share.
The brand new dividend amount will be paid to investors October 10th, with an ex-dividend date of September 12.
As an icing on the cake, the company also increased its current buyback program from $300M to $1B.
This article was written in 2012, looking at Altria's dividend growth prospects. With two dividend increases since then, it is time to rerun the numbers. Let us get into the details.
Current Yield: The new dividend has pushed Altria's current yield to an amazing 5.6% based on a share price of $34.28. This is way higher than other well-known tobacco stocks like Lorillard (NYSE:LO), Philip Morris International (NYSE:PM), and Reynolds American (NYSE:RAI).
Payout Ratio: Altria's management has made it clear that its target payout ratio is 80%. The current payout ratio stands at 87% after the increase, but with the buybacks and continuous cost cutting, one can safely assume the ratio to be at 80%.
Five-Year Dividend Growth: The five year dividend growth rate now stands at 8.4%, with the dividend going from 32 cents a share/quarter in 2008 to its present 48 cents per share/quarter.
Buybacks: Even though the focus of this article is Altria's dividend, let us not forget the impact of the buybacks. Each share bought back by the company reduces the float and hence the money spent on dividends. This allows the company to increase its earnings per share and dividends per share. The figure below shows the long-term impact of share buyback.

(Source)
Extrapolation: The table below assumes a 7% annual dividend growth over the next 10 years. As you can see, the yield on cost more than doubles from the already delicious level of 5.6%. Investors could do much better by reinvesting the dividends as well, especially during a bear market.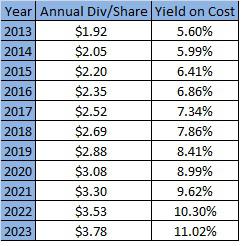 Conclusion: In an ever shrinking industry, Altria continues to surprise its critics and reward shareholders. Time and again, this company has shown it knows how to operate even during unfavorable conditions. Add the recent entry to the E-Cigarette market, things are indeed looking up for Altria and its investors. However, the dividends and buybacks remain the cornerstone of the investment thesis with Altria.
Disclosure: I am long PM, LO. I wrote this article myself, and it expresses my own opinions. I am not receiving compensation for it (other than from Seeking Alpha). I have no business relationship with any company whose stock is mentioned in this article.
Additional disclosure: I might initiate a long position in MO if the recent sell off continues.