I am no lover of Obamacare but remain unconvinced a decline in the average work week hours is underway due to that as the primary cause.
A recent post stated:
Anyone who insists ObamaCare employer penalties aren't having a meaningful impact on work hours simply hasn't looked closely at the evidence. In a private economy with 114 million workers clocking 34.4 hours a week on average, it's easy to miss important changes. What feels like a wave to modest-wage workers getting hit may appear to be a mere ripple from an altitude of 40,000 feet.
Figure 1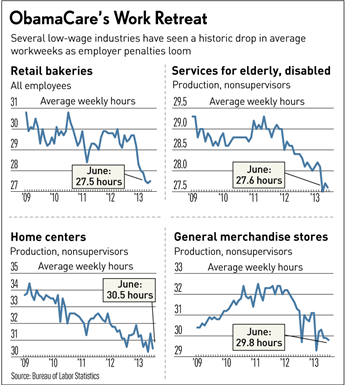 There was some serious cherry-picking of data to produce the above charts - and most came from the retail sector. Here's a broader view:
Figure 2 - Average Weekly Hours Sample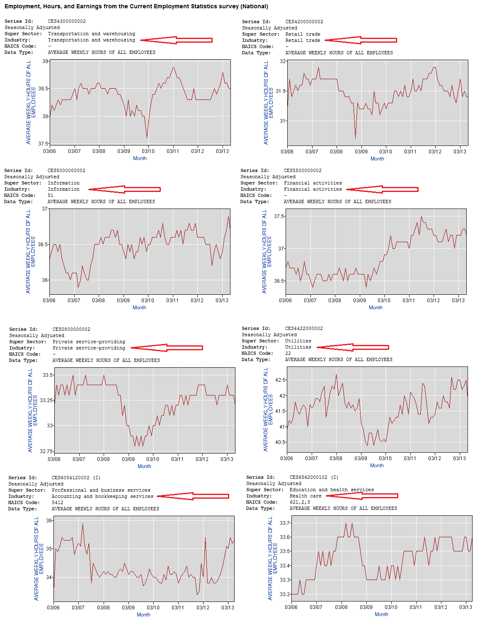 The 40,000 foot chart shows that the average weekly hours never returned to the levels prior to the Great Recession:
Figure 3 - Average Weekly Hours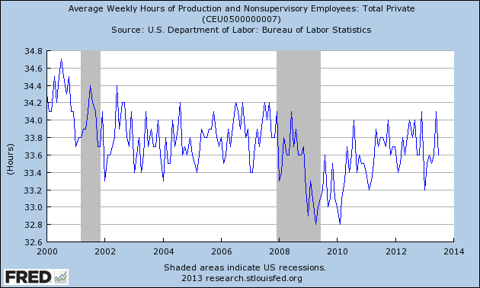 Here is the same data showing the change year-over-year - do you see an obvious trend decline in working hours since 2010 - long before Obamacare would have been affecting working hours.
Figure 4 - Year-over-Year Change of Average Weekly Hours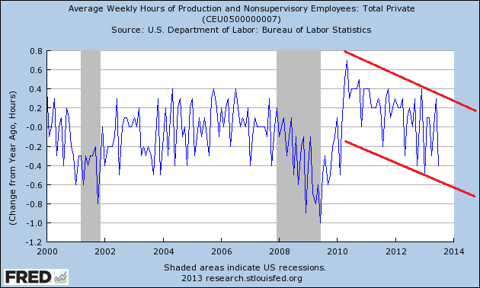 If one can argue the economy is bad (and this is my argument), then the decline in average weekly hours would be attributable to this cause. It is extremely unlikely that Obamacare is a positive for weekly hours worked - but there is no indication it is the driving dynamic currently in play.
The economy sucks (a technical term). Business is unsure about tomorrow and is not investing in people or machinery - and capacity utilization is at historical lows for non-recessionary periods. This paints a nasty picture of an economy in "recovery".
Figure 5 - Capacity Utilization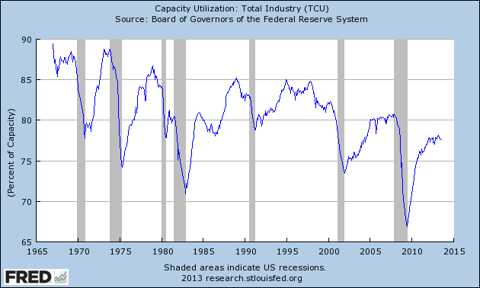 I have wrapped up the weekly economic releases in my instablog - and took aim on the nasty new home sales data from Friday.
Disclosure: I have no positions in any stocks mentioned, and no plans to initiate any positions within the next 72 hours. I wrote this article myself, and it expresses my own opinions. I am not receiving compensation for it. I have no business relationship with any company whose stock is mentioned in this article.