If you've eaten at a Noodles & Company (NASDAQ:NDLS) you know the food is delicious and the concept is unique in the market. Since the IPO the stock has been very volatile, essentially doubling on the open to ~$36/share then climbing to almost $48 before falling back into the low $40s. I think NDLS is an attractive long-term growth story at the current price.
Before getting to the reasons I like NDLS, I want to address the potential risks in buying the stock, and there are several key ones. It is currently trading at a near ridiculous 103x forward P/E multiple and GAAP earnings were actually down in the most recent quarter relative to a year ago. To be fair, they did have IPO expenses and will have lower future interest expense after using IPO proceeds to reduce debt. Taking the company's adjusted numbers, net income increased 11% q-o-q. On the surface, this appears to be a 'high growth' company with questionable growth.
Additionally, based on the timing of the IPO, reported EPS is overstated because the 6 million new shares haven't been included in the denominator yet. That will add pressure to EPS figures through the end of the year and make comparisons for 2014 more difficult. There is also the chance of a future follow-on offering to fund store growth, diluting existing shareholders.
Here's why I believe NDLS is a long-term winner. The concept is new to the market, the food is good and the management team had a very successful track record at Chipotle (NYSE:CMG). Both CEO Kevin Reddy and COO Keith Kinsey held senior roles at Chipotle when it was a part of McDonald's (NYSE:MCD) before the IPO. Both have been with NDLS since 2005.
I looked at the valuation in terms of restaurants versus market cap. Noodles currently has a market cap of $1.2 billion and operates 295 company-owned stores and 53 franchise restaurants. That values each restaurant at $3.5 million. Chipotle has a market cap of $12.4 billion and operates 1,502 restaurant, valuing each unit at $8.3 million. According to the NDLS prospectus the company has increased its restaurant count at a 16% CAGR since 2004. Using that same rate going forward, that projects NDLS to have roughly 550 stores in three years. Assuming they can add 200 stores in the next 2-3 years and the valuation can approach $5mm a store, still a far cry from CMG's valuation, NDLS could have a market cap of close to $2.8 billion. That's more than double the current valuation in the next few years.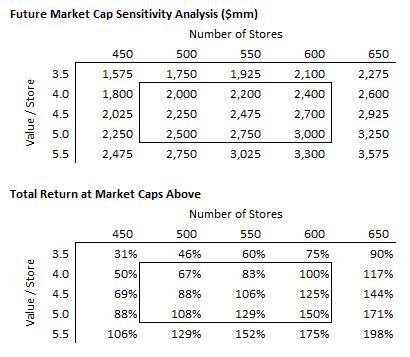 Looking at restaurant margin, which is simply company-owned restaurant sales less costs specific to each location, NDLS is running at ~20% margin. This is significantly below the ~27% that Chipotle operates at today. However, CMG restaurant margins from the 3 full years prior to its IPO, it never exceeded 16%. As the chain grows and increases purchasing power, it seems reasonable restaurant margins could approach Chipotle levels. While SG&A will increase in absolute dollars in the coming years, SG&A costs should represent a lower percentage of total revenue as the company grows.

Earnings will likely continued to be pressured as they grow and adjust to the higher share count, but the underlying business seems strong and new restaurant openings will fuel future growth. I'm not suggesting NDLS can follow the CMG path, but even if it can only do half as well as CMG did, it looks attractive to me. The path might continue to be volatile, but that's a risk I'm willing to bear for the upside potential.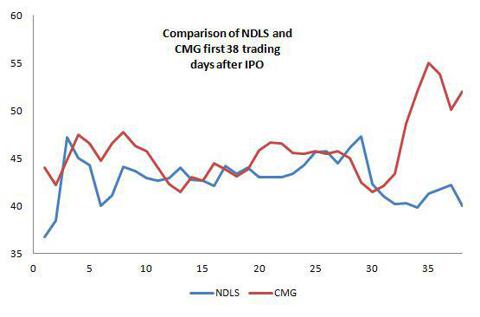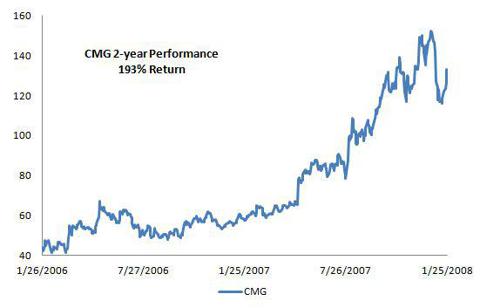 Disclosure: I am long NDLS. I wrote this article myself, and it expresses my own opinions. I am not receiving compensation for it (other than from Seeking Alpha). I have no business relationship with any company whose stock is mentioned in this article.