Nevada, U.S. incorporated Gran Tierra Energy (NYSEMKT:GTE) has its HQ in Calgary, Canada. It is the fourth largest oil producer (in terms of reserves) in South America with ownership of over 42 oil and natural gas blocks in various stages of exploration and production. Its principal business activities are in Columbia, Argentina, Brazil, and Peru. It announced a tripling of revenue in its 2Q13 quarter which concluded on June 30. This article analyzes the underlying fundamentals which contributed to a strong GTE 1H performance to establish if the company growth trajectory is sustainable.
Competitive Strengths
GTE shares have gained 35% in the past 52 weeks. In comparison, the NASDAQ oil and gas competitive index has gone up by 17% in the same period. It has a market cap of around $1.7 billion at prevailing share price.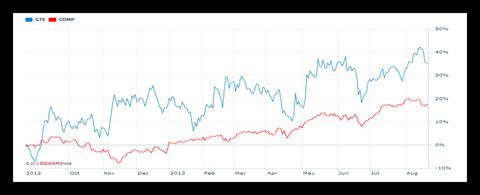 With an EPS of $0.68, P/E ratio of 9.37, and short interest ratio of 1.1 days, GTE is attractively priced and less risky for investors in comparison to its competitors like Genesis Energy (NYSE:GEL) and Comstock Resources (NYSE:CRK).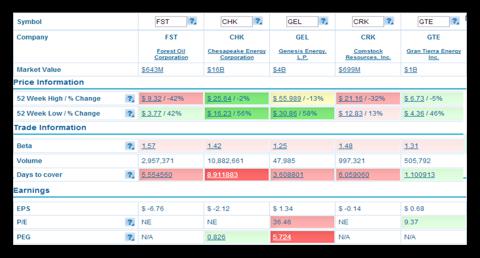 GTE has been a solid performer in the first half of FY13. 1Q13 had seen a significant growth in its oil production and net revenue. This 1Q momentum has carried forward into its 2Q results.
Stellar 2Q13 performance as a follow up to a solid 1Q
On August 6, GTE reported its 2Q13 numbers. Its oil and natural gas production for the quarter went up by 57%, and its revenue shot up 47% in comparison to the same quarter last year. The company had close to $282 million in cash reserves as of June 30, with an accounts receivable pipeline of $114 million. Income per share went up a whopping 265% to $0.17 per share for the reporting quarter, in comparison to $0.05 per share in 2Q12. GTE has excelled operationally also. It has managed to cut its operating cost per barrel of oil by 25% when compared to 2Q12. It has also managed to bring down its oil transportation costs by exploring newer options of transport.
In the first half of FY13, Peru and Brazil have not contributed significantly to company's coffers. Colombian operations contributed the maximum of $186 Million to the company's income. Argentina operations contributed 12% of GIA overall Oil production in 1H13 and are yet to show profits.
| | | | |
| --- | --- | --- | --- |
| Barrel of Oil Equivalent | Colombia | Argentina | Brazil |
| Gross Production | 4,459,463 | 652,502 | 167,705 |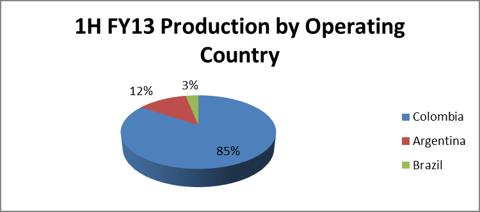 Strong Financial Fundamentals
GTE shares are trading 5% lower than the 52 week highest price and 46% higher than the 52 week lowest price. This indicates a potential for increase in GTE share price over the next few months, given its upward production and profit guidance in 2Q13. The company has next to zero long term debt, and healthy cash flow of $200 Million in the first six months of operations in FY13. The company's growth strategy is to utilize the existing cash reserves and operating cash flow to diversify into more areas in its quest for proven reserves of oil and gas.
Potential for growth
Based on the strong growth in production in the first half of FY13, GTE has given an upward guidance revision for its 3Q13 production. It expects to produce between 21000 to 22000 barrels of equivalent oil per day net after royalty. It has put aside $454 Million for planned capital expenditure which comprises of drilling 16 new gross wells in all the four major geographies GTE operates in.
New production wells getting added to the proven reserves
In Colombia, the Moqueta-10 well in the Putumayo Basin has been upgraded from a water injector well to a producing well with proven capacity to add 952 BOPD. Moqueta -11 well has also indicated presence of oil columns, thus having positive additional reserve implications. In Argentina, new horizontal drills are planned in 3Q13 as a follow up to proven oil finds in their PMN-1117 in late 2012. GTE has successfully bid and acquired three new blocks in Brazil during 2013. Thereby, it has increased its land position to 47,734 gross acres in that country. In Peru, the company has successfully completed the test run of transporting oil on barges from its Bretaña well to the refinery in Iquitos. GTE is projecting to have this well classified as fully in production in FY13 itself.
Challenges
Pipeline disruption by guerrillas in Colombia has hampered GTE operations right through 2012 and in June 2013. The company had to scout for alternate transport. Trucking the oil on road over the 1500 KM distance instead of using the pipeline shaved off an average $10 per barrel of realized cost of oil for GTE. Fluctuating oil prices in the international market are a big determinant in GTE's overall profitability. It slipped by 8% to $85 per barrel in the April to June 13 time frame. Further dips in oil prices can have a negative impact on GTE shares. With most of GTE revenue generating operations located outside the US, currency fluctuations tend to have a significant impact on its numbers. Weakening Columbian and Argentinean currency against the U.S. dollar can eat into GTE's reported profits in US. Dependency of GTE on small customer bases, in a single industry for revenue, and can adversely impact its operations and create a cash crunch in case of customers not making good on payments.
% of Sales to End Customer in Colombia

As the above chart depicts, 82% of its revenue in 2Q13 was realized from just two customers in its primary Columbian market. GTE is also pursuing legal recourse and arbitration to resolve its disputes with disgruntled partners arising out of farm-in and farm-out transactions. The company has set aside $4.4 Million towards loss accrued on an adverse legal judgment it had appealed and any other forthcoming legal expenses.
With two consecutive quarters of production and revenue growth behind it, GTE is all set to increase its output in 3Q as indicated by its management's forward-looking statements. With new production wells expected to be commissioned towards the end of FY13, GTE's output is bound to go up further. If the oil and gas prices do not fluctuate drastically over the next few months, I feel GTE will grow from strength to strength. I recommend a BUY on GTE.
Disclosure: I have no positions in any stocks mentioned, and no plans to initiate any positions within the next 72 hours.
Business relationship disclosure: The article has been written by an Analyst at ResearchCows, ResearchCows is not receiving compensation for it (other than from Seeking Alpha). ResearchCows has no business relationship with any company whose stock is mentioned in this article. Any analysis presented herein is illustrative in nature, limited in scope, based on an incomplete set of information, and has limitations to its accuracy. The author recommends that potential and existing investors conduct thorough investment research of their own, including detailed review of the company's SEC filings, and consult a qualified investment advisor. The information upon which this material is based was obtained from sources believed to be reliable, but has not been independently verified. Therefore, the author cannot guarantee its accuracy. Any opinions or estimates constitute the author's best judgment as of the date of publication, and are subject to change without notice.