Kratos Defense & Security Solutions, Inc. (NASDAQ: KTOS) is a specialized National Security Technology business. The Company's principal capabilities are state-of-the-art engineering, manufacturing, and system integration offerings for National Security platforms and programs.
With security solutions a primary concern for governments and businesses alike, a company such as Kratos catches my attention. It's less of a numbers thing and more a nod to the potential, now a reality more than ever, in the Security & Protection Services industry.
Kratos Strengths:
Revenues
Earlier in August, Kratos reported 2Q revenues of $235.2 million. This represents an increase of 7.0% over 2Q 2012.
The Average Estimate of Revenues by analysts for the third quarter of 2013 is $233.70M, with analysts' average estimate for current year revenues at $977.93M and 2014's average estimate for revenues at $1.00B. (all as at 3:01PM EDT, August 23, 2013)
Kratos has provided fiscal third quarter 2013 financial guidance for revenues of $220 million to $240 million. The company also updated its full year fiscal 2013 financial guidance for revenues of $960 million to $990 million.
Stronger Demand in its Public Safety & Security Solutions Business (NYSE:PSS)
This division designs, installs, and services building technologies for the protection of people and property. Let's face it, after numerous attacks and attempts on facilities by terrorists, disgruntled employees, disenfranchised individuals, and other groups or individuals, along with general everyday public safety concerns, this division will continue to experience growth. There is ongoing pressure on facility owners/mangers to have suitable systems in place to ensure the public's safety and security.
Consider that in the second quarter of 2013, this division continued to produce strong organic growth for Kratos, which the company said they expect, "to continue into the second half of this year, as this business' backlog and bid proposal pipeline remain near-record levels."
Important for investors to note is that the company's 2Q results include year-over-year organic revenue growth of 17.5% in its Public Safety & Security Solutions segment.
Cybersecurity Potential
Kratos announced this past week that it won a federal defense contract worth US$6 Billion over the lifecycle of the 5-year deal (a one-year base and four one-year options). The company was awarded a Blanket Purchase Agreement (BPA) to provide Continuous Monitoring as a Service (CMaaS) to the Department of Homeland Security (NYSEARCA:DHS).
Significant for investors to note is that one of the Department of Homeland Security's priorities for 2014 will be protecting and securing cyberspace. This will include an allocated $200 million for federal network security. The designation for Network security deployment is $406 million for EINSTEIN, an intrusion detection system. Cybersecurity is a growth avenue for Kratos.
Management's Commitment to Building Free Cash Flow
Kratos is working to build a nest egg of commitment-free cash. In other words, they want that free cash flow that is available after it's paid its merchants, paid for its investments, and collected its receivables.
Company President & CEO, Mr. Eric DeMarco said, "From a capital structure standpoint, we are beginning to prepare the documents necessary for the refinancing of our senior notes, and our expectation based on recent market conditions is that we can reduce the annual interest rate on our debt by at least 200 basis points, significantly increasing Kratos' Free Cash Flow, which we plan to use for further delevering of our balance sheet."
Top-Quality Executive to Enhance Company Strategy
In August, Kratos reported that Vice Admiral Gerald Beaman (U.S. Navy-Ret.) joined the company as President of its newly formed Unmanned Combat Aerial Systems (UCAS) Division. He has wide-ranging experience in large-scale operations. Just prior to joining Kratos, Vice Admiral Beaman was the Commander of the United States Third Fleet. He will additionally supervise major Strategic Programs for Kratos.
Noteworthy for investors is the comment by Mr. Eric M. DeMarco, Kratos' CEO, President and Director, "Vice Admiral Beaman joining Kratos is an important milestone and inflection point in the continued execution of our strategy in building a leading technology and product based National Security Company. Jerry will be President of Kratos' newly established UCAS Division, with the primary responsibility of continuing our Company's momentum in this emerging area, working with certain existing customers, refining missions and requirements, and building a UCAS business that is critically important to our Company's strategic vision."
Two Caveats for Investors:
1. Federal Government Spending or Lack Thereof
No doubt, Kratos has the solutions for National Security platforms and programs. However, federal automatic spending cuts and budget restraints will affect the company; this is the larger issue that should concern potential investors. Of note is that total government spending will come in at $6.4 Trillion for FY 2014. The heat's on for cuts in spending in a host of departments.
However, Governments cannot ignore the need to implement better security solutions so contracts will continue to be available to companies in the Security & Protection Services industry.
The issues are:
(NYSE:I) Will there be enough contracts for Kratos, and
(ii) Will government delays in issuing contracts put Kratos (and others in the industry) in uncomfortable positions?
To me, the answers are "maybe" and "yes". These are concerns investors must consider despite the growing need for specialized security solutions worldwide. It's important to note that the company's main customers are National Security related agencies. Kratos depends on these contracts, and these contracts being issued in an expeditious manner.
For 2Q 2013, Kratos' revenues from contracts with the federal government were roughly 65% (revenues from contracts with the Department of Defense (NYSEARCA:DOD) of 60%; revenues from contracts with non-DoD federal government agencies of 5%).
Bloomberg News (Gopal Ratnam and David Lerman) recently noted that "A Bloomberg index providing a sample of 17 small and mid-sized contractors, including Kratos (KTOS) [Defense & Security Solutions], API Technologies Corp. (ATNY), Anaren Inc. (ANEN) and CPI Aerostructures Inc. (CVU), has gained 20 percent since March 1. It fell 14 percent in the five months before sequestration kicked in, partly reflecting concerns they would be more vulnerable to budget cuts."
2. EPS
Recently, Kratos reported 2Q 2013 Pro Forma EPS from Continuing Operations of $0.02 (not reported EPS). GAAP EPS was (- $0.17). The mean analyst estimate was $-0.15.
Eventually investors will want to see growing revenues and cost-cutting manifest themselves as consistent, sustainable EPS, which is not happening for Kratos right now.
Finally… Stock Price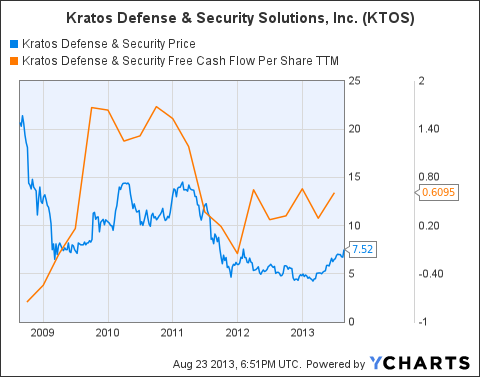 I offer no opinion on an entry point for Kratos. At its past year price points it's not something that's important to me. If I decide to buy it won't be based on price, at least not at these levels. I will be in - or not - based on further due diligence of the company's business model and the potential to build on their PSS, cybersecurity, and new UCAS Division initiatives.
Conclusion
Is the company worthy of consideration as a small-cap choice for a portfolio? As a federal government contractor providing services chiefly to the Department of Defense - I believe the company has long-term potential - but I'm qualifying this belief with the above-mentioned two attendant caveats.
Disclosure: I have no positions in any stocks mentioned, and no plans to initiate any positions within the next 72 hours. I wrote this article myself, and it expresses my own opinions. I am not receiving compensation for it (other than from Seeking Alpha). I have no business relationship with any company whose stock is mentioned in this article.