When insiders accumulate a stock intensively, the stock can be expected to outperform the market during the next six months. Insiders tend to buy more often than usual before large price increases and to sell more than usual before price decreases.
In this article, I will feature one biotech company that has seen intensive insider buying during the last 30 days. Intensive insider buying can be defined by the following three criteria:
The stock is purchased by three or more insiders within one month.

The stock is sold by no insiders in the month of intensive purchasing.

At least two purchasers increase their holdings by more than 10%.
Sarepta Therapeutics (NASDAQ:SRPT) is focused on developing RNA-based therapeutics to improve and save the lives of people affected by serious and life-threatening rare and infectious diseases. The company's diverse pipeline includes its lead program eteplirsen, for Duchenne muscular dystrophy [DMD], as well as potential treatments for some of the world's most lethal infectious diseases.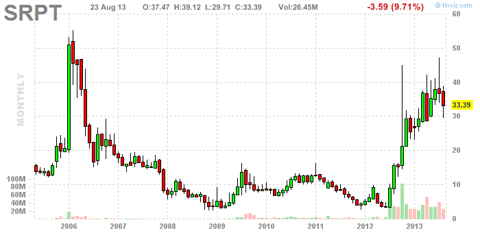 Insider buying by insider (last 30 days)
Anthony Chase purchased 3,500 shares on August 22 and currently holds 31,744 shares or 0.1% of the company. Anthony Chase serves as a director of the company.
Gil Price purchased 500 shares on August 19 and currently holds 35,330 shares or 0.1% of the company. Gil Price serves as a director of the company.
Sandesh Mahatme purchased 5,000 shares on August 20 and currently holds 5,000 shares or less than 0.1% of the company. Sandesh Mahatme joined Sarepta as Senior Vice President and Chief Financial Officer in November 2012.
Insider buying by calendar month
Here is a table of Sarepta's insider-trading activity by calendar month.
| | | |
| --- | --- | --- |
| Month | Insider buying / shares | Insider selling / shares |
| August 2013 | 9,000 | 0 |
| July 2013 | 0 | 0 |
| June 2013 | 10,000 | 0 |
There have been 19,000 shares purchased and there have been zero shares sold by the insiders since June 2013.
Financials
The company reported the second-quarter financial results on August 8 with the following highlights:
| | |
| --- | --- |
| Revenue | $3.0 million |
| Net loss | $19.1 million |
| Cash | $164.0 million |
| Debt | $1.7 million |
Subsequent to second quarter end and up to August 7, Sarepta raised $37.9 million in proceeds and issued approximately 1.0 million shares of common stock under the At-The-Market equity financing that was put in place in July 2013.
Upcoming milestones
Sarepta plans to submit a New Drug Application [NDA] for the approval of eteplirsen for the treatment of Duchenne muscular dystrophy patients with genotypes amenable to skipping of exon 51. The decision to submit an NDA for eteplirsen was based on productive interactions with the FDA including a meeting with the agency in July. In pre-meeting comments, the FDA stated it was open to considering an NDA based on results from the Phase IIb clinical study of eteplirsen. Sarepta expects to submit the NDA to the FDA in the first half of 2014.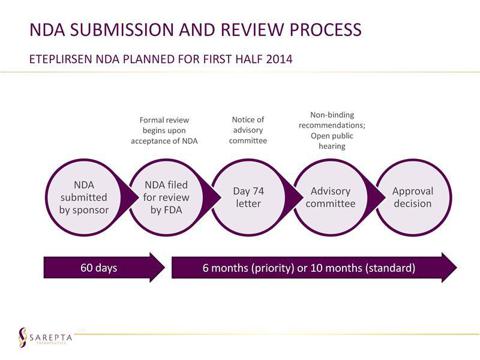 Competition
DMD program competition
Currently, no product has been approved for the treatment of DMD. Companies including, but not limited to, Prosensa (NASDAQ:RNA) in collaboration with GlaxoSmithKline (NYSE:GSK), have product candidates in development for the treatment of DMD.
The Prosensa/GSK program commenced treatment in January 2011 in a Phase III clinical study in ambulant individuals with DMD who have a dystrophin gene mutation amenable to treatment by skipping exon 51. Prosensa's candidate for skipping exon 51, GSK2402968, utilizes a different chemistry, 2'O-methyl-phosphorothioate, which has the potential for different performance, safety and tolerability characteristics than eteplirsen. This randomized, placebo controlled study is fully enrolled, with approximately 180 participants who are being dosed for 48 weeks. The primary efficacy endpoint is a measure of muscle function using the 6MWT. Results for this Phase III study are anticipated by the end of 2013.
In September 2010, the Prosensa/GSK program commenced a Phase II double-blind, placebo-controlled study. This study is designed to assess the efficacy of two different dosing regimens of GSK2402968 administered over 24 weeks in DMD patients, and then to continue observing the patients over a second 24 week interval for a total study time frame of 48 weeks. This study completed enrollment with 54 DMD patients in October 2011 and has since concluded with results expected after the Phase III clinical study is complete.
Hemorrhagic fever virus programs
No specific treatment has been proven effective, and no approved vaccine currently exists for either Ebola or Marburg. Investigational compounds cannot be tested for efficacy on humans except in outbreak environments so these agents must be tested extensively in animals and meet strict government regulations.
Vaccine development is in the early stages in both the biotech industry and by U.S. government agencies (e.g., the National Institute of Allergy and Infectious Diseases and the Centers for Disease Control and Prevention). The government is also supporting early stage research on broad-spectrum therapeutics effective against hemorrhagic fever viruses.
With respect to therapeutics in advanced development, in February 2012 Tekmira Pharmaceuticals (TKMR) initiated a Phase I trial for TKM-Ebola, a systemically delivered RNAi therapeutic for the treatment of Ebola virus infection. Sarepta commenced initial human safety studies of its therapeutic candidates against Marburg and Ebola viruses in May 2011.
Influenza program
Currently, there are two therapeutic products for influenza that have received market approval from the FDA and are recommended for use in the United States. These are:
Oseltamivir (Tamiflu), a Roche (OTCQX:RHHBY) and Gilead (NASDAQ:GILD) product.
Zanamivir (Relenza), a GSK product.
In addition to these products, Daiichi Sankyo's (OTCPK:DSKYF) laninamivir (Inavir) and BioCryst's (NASDAQ:BCRX) peramivir were launched in 2010 in Japan. Currently, DHHS funding is helping support clinical trials of Biota's (BOTA) laninamivir. In addition, other companies including, Toyama Chemical (a subsidiary of Fujifilm (OTCPK:FUJIF)), have influenza therapeutic compounds in development. Toyama Chemical's favipiravir is in a Phase II clinical trial in the United States and has completed a Phase III trial in Japan. DHHS is currently seeking additional antiviral therapeutics for the treatment and/or prophylaxis of influenza A and B infections.
In addition to therapeutic products, other companies are focusing development efforts on universal influenza vaccines, including BiondVax Pharmaceuticals Ltd., which initiated a Phase IIa trial of its universal influenza vaccine candidate in October 2010. Successful development of a universal influenza vaccine could lead to a reduction in the number of influenza cases and, therefore, the market size.
Conclusion
There have been three different insiders buying Sarepta and there have not been any insiders selling Sarepta during the last 30 days. Two out of these three insiders increased their holdings by more than 10%. Sarepta has an insider ownership of 0.40%. There are nine analyst buy ratings, three neutral ratings and one sell rating with an average target price of $47.17. The next major catalyst for the stock will be the NDA submission to the FDA in the first half of 2014. I have a cautiously bullish bias for the stock currently based on the intensive insider buying.
Disclosure: I have no positions in any stocks mentioned, but may initiate a long position in SRPT over the next 72 hours. I wrote this article myself, and it expresses my own opinions. I am not receiving compensation for it (other than from Seeking Alpha). I have no business relationship with any company whose stock is mentioned in this article.