On Friday, August 23, Altria Group, Inc. (NYSE:MO) announced a quarterly dividend increase of $0.04/share to bring its upcoming dividend payout to $0.48/share. It should be noted that this boost represents a 9.1% increase from its prior dividend of $0.44/share, which was paid on June 12. In the wake of Altria's dividend increase, I wanted to not only examine the company's recent performance, but also take a look at several catalysts behind my decision to refrain from establishing a position in the company in the near term.
Company Profile
Headquartered in Richmond, Virginia, Altria Group, Inc., through its subsidiaries, engages in the manufacture and sale of cigarettes, smokeless products, and wine in the United States and internationally. It offers cigarettes primarily under the Marlboro brand; smokeless tobacco products under the Copenhagen, Skoal, Red Seal, and Husky brand names; cigars principally under the Black & Mild brand; and pipe tobacco.
Performance and Trend Status
On Friday, shares of Altria Group -- which currently possess a market cap of $68.63 billion, a P/E ratio of 15.65, a forward P/E ratio of 13.39, and a forward yield of 5.13% ($1.92) -- settled at $34.28. Based on Friday's closing price, shares of Altria Group are trading 2.00% below their 20-day simple moving average, 3.53% below their 50-day simple moving average, and 0.82% above their 200-day simple moving average. These numbers indicate minimal short-term and mid-term downtrends for the stock, and a minimal long-term uptrend for the stock -- which generally translates into a very slight buying mode for most traders. From a cash and debt perspective, Altria Group has a total of $2.57 billion in cash and $14.87 billion in debt on its books as of June 30, 2013.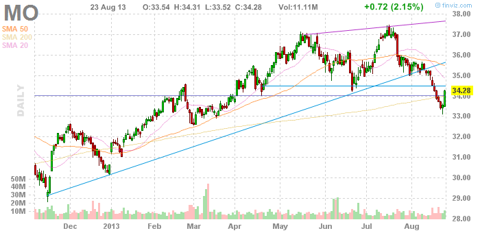 Three Fundamental Catalysts That May Deter Investors
From a fundamental perspective, I actually have three concerns when it comes to Altria Group. First and foremost is the fact that the company possesses a Price/Free Cash Flow (P/FCF) ratio of 73.24. Comparatively speaking, Altria's direct competitor Lorillard (NYSE:LO) possesses a P/FCF ratio of 40.98, which is a much more attractive ratio and is also 1.78 times lower than the P/FCF ratio of Altria.
The second of my concerns deals with the company's debt-to-equity (Debt/Equity) and long-term debt-to-equity (LTDebt/Equity) ratios. As a conservative income-driven investor, I prefer these ratios to be no higher than 3.50 and 3.00, respectively. As of the company's most recent quarter, Altria Group possessed a debt-to-equity ratio of 4.17 and long-term debt to equity ratio of 3.62, which I find to be slightly above my comfort level. Comparatively speaking, Altria's direct competitor British American Tobacco (NYSEMKT:BTI) only possesses a debt-to-equity ratio of 1.79 and a long-term debt-to-equity ratio of 1.46, which are 2.33 and 2.48 times lower than the ratios of Altria.
The last of my fundamentally-based concerns deals with the company's price-to-book (P/B) ratio. As of its most recent quarter, the company's P/B ratio of 19.26 which means shares are currently trading 19.26 times higher than the company's current book value per share of $1.78. Comparatively speaking, Altria's book value per share and its price-to-book are quite high considering the fact that British American Tobacco currently possesses a book value per share of $11.26 and a price-to-book ratio of just 9.31 (which in some investment circles is still considered to be a bit above normal ratio levels).
A Fairly Mundane Second Quarter
In addition to announcing its Q2 EPS of $0.62/share, which missed street estimates by $0.01/share and its revenue of $4.50 billion, which missed expectations by $0.12 billion, Altria Group also announced that it had revised its 2013 full-year reported diluted EPS guidance. The company's guidance went from an initial range of $2.50 to $2.56 per share to an updated range of $2.51 to $2.56 per share as Altria upped its low-end estimates by just $0.01/share.
If the company can demonstrate stronger-than-expected earnings with regard to its revised guidance range, I think Altria Group could be both a great growth and income play over at least the next 12-24 months. If, on the other hand, the company fails to meet its recently revised guidance, shares may experience a near-term sell-off, causing share value to decrease by an estimated 5% to 15%.
Recent FDA Guidance May Create a Buying Opportunity
On Tuesday, July 23, the FDA announced guidance regarding the dangers of menthol cigarettes and since this particular announcement, shares of Altria have fallen 4.75%. Why was the impact on shares so hard, you ask?
According to a number of sources, "the FDA noted that menthol cigarettes appear to pose a greater threat to smokers than the regular cigarettes do and as a result of this finding it plans to issue an enhanced set of rules that will be largely based on its recent findings. The agency went on to say menthol could make young people more likely to smoke by reducing the irritation and harshness of cigarette smoke."
If and when the FDA adheres to its intentions, and an enhanced set of rules is published and distributed, tobacco-related sales growth has a very good chance of seeing an overall decline in performance. If a downtrend in tobacco-related sales were to occur, we may be on the verge of a 10%-15% correction in share price.
Hypothetically speaking, and based on Friday's closing price of $34.28/share, a near-term opportunity for either initial entry or re-entry may very well occur within the price range of $29.14/share-$30.85/share. It should be noted that the company's sales have grown by an average of just 5.70% per year over the last 5 years, which makes me think that long-term performance could be hindered as the FDA continues to pressure the tobacco industry with regard to those who produce and subsequently sell various types of menthol cigarettes.
Conclusion
On a closing note, and although I strongly believe Altria's numerous stock buybacks and dividend increases will send shares higher in the coming months and years, there are a number of things investors must consider before establishing a near-term position in Altria.
When it comes to those who may be looking to establish a near-term position in Altria Group, I'd continue to keep a watchful eye on how well the company does in terms of earnings performance and what steps or initiatives are being taken to improve on the three fundamental catalysts briefly mentioned above.
As the FDA plans on implementing a new set of guidelines (which will directly effect smokers who prefer menthol cigarettes over those who prefer regular cigarettes), investors must be aware that there is a good chance shareholder value may decline, especially since both sales and earnings have failed to meet expectations over the last 12 months.
Disclosure: I have no positions in any stocks mentioned, but may initiate a long position in MO over the next 72 hours. I wrote this article myself, and it expresses my own opinions. I am not receiving compensation for it (other than from Seeking Alpha). I have no business relationship with any company whose stock is mentioned in this article.