While we are constantly looking for unique, original stock ideas, we also avidly read those of others. When one appears interesting, we start from scratch, and do our own work on it. Recently, we read about LRAD Corporation (NASDAQ:LRAD) in an SA Alpha-Rich article by Devon Shire and a brief follow-up last week. Below, we further elucidate several of his points, including quantifying the potential EPS impact of business wins, and also add a couple of additional ideas that strengthen the bull case. We conclude that shares offer limited near-term downside, but a realistic, short-term path to 40% upside (or $2 a share vs. $1.39 close on Friday), and potential for far greater heights should the company enjoy sustainable growth or put itself up for sale.
There are 5 key points that significantly bolster LRAD's bull case:
It is implicit from LRAD SEC filings that management believes the company can consistently generate at least $0.15 in annual EPS.
Based on announced wins, 4Q (September) revenue and EPS should be at least $6 million and $0.05, respectively.
There is a $3 million buyback (approximately 7% of shares at current prices) that has yet to begin, but is set to start imminently, which is likely to be executed quickly and put significant upward pressure on shares.
Two new members of the Board of Directors made open market stock purchases at higher prices since earnings.
LRAD represents a bite-size acquisition for a larger player, with LRAD offering potential for cost take-outs, a cash rich balance sheet (approximately $0.50 a share), and NOLs (NPV approximately $0.25 per share).
Before we detail these points, below is a very brief review of the company.
Company Overview
We are not going to give a lengthy rehash explaining LRAD's business. To keep it succinct, quoting from Mr. Shire's previous article:
"LRAD" stands for Long Range Acoustic Device. The product is a powerful communications tool that can be used in a broad variety of public safety situations. LRAD can emit a 150-decibel beam of sound and has become increasingly popular as a crowd-control device in the United States and around the world.
Given the increased security concerns around the world, as well as growing use cases (i.e. environmental), we view LRAD as a solid secular growth story, albeit one that has some order lumpiness.
Key markets for LRAD include: Security, SWAT operations, infrastructure and perimeter protection, fire/HAZMAT, environmental and more.
Below are some basic statistics regarding LRAD: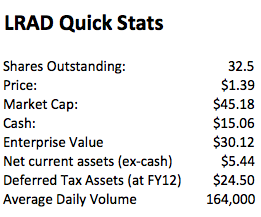 In Mr. Shire's article, he notes that he was brought to LRAD by watching the activity of an activist investor, Iroquois Capital Management. Iroquois argued that LRAD paid management excessively, including option grants, and had a subpar Board. Iroquois succeeded in its campaign and was able to install 3 exceptionally qualified Board members - especially for a company of this size (approximately $45 million market cap with $15 million cash) - and get the CEO to reprice his options at $3 (from $1.33).
Specifically, they added Retired U.S. Army Gen. John G. Coburn, who has been the CEO of VT Systems, Inc., an integrated engineering group since 2001. Coburn served in the U.S. Army for 39 years and his last assignment was as commanding general of the U.S. Army Materiel Command, overseeing an annual budget of $39.2 billion. Given that the military represents one of LRAD's biggest opportunities, General Coburn is an exceptional addition. They also added Richard Osgood III who co-founded Pacific Growth Equities in 1991 (sold to Wedbush in 2009) and Volpe, Welty in 1986. Again, we feel great comfort in a capital markets and M&A expert being on LRAD's Board, as we see a potential company sale as the best path to maximizing return. Lastly, they added Dennis Wend, President of Wend & Associates Inc., a federal government and technology based consulting company working with various government agencies and private sector firms. In sum, they appear to have added 3 extremely qualified individuals, who would appear capable of adding value to the company, and who we believe would be able to evaluate LRAD's long-term prospects (more on that below).
It is implied in LRAD SEC filings that management believes the company can consistently generate at least $0.15 in annual EPS.
In our experience, most managements and their Boards set targets for bonuses that they believe are achievable, or more often, that they expect to healthily exceed. Yet, this management, which was viewed by activist investors as self-serving and too generous in its compensation, had a bonus target that they were unable to achieve in 2012, and according to the most recent 10-Q, are not accruing for in 2013. In 2011 when they got 100% of target bonus, EPS was $0.15 (according to their filings, if EPS is high-enough, they can even get 200% of target bonus). Based on this history, we believe that the company believes $0.15 EPS (EPS is the driver of bonus, not revenue or EBITDA, etc.) in a given year is achievable, or perhaps conservative. While the past few years have been disappointing, it is heartening to know that the internal belief appears to be that this is a company that could and should earn at least ~$0.15 EPS in a given year. At this EPS level, at 10x plus cash of $0.50, shares would be about $2, or 40% upside from current levels.
Based on announced wins, 4Q (September) revenue and EPS should be at least $6 million and $0.05, although it could be more.
LRAD business has been enjoying exceptional business momentum. On the F2Q (March) earnings conference call, LRAD management indicated that they were seeing the biggest funnel of opportunities in the company's history. On June 11th LRAD won a $12 million order with the US Navy, of which almost $2 million will ship in the September quarter. Since then, the orders have continued to pour in. Their most recently announced order was a $1.9 million public safety order which they won on August 15th. According to the press release, that order is supposed to begin shipping in the current quarter and conclude early next quarter; however, out of conservatism, we are modeling (below) that most of the order will be delivered in the following quarter (F1Q14).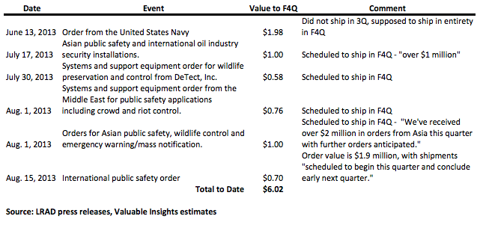 In total, it appears that LRAD will recognize over $6 million in sales in the current quarter. Notably, on its F3Q conference call, management said there were two near-term opportunities (we assume one was the August 15th announcement) that could help make this the "second best quarter in the company's history." We would not be surprised by an additional press release announcing another win in the next couple of weeks.
We are modeling the current quarter below. Historically, when LRAD has had around $6 million in sales, it has had approximately 60% gross margins, although GM can vary based on product mix. We are modeling 55% gross margins on $6 million of sales, up from 42% in F3Q on $2.2 million of sales. We are modeling operating expenses to decrease by $300 thousand sequentially, as costs associated with legal fees and the threatened proxy contest contributed $400 thousand to costs last quarter. In total, we expect LRAD to earn about $0.05 per share on $6 million in revenues, and possibly as much at $0.07 should additional orders arrive.
While this is all very positive in terms of 4Q, the possibility exists that there could be a fall-off in orders post-4Q. We are optimistic regarding FY14 for several reasons:
LRAD enters FY14 with at least $10 million in backlog based solely on the June Navy order.
Management continues to suggest the opportunity set is as rich as it's ever seen.
Recent momentum has occurred despite sequestration, so should spending revive, that could represent additional upside.
In addition to a retired US Army General joining LRAD's Board, they also added 3 new salespeople, including David Schnell, a retired US Naval Captain, to help grow sales.
In FY3Q they signed a 5-year agreement with Beijing Paier Technologies, Inc. to manufacture, market and sell LRAD systems to China's government organizations, which we believe could bring incremental revenues in FY14.
Management commented on its 3Q conference call that they are working on a potential program with the US government that would be their "most significant piece of business booked to-date" if they could land it - which clearly would be a game changer in terms of the business' trajectory in FY14 and perhaps FY15 as well.
We doubt 2 new directors of LRAD's Board would be buying company shares if they expected solid 4Q sales, followed by a substantial fall-off in business. Instead, we think their purchases are an important signpost that sustained growth is anticipated.
There is a $3 million buyback (over 6% of shares at current prices) set to begin imminently.
When LRAD reported 3Q, it announced a $3 million share repurchase program. We find this announcement to be very meaningful. First, it suggests a new, investor friendly, shareholder value-creating approach from the company. Second, assuming an average repurchase price of $1.50, it would remove more than 6% of shares from the float. Third, according to the recently filed 10-Q, the program is good only through December 31, 2013, so presumably the company will be very active in the market.

Source: LRAD Corp. 3Q 10-Q
Assuming the buyback begins next week (and it may take longer before it starts), LRAD would have to average over 20,000 shares per day (assuming a price of $1.50) to complete the buyback before year-end. Obviously this could exert considerable upward pressure on shares. Lastly, based on the recent earnings conference call, it is likely that the buyback hasn't started, but will in the next few weeks. Specifically, Head of Investor Relations Robert Putnam noted that they had yet to engage an investment bank to help them execute the buyback:
"And we felt that we had cash - some excess cash that we could devote to this program. We also feel like the fourth quarter is looking very strong. So, we should generate some positive cash flow on our fourth quarter. So, after analysis, we sat down and the Board approves the $3 million. In terms of details, we are still working through that. We are looking at an investment bank to work with. And once we fit them with them this is first time that we have gone through a buyback, so we will get an education and figure out what we need to do to implement the program." - Robert Putnam, LRAD Head of Investor Relations
Source: LRAD F3Q Earnings Call Transcript
We expect that once the buyback begins, it should put a floor in the stock, and given the relatively thin float, it could exert meaningful upward pressure on shares. Further, this move increases our optimism that this newly responsive Board will likely engage in additional shareholder friendly actions in the future.
Two new members of the Board of Directors made open market stock purchases in the last week.
One of our consistently most profitable investment approaches is identifying companies with insider buying. That this is a successful strategy isn't shocking. Obviously a company's management and Board have unique insight into the business' prospects.
Clearly, corporate Boards are under ever growing scrutiny. For a Board member to buy shares of the company whose Board they're on, he must think the prospects are strong - and, in our view, certainly be playing for something more than a 10-20% gain. In a small, relatively thinly traded stock like LRAD, we find it difficult to believe that Board members would buy stock unless they saw a convincing path to stock price appreciation.
With this as a backdrop, we view the recent insider buys of Richard Osgood III (50,000 shares at average of $1.49) and Dennis Wend (25,000 shares at average of $1.47) as significant. Both men joined LRAD's Board in mid-July, meaning they were on the Board for less than a month at the time of purchase, and likely have limited personal loyalty (beyond Board responsibilities) to the company. As a career finance professional, Mr. Osgood unquestionably understands what makes a stock work. Mr. Wend, as a consultant helping commercial businesses sell into the government, is uniquely positioned to understand LRAD's prospects for success. In sum, we think the opportunity to purchase shares for ~7% less than these insiders is attractive.
LRAD represents a bite-size acquisition for a larger player, with LRAD offering potential for cost take-outs, a cash rich balance sheet (approximately $0.50 a share), and NOLs (NPV approximately $0.25 per share).
We are encouraged by LRAD's current and likely future business momentum, the improvement to the company's Board, and the new shareholder-friendly approach. In addition, we think LRAD plays in an attractive secular growth market, despite its inconsistent and disappointing results.
As is the case with most small companies, we believe the ultimate value-maximizing strategy is a company sale. In our opinion this is true of LRAD which would be of interest to a larger defense/military/security/technology company that could both eliminate duplicative expenses, and leverage existing sales relationships to significantly grow top-line.
We think that if current trends continue, LRAD could generate approximately $5-$6 million of EBITDA in FY14. This assumes that LRAD is earning around $0.15-$0.20 of EPS, in the range we believe the company sets for achievement of a 100% target bonus. This would likely be exceeded by a wide margin should LRAD land any of a number of major deals they are working on. We believe there could be at least $1-$2 million of cost take-outs in a buyout, meaning adjusted EBITDA of $6-$8 million. Applying an 8x-10x EBITDA take-out multiple, plus cash, plus giving value for NOLs, would imply a sales price at the low end of $71 million or $2.18 a share, a 57% premium to current prices, and $103 million or $3.17, a 128% premium to current prices. Of course, our analysis does not assume the likely top-line benefit a larger owner would enjoy.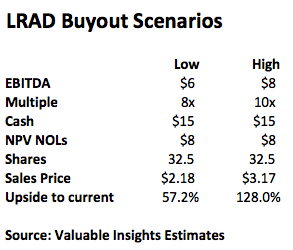 Fortunately, there are dozens of potential acquirers. Certainly this asset could be of interest to BAE Systems (OTCPK:BAESF), General Dynamics (NYSE:GD), Textron (NYSE:TXT) or many others. With William Osgood on LRAD's Board, they have an experienced banking professional on their team that could help oversee a sales process, and probably provide guidance that a company of LRAD's size wouldn't typically have.
Conclusion
With improving business prospects, a high probability of and exceptional 4Q, insider buying, and a coming buyback, we think shares of LRAD offer an asymmetric risk/reward profile. If the company indeed earns 4Q EPS of $0.05, then the company would be trading at approximately 4.5x run-rate EPS, backing out cash. If shares don't rise with the buyback, the company will be well-positioned for additional accretive share repurchases. More likely, the company will enjoy additional business wins in the months ahead, and investors will see shares rapidly move to higher levels.
Disclosure: I am long LRAD. I wrote this article myself, and it expresses my own opinions. I am not receiving compensation for it (other than from Seeking Alpha). I have no business relationship with any company whose stock is mentioned in this article.
Additional disclosure: We conduct thorough research on our ideas, but our views are our own. Please do your own research.