The media space is RED HOT right now. The deals announced this year have been sizable and game changing and on top of that, the S&P Movies and Entertainment index has been slaughtering the broader markets for years. So what is going on in the land of Media and with the explosion of digital distribution channels, can we expect a disruption of the status quo?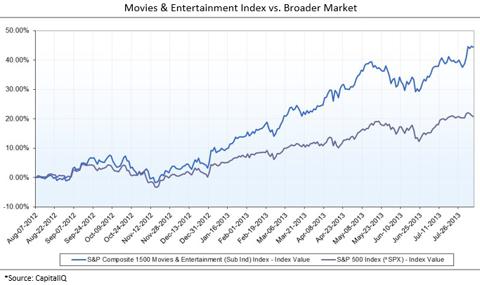 Trend #1: More Focused Companies
The media space is made up of TV, film, radio, advertising and publishing companies. Historically, the largest 6-10 media companies were dominating in all segments of the media landscape. Some of these companies like Disney (NYSE:DIS), Viacom (NASDAQ:VIAB) and CBS (NYSE:CBS) remain intact and stand by the conglomerated media model; however, the trend has been towards splitting off assets to form more focused integrated TV and film companies (FOXA, TWX, AMCX) and it has generally been a successful strategy as the spin-offs have out-performed the conglomerates.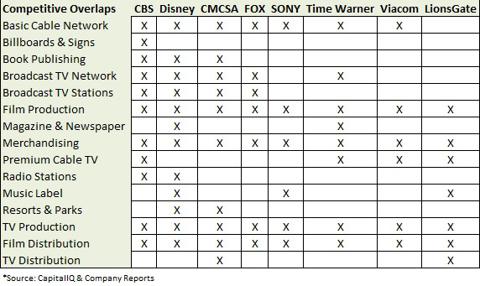 (Source: S&P Capital IQ "Industry Surveys Movies & Entertainment" June 2013)
Trend #2: Content is King as Record TV Ratings Drive Revenue Growth
The most important reason why value is being created at media companies is simply because content consumption is at all-time highs. According to Nielsen data, as of the first quarter of this year, the average American spends approximately 180 hours a month watching some form of TV, 7 hours playing game consoles, 28 hours using the internet on a computer and 14 hours watching video on the internet and on phones. That's 194 hours of monthly video watching which is more than 6 hours a day! (Source: Nielsen report "A Look Across Screens" June 2013)
More consumption translates into more opportunities to sell ads and premium content. Subscription services in particular have seen robust growth as the low up-front cost and mobile accessibility has attracted users. Subscription services have an estimated 50% domestic penetration rate and are expected to continue to grow while cannibalizing traditional cable services in a phenomenon called 'cord-cutting'. However, cord-cutting is unlikely to make a major dent in multi-channel market share because internet services are sold bundled with cable TV subscriptions at a marginal cost.

(Source: SNL Kagan "TV Network Industry Benchmarks")
Traditional cable is a mature product with peak market share of 90% of homes. Cable operators have responded to online-only distribution with 'TV Everywhere' which allows customers to view cable on mobile apps. The true focus of the TV wars is content where traditional cable operators and TV networks have the upper hand due to deep relationships with content producers and a solid hold over live events including sporting events. Control over first-run content and live events has given traditional networks a captive audience which has maintained ratings and driven affiliate revenue (carriage costs for cable channels) and advertising rates.

(Source: SNL Kagan "TV Network Summary")
As shown in the table above on TV Revenue, TV network affiliate and advertising revenues have grown by rates significantly higher than premium subscription rates. This can partially be explained by the inclusion of sports programming in affiliate and ad revenues. ESPN alone currently accounts for $5.54 in affiliate fees. Another reason is that the programming of the premium subscriptions are mostly second-run exhibitions of movies or older content which do not require as much investment or risk. The digital distribution option of services such as Netflix are also more scalable and easier to expand internationally without having to cut deals with as traditional media exhibitors.
Trend #3: Catch-up Viewing is Driving First-Run Ratings
The relationship between the new generation of subscription services such as Hulu and Netflix (NASDAQ:NFLX) can also be symbiotic. First-run media distributors in both film and TV control the time gap between the first-run exhibition, second-run and media sales. In recent years, premium services have been used as a potent second-run outlet where viewers can catch up to the latest TV season or movie in a series. Traditionally serialized TV has faced lower ratings the longer a show is on the air; however, because of catch-up viewing, shows like Mad Men and Breaking Bad find bigger audiences each season which helps drive excitement for first-run exhibition.
Trend #4: Retransmission Revenue Has Sparked Conflict in the TV Supply Chain
Retransmission revenue is payment made by cable system operators to local broadcasters for the right to use their transmission signal to receive content. Before 2005, local broadcasters preferred to receive payment from cable system operators in the form of flat guaranteed payments to deliver a certain number of channels and advertising buys. After a landmark retransmission negotiation was reached in 2005, retransmission revenues have been the industry norm. Instead of guaranteed carriage by cable operators, broadcasters negotiate retransmission on a station by station basis every couple of years and cable operators have the option of pulling the plug on broadcasters if no agreement is reached.

(Source: SNL Kagan "Economics of Broadcast TV Retransmission Revenue" 2012)
What has resulted from this new standard is an explosion of retransmission revenue and heated negotiations on a region by region basis every time contracts come up for renewal. The most recent case is the Time Warner Cable (TWC) blackout of CBS in New York, Los Angeles and Dallas. Retransmission is about the pricing power of content and how much content is worth to distributors. If cable operators do not pay for the right to exhibit key content such as sporting events, customers are likely to switch cable companies.
Retransmission revenue accrues at the local broadcaster level and has led to consolidation in the industry where national broadcasters seek to gain more control over their supply chain. Aside from consolidation, reverse retransmission fees have also been demanded from local affiliates by national networks to share the lucrative distribution arrangements.
Trend #5: International Box Office Growth has Reignited Big-Budget Films
Commercial movie studios operate in a high risk, hit-driven business that is capital intensive and experiences huge volatility in operating results. To make matters more intractable, movie theater attendance has been steadily declining for years as competing forms of entertainment cannibalize the box office. However, many new found rays of hope including rapid growth in international box office sales, improved methods of managing the production process and a product mix shift to include more stable TV production revenues, may prove to make the movie studios more attractive businesses.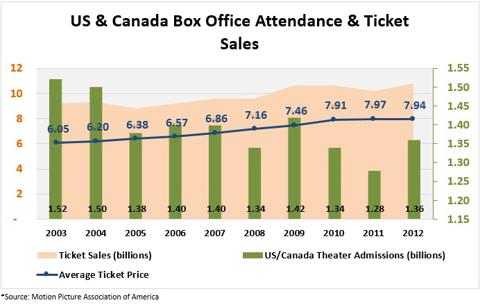 (Source: MPAA "Theatrical Market Statistics 2012")
The chart above illustrates how the mature US box office has struggled to grow with declining attendance. The US box off grew at a compound average rate of 2.7% from 2006 to 2012 due to rising ticket prices. The recent popularity of the more expensive 3D movie format has been a driver of higher ticket prices. Ticket prices still have room to rise as going to the movies is still a bargain compared to other live events such as sports or concerts.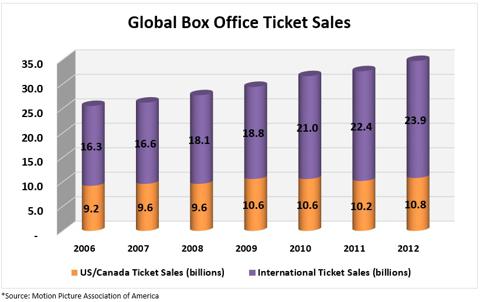 (Source: MPAA "Theatrical Market Statistics 2012")
The chart above shows how international box office growth has far outpaced domestic. International box office has grown at a compound average rate of 6.6% and is expected to continue growing at an accelerated rate due to increased penetration of modern film screens (as older screens are replaced and new theaters are built) and a higher average ticket price. The media industry tends to be highly regulated due to societal and cultural reasons and many large markets including China and France have imposed quotas on foreign film imports. Over time regulation is expected to ease, allowing more American films to be exhibited. One result of the increased size of global box office but limited access to big markets is that the major studios are releasing fewer films annually with larger average budgets.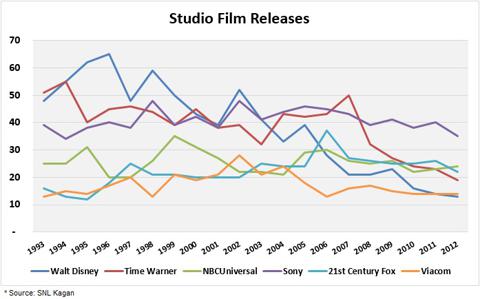 (Source: SNL Kagan Film Release Report)
The table below shows the average operating characteristics of a major studio film during 2012 according to SNL Kagan. International box office revenue (net of splits with theaters) has doubled studio box office revenue. It is also important to note that more than 70% of revenues come from non-box office ancillary sales of media (DVDs, direct to download, etc.) and TV which all together take between 10-15 years to fully recoup. These ancillary revenues may become threatened as streaming technology shifts consumption away from physical media. Studios use release windows as a buffer to protect different stages of distribution so that the streaming market would not receive content until the direct to consumer media market has had some time of exclusivity to promote sales. Over time, streaming and direct downloads are expected to gain importance and unless studios raise digital channel rates they will lose profitability.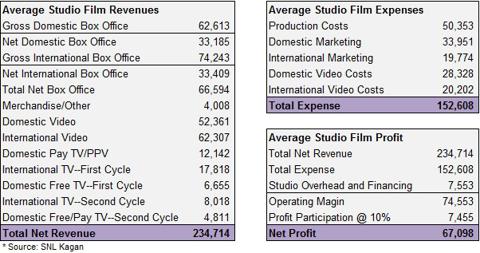 (Source: SNL Kagan "Film Revenue Model")
While the average film is profitable, the economics of the studio model are still troubling and require a high discount rate. The average production and marketing budget of 105 million is mostly spent before the film is released and requires financing. In addition to large up-front investments, it generally takes 2-5 years to produce and release a film and then another 10 to 15 years to recoup total sales, all with little information known of the likely success of a film until its opening weekend. This long cash cycle of 12 to 20 years is a major impediment to the studio model. According to CapitalIQ analyst Tuna Amobi, 6 out of 10 studio films do not break even during the box office run.
Trend #6: Studios are Leveraging Technology and Sequels to Cut Costs and Limit the Risk of Flops
In the last 20 years, computer technology and better statistical data has helped movie studios mitigate production risks. Better editing software and computer generated imagery (CGI) have been used to animate scenes that would be too costly to physically shoot. Social media has also helped to improve advertising campaigns by engaging fans in anticipation of box office dates. Social media campaigns have been credited for helping the success of films such as 'The Hunger Games' which did not have a large advertising budget. Better data on what drives returns on film investments has given studios better tools to make production decisions. Managing a film studio is akin to managing a portfolio of concentrated investments; better data helps studio management understand the risks they undertake and improve the probability of success.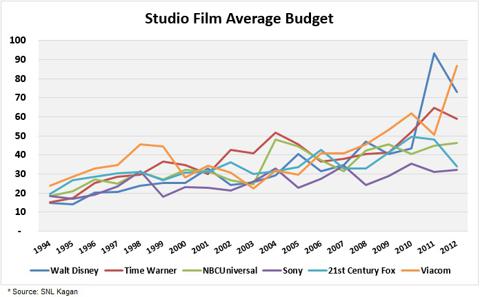 (Source: SNL Kagan Film Release Report)
The below 'domestic gross' chart paired with the above 'average budget' chart may suggest that there is a correlation between budget and box office, however, the higher average domestic gross is more likely reflective of higher ticket prices and less films released. Studies have found a correlation between film marketing spend and box office gross, but low-cost, well-targeted social media campaigns may lead to a breakdown in this correlation as well.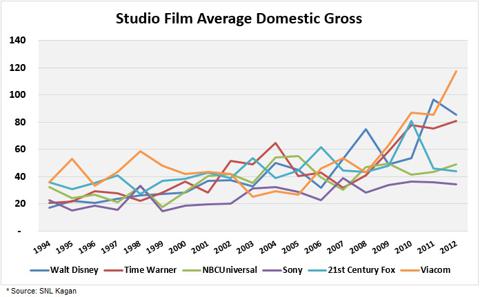 (Source: SNL Kagan Film Release Report)
To shield themselves from the volatility of the film industry, studios use production strategies that can mitigate risk and cost. A common film strategy is to focus on building franchise sequels where the success of the first movie in a series can build a fan base and more reliably deliver future performance. This strategy can also save on production costs as multiple parts of a film can be shot at the same time using the same set and animated models. As mentioned in the TV trends above, the trend of catch-up viewing has lent to increased sequel success. Sequels tend to have above average performance; however, they also tend not to have breakout success and generally pay out more lucrative contracts to retained talent. These factors squeeze the profit margin of sequels so that they converge to the profit margin on an average film but with higher likelihood of avoiding a flop.
Trend #7: Studios are Expanding TV Production Businesses
A more recent trend is for film studios to develop sizeable TV production studios. The integrated media companies such as Disney and Viacom have leveraged their TV networks for years by creating spin-off TV versions of popular films. The rising value of TV content and increasing viewer demand for high quality movie-like serialized shows have put film studios in a strong competitive position to produce television. Independent film studios such as Lionsgate (LGF) and Dreamworks Animation (NASDAQ:DWA) have signed lucrative long-term TV production contracts and aim for their TV divisions to be as large as their film businesses within a decade.
Conclusion
Many fascinating trends are simultaneously transforming the media landscape and are generally making the TV and film businesses more attractive in the long run. The winning business model appears to be the integrated TV and film model which generates production and distribution synergies across platforms. Advances in technology are making content more accessible while mitigating production costs which is a win-win; however, in the long run, when bandwidth is no longer a major gating factor, digital content distribution will cannibalize sales of physical media and production companies will need to renegotiate higher digital distribution rates or risk losing profitability. Content has proven to be king over distribution as thus far shown with the consistent rate rises in advertising and affiliate TV rates. As long as media companies maintain control over content and mitigate operating volatility, they should continue to be winning investments.
Secondary Sources:
IBIS World Reports: "Cable Providers in the US" December 2012
IBIS World Reports: "Television Production in the US" April 2013
SNL Kagan Data Services: Economics of Motion Pictures
Disclosure: I am long AMCX, DIS, FOXA, TWX. I wrote this article myself, and it expresses my own opinions. I am not receiving compensation for it (other than from Seeking Alpha). I have no business relationship with any company whose stock is mentioned in this article.