This is Part 3 of a series where I will discuss the changes in risk for the 25 BDCs that I cover compared to the previous quarter including portfolio yields, non-accruals, leverage ratios and portfolio investment mix. In the previous articles I discussed changes in analyst recommendations, earnings projections and price targets, dividend coverage from net investment income ("NII"), changes in net asset value ("NAV") per share, portfolio investment classes, debt to equity ratios, the ability to cover interest payments on borrowing with quarterly NII, and the amount of floating rate investments.
The charts below show the 'relative risk' rankings (10.0 implies the least amount of risk) before and after taking into account the most recent financial results. Full Circle Capital (FULL) has not reported results and the changes in its risk score is due to relative changes compared to other BDCs rather than specific changes in the company.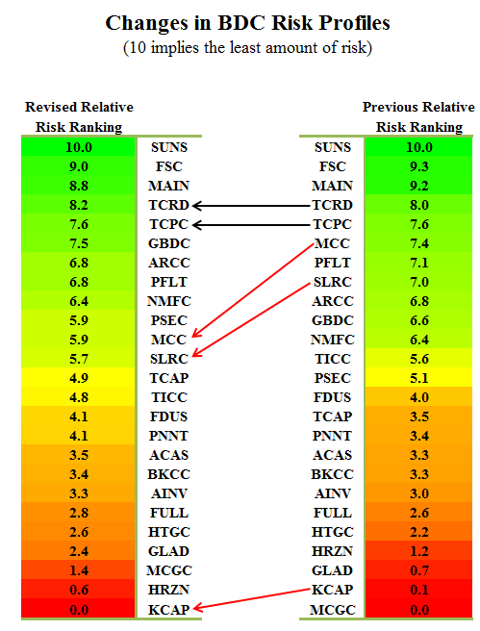 THL Credit (NASDAQ:TCRD)
TCRD remained high in the risk rankings and continues to be one of the 'safer' BDCs with the highest amount of dividend coverage from NII at over $13 million to cover $9 million in dividends paid, beating projections by 30% as I had predicted in "THL Credit: Another Overlooked BDC". It also had the second largest increase in NAV per share of almost 3% from the previous quarter (FDUS had the largest increase of 4%) and reduced its debt to equity ratio from 0.26 to 0.15 giving it one of the lowest leverage ratios in the industry as well the best interest expense coverage from NII. TCRD also had one of the best improvements in its portfolio investment mix, growing the amount of senior first and second lien debt to 53% of the total portfolio from 44% the previous quarter. However this is still below the average of 66% senior debt and during the quarter it had one loan (Express Courier International) become non-accrual at 1.3% of the portfolio at fair value. It also decreased its weighted average yield on the portfolio from 13.7% to 12.8% as shown in the chart and table below: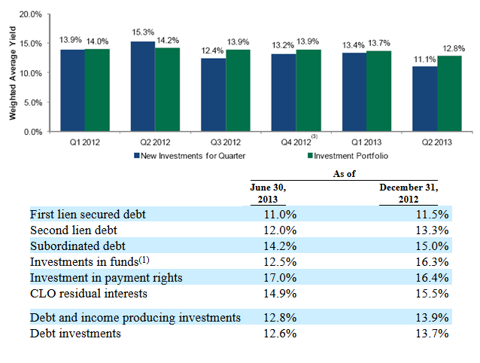 TCP Capital (NASDAQ:TCPC)
TCPC also remained high in the risk rankings for many reasons discussed recently in "TCP Capital: Still Overlooked?". Some of the changes from the previous quarter were an increase in the amount of senior debt to 92% of its portfolio and floating rate loans to 74% of debt investments (see charts below), a reduction in its weighted average effective yield to 10.9% from 11.1%, zero non-accruals, a decrease in its debt to equity ratio from 0.64 to 0.42 and well below the industry average with better than average interest expense coverage from NII, and it maintained its NAV per share value. However it did miss its projected EPS and was not able to cover dividends for the quarter due to the recent equity offering and timing of income from recent deployments. I am certain that TCPC will cover dividends in the coming quarters.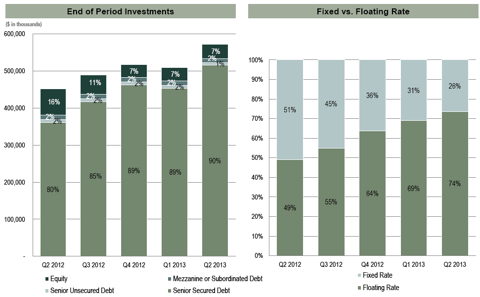 Medley Capital (NYSE:MCC)
MCC had one of the largest decreases in its risk ranking due an increase in non-accruals from none in the previous quarter to a fair value of approximately $4.1 million, or 0.6% of the portfolio, a decrease in senior secured first lien and floating rate loans as percentage of the portfolio, and its weighted average yield of 13.8% which is higher than most BDCs, as well as an increase in leverage and decrease in the amount of interest expense coverage from NII to below the industry average and a decrease in NAV per share. I still consider MCC to be above average from a risk standpoint and with a 10.8% dividend yield as well as some of the lowest P/E multiples in the industry I consider MCC a good value.
KCAP Financial (NASDAQ:KCAP)
KCAP remained low in the risk rankings for many reasons as discussed in "The Good, The Bad And The Maybe? Part 8: KCAP". It missed its projected EPS by over 23% with only $0.20 per share to cover dividends of $0.28 and KCAP is not projected to cover dividends anytime soon. It remains heavily invested in CLO investments (shown below) with a portfolio weighted average yield of 14.1%, much higher than most BDCs, and substantially increased its debt to equity ratio from 0.38 to 0.72 reducing its interest expense coverage from NII. KCAP decreased its NAV per share value from the previous quarter and has five loans on non-accrual.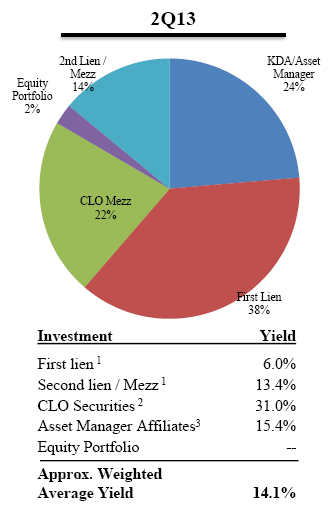 Solar Capital (NASDAQ:SLRC)
SLRC had a disappointing quarter and is no longer part of my "High-Yield BDC Portfolio" because it reduced its quarterly dividend from $0.60 to $0.40 and is no longer a high-yield BDC at a 7.2% yield. On July 24, 2013, SLRC announced the exits of two legacy investments resulting in a temporary reduction in NII and a 3% reduction in NAV per share. In the announcement the CEO stated: "We believe these divestitures meaningfully improve our overall investment portfolio composition by reducing issuer concentration, increasing our percentage investment in secured and floating rate debt securities, and eliminating substantially all of our payment-in-kind. We believe the third fiscal quarter dividend approximates the run-rate earnings of our portfolio post these monetizations. We intend to seek to grow our investment income, and correspondingly our dividend, through the deployment of our over $500 million of available capital, which includes the proceeds from these monetizations."
Its portfolio mix was mostly unchanged but overall yields dropped from 13.3% to 12.1%. SLRC increased its debt to equity ratio reducing its interest expense coverage from NII and one loan on non-accrual representing 1.8% of the portfolio at fair value.
In the remainder of this series I will cover the risk profiles for the other 10 BDCs that I follow as well as my personal price targets for each BDC based on their relative risk rankings.
Investors should only use this information as a starting point for due diligence. See the following for more information:
Disclosure: I am long TCRD, TCPC. I wrote this article myself, and it expresses my own opinions. I am not receiving compensation for it (other than from Seeking Alpha). I have no business relationship with any company whose stock is mentioned in this article.