In this article, I will present a small-cap company focused on developing and operating assets in the oil and gas industry. After introducing the company, I will take a look at its activities located in western Canada. Then, I will examine its financials and future outlook to help the investors determining further its potential for the long term.
Finally, the upsides and associated risks will be identified to have a better idea of the potential that the company has to offer. The goal of this analysis is to examine if the producer has good financial health as well as to determine if its strategy focused on the Montney play will ensure its long-term growth.
Delphi Energy (OTCPK:DPGYF)
Delphi is a Calgary-based company that explores, develops and produces oil and natural gas in western Canada. The company is well positioned for growth with a large inventory of development opportunities focused in the deep basin at its core areas of Bigstone, Hythe and Wapiti/Gold Creek in northwest Alberta, representing 93% of Delphi's production.
The producer has concentrated its activities in the prolific Montney Formation, with over 400 sections of land, in strategic processing infrastructure. 2012 was a year of transition for the company, as it shifted its strategy to focus mostly towards the Montney resource play.
North-East British Columbia Assets
Delphi's assets in North-East B.C. produce from various fields and formations, including the shallow cretaceous Bluesky at Kotcho, the deeper Permian Mattson at Windlfower, the Mississippian Debolt at Helmet and the deep Devonian Jean Marie and Slave Point carbonates at Helmet North and Missile.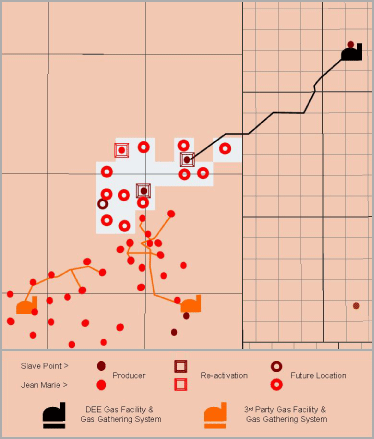 Source: Delphi Energy
At Peggo, Delphi has 2,900 acres of undeveloped land, a 100% working interest in 8 miles of a sour gas transmission pipeline and a 50% working interest in a 30Mmcf/d (million cubic feet per day) processing facility.
North-West Alberta Assets
The lands cover 85% of Delphi's overall land area and it also represents the best potential assets for the producer. As a matter of fact, the lands hold conventional multi-zone natural gas and light oil. Let's first take a deeper look at the prolific Montney Formation to assess the potential that the deposit has to offer.
The Montney Formation
The Montney Shale Gas Basin is found primarily in northeast British Columbia. Horizontal development began in 2005 and, with the advent of multi-stage fracture technology, the true potential of the Montney was realized.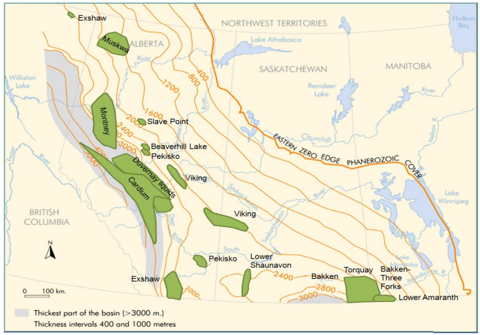 Source: NEB
Early development focused on the Upper Montney, which was only a portion of the full interval is often more than 1,000 feet thick and completely gas charged. A successful development has since proven deliverability from the Upper, Middle and Lower Montney, which could easily support three stacked horizontals. Many of the areas developed to date have proved deliverability out of all three zones with drill density expected to be 12 wells per drill spacing unit (about 1 section) or four wells per zone.
Continued exploration has pushed the play boundaries to the North and West, focusing on a fairway that is approximately 190 by 80 miles or more than 15,000 square miles with current gas-in-place estimates as high as 700Tcf (trillion cubic feet), or more than twice that of the Horn River Shale play. The Montney is among the top six shale gas plays in North America from an economic perspective according to BMO Capital Markets, delivering a 10% IRR (internal rate of return) at $2.94 US/GJ (Gigajoule Unit), only outperformed by the Marcellus, Fayetteville and Granite Wash formations.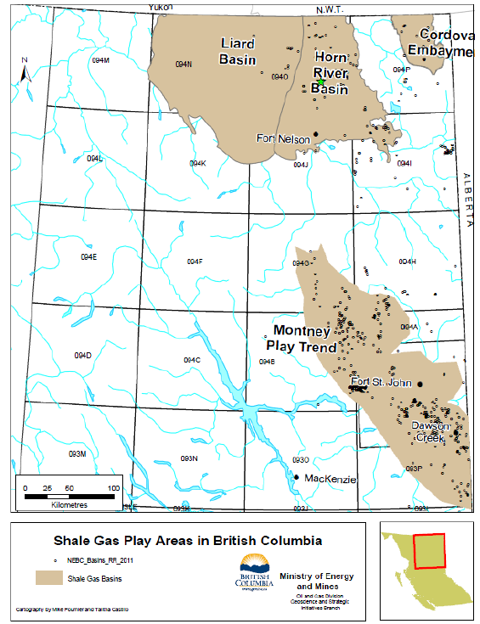 According to BMO Capital Markets, OGIP (original gas in place) calculations vary, based mostly on the changing overall gross thickness and porosity cutoffs but in general are reported by area operators to be approximately 200-350Bcf (billion cubic feet) per section.
The full Montney section is largely composed of very fine-grained sandstones and shelf siltstones with interbedded organic rich phosphatic shales. Storage in the reservoir can be good, with porosities ranging up to 10%, and with average porosities of about 6%. Permeability is the challenge, averaging below 1md (millidarcy), and requiring fracture stimulation to unlock the gas in place.
The unique positioning of the Montney Basin allows for egress to the West coast where LNG (liquefied natural gas) terminals are in various stages of development and has created demand for Montney assets as LNG feedstock.
Montney Land Position For Delphi Energy among its competitors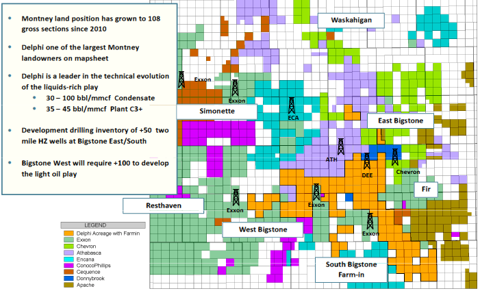 Source: Delphi Energy Presentation, August 2013
Bigstone Assets
Delphi has successfully grown the Bigstone Montney land base from four sections to 108 sections in a relatively short period of time. It continues to pursue additional consolidation opportunities in the area, leveraging off of its control of critical infrastructure and advanced understanding of the Montney play.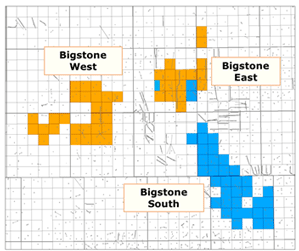 Source: Delphi Energy
In March 2013, Delphi completed a strategic land acquisition adjacent to its existing Bigstone Montney acreage for $13.7 million. The land acquisition consists of 30 gross (26.8 net) sections of Montney rights directly offsetting Delphi's existing acreages and wells. As a result of this land acquisition, its Bigstone Montney development increased by 54 locations to 140 net potential two-mile horizontal drilling locations.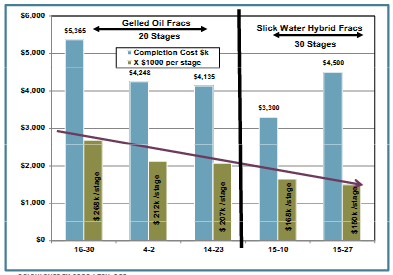 Source: Delphi Energy Presentation, August 2013
Furthermore, Delphi has an average working interest of 78% in 50,400 acres of land, from which 23,040 are undeveloped. Bigstone represents the second largest producing asset by volume for the company and has contributed to 2,420Boe/d in 2012, weighted 25% oil and NGLs.
Bigstone East
Delphi has now successfully drilled, completed and brought on production six Montney horizontal wells at East Bigstone. The first well completed with the new frac technique was drilled across one section and stimulated with 20 stages to limit operational risk.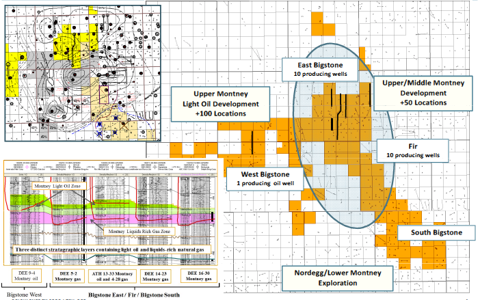 Source: Delphi Energy Presentation, August 2013
The company drilled its next well across 1.5 sections and installed a 30-stage liner. After a successful completion on the second well, it drilled the third well of the program across two full sections and successfully completed it with 30 slickwater hybrid fracs. The 16-23 well was brought on production on June 18, 2013 through the company's Montney compression and dehy facility and over the first 47 days of production, the well continues to perform similar to the 10-27 well. Initial results of the 15-10, 10-27 and 16-23 wells continue to surpass Delphi's expectations.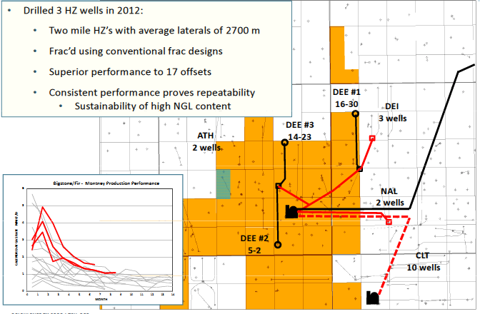 Source: Delphi Energy Presentation, August 2013
According to its Q2 of 2013 results, 15-10 and 10-27 wells continue to exceed the current type curve with 10-27 still outperforming the first three wells, after 125 days of production, by approximately 2.5 times. In addition, the new wells continue to produce at higher field condensate to gas ratios compared to the first three wells. The evolution of Delphi's drilling and completion plan to an extended-reach horizontal wellbore drilled across two sections and stimulated using a 30-stage frac design has also significantly enhanced the economics of the project.
Improved production performance, higher condensate rates and continued operational improvements have all contributed to the step-change increase in the net present value and rate of return generated by these wells. In addition, the time to payout has been significantly reduced, creating faster capital recycle times and increased rates of growth. The application of extended-reach horizontal drilling across two sections reduces overall capital requirements and generates significantly more royalty credits.
The number of days to drill at total depth of almost 19,685 feet across two sections has decreased from 48 days to 33 days. On average, the cost to drill across the second section has decreased to approximately $750,000, compared to drilling a new well across the second section at an estimated cost of $4.5 million.
Furthermore, incremental royalty credits of approximately $4.5 million are earned by drilling across the second section. As a result of the new completion technique employed, the three new wells are exhibiting shallower initial declines than the company's first three wells drilled in East Bigstone. According to Delphi, the 10-27 and 16-23 wells are proving to rank in the top decile of liquids-rich wells drilled in the entire deep basin over the past two years.
The 10-27 well has produced approximately 189,000Boe (barrel of oil equivalent) in its first 125 days of production, consisting of 0.67Bcf sales gas, 53,000Bls of condensate and 24,000Bls of plant NGLs (natural gas liquids), generating approximately $9 million in revenue. With continued strong production rates and total liquids representing over 40% of the total production to date, the time to payout of the 10-27 and 16-23 wells is expected to be less than one year.
Notably, the producer has entered into a drilling participation agreement on four Montney wells in East Bigstone. The participant will contribute $2.5 million per well for a total of $10 million towards the company's 2013 Montney capital program. In exchange for the capital contribution, the participant will receive a GOR (gross overriding royalty) on the company's working interest revenue on the well. The GOR will reduce over time as certain milestones are achieved. Delphi has expressed interest in a similar arrangement with the participant for the company's 2014 Montney capital program at East Bigstone.
Bigstone West
In Q1 of 2012, the 9-4 horizontal well had an initial production rate of 220Boe/d. The initial production performance is encouraging and consistent with the production rates of the well after its initial discovery with other similar Montney oil fields along the trend.
In Q2 of 2012, the company said that a major oil and gas producer has recently licensed four Montney drilling locations offsetting Delphi's Montney interest lands at Bigstone. The horizontal well license is less than two miles East of Delphi's Bigstone West land block and one vertical location is only 656 feet West of these same lands, accelerating efforts to optimize and de-risk the Montney oil and gas resource on Delphi's 27 sections in Bigstone West.
Bigstone South
Delphi expects to commence drilling operations on a South Bigstone strat test and horizontal Montney well. This is part of a farm-in agreement that was announced in Q4 of 2012. Delphi will earn a 75% working interest in 32.5 sections of Montney lands. The well will be completed, equipped and pipeline connected in 2014 as part of the planned 9.3 miles pipeline expansion from the 7-11 Delphi owned facility to the 5-8 wellsite.
Gething Program
Delphi remains encouraged by the results of its first Gething horizontal well. The well was completed with a 10-stage fracture treatment over the 2884 feet horizontal lateral. The well has produced over its first 180 days at an average rate of 485Boe/d.
Hythe Asset
Delphi has multiple plays being developed in an area covered by 174,000 gross acres, from which 129,952 are still undeveloped. The company has 68% working interest in Hythe and it represents the largest producing asset by volume in its portfolio.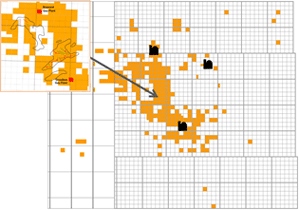 Source: Delphi Energy
In 2011, Delphi drilled 5 Doe Creek horizontal wells and 4 horizontal Falher gas wells. In Q1 of 2012, Delphi closed the disposition of its non-operated light oil interests in the Hythe area due to the continued deterioration of the natural gas price environment. For 2012, it contributed 2,788Boe/d, from which 23% were oil and NGLs.
Wapiti-Gold Creek Asset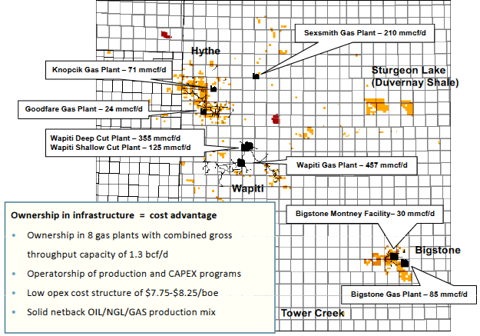 Source: Delphi Energy Presentation, August 2013
In Q4 of 2012, Delphi completed two liquids-rich natural gas wells in early cretaceous aged formations. Both wells were drilled in Q1 of 2012. The company has an average working interest of 58% in 61,924 acres, from which 26,564 are undeveloped. This asset represents the third largest producing property by volume, producing 2,274Boe/d in 2012, weighted 33% oil and NGLs.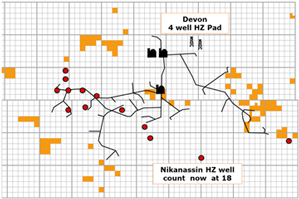 Source: Delphi Energy
Financial Highlights
According to Delphi's Q2 of 2013 results, it achieved an average production of 7,635Boe/d, excluding production downtime at third-party facilities to the extent of approximately 1,495Boe/d, primarily affecting the company's Montney production during last May. In June 2013, Montney production at East Bigstone represented 44% of the month's average corporate production.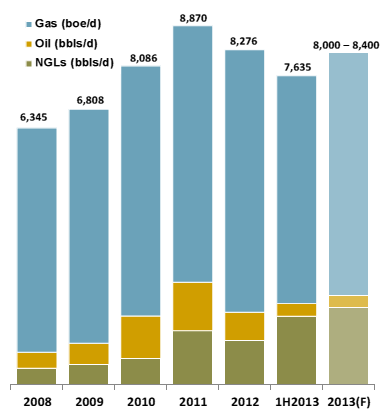 Source: Delphi Energy Presentation, August 2013
Furthermore, it increased the average corporate NGL and field condensate yield for Q2 by 54% from the comparative quarter in 2012 to 54Mmcf. Total crude oil, field condensate and NGLs volumes represented 28% of total corporate volumes and accounted for 51% of the company's total revenue in Q2.
Delphi has generated funds from operations of $8.4 million or $0.05 per share for the quarter compared to $7.2 million or $0.05 per share in the comparative quarter of 2012. The Montney production in June 2013 represented over 65% of the month's total operating cash flow for the company.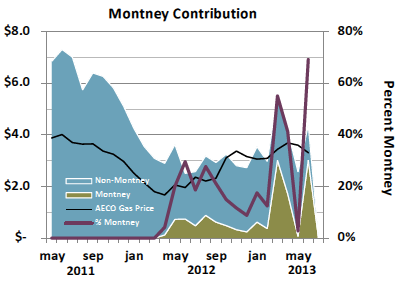 Source: Delphi Energy Presentation, August 2013
The increase in funds from operations is primarily due to an increase in field condensate production and natural gas prices and lower royalties, partially offset by a decrease in crude oil production and NGLs prices and higher transportation costs. The chart below shows the funds from operations generated by the producer since 2009.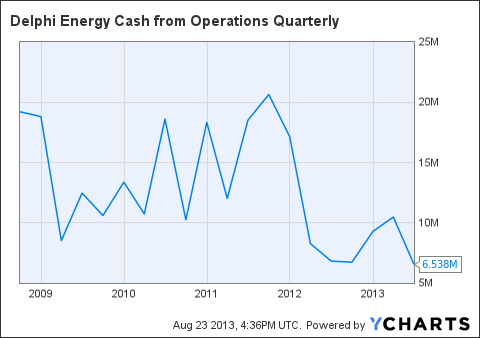 The liquids-rich nature of new production in the first half of 2013 has resulted in an improvement in both operating netbacks and cash netbacks relative to Q4 of 2012.
Cash netbacks increased 28% to $12.11/Boe, resulting in a 33% improvement in funds from operations. In June 2013, netbacks on the Montney production has averaged $26.89/Boe.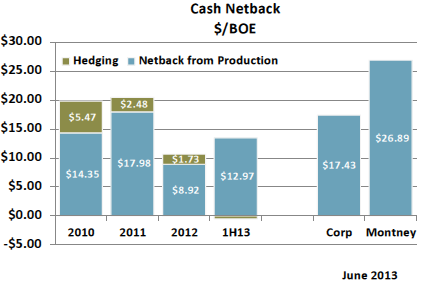 Source: Delphi Energy Presentation, August 2013
The company's netbacks for Montney have been negatively impacted by adjustments for the quality of product delivered and transportation costs associated with certain marketing arrangements. The producer reported that remedial action is being undertaken to reduce the impact of these issues towards improving the netbacks of this growing portion of Delphi's production.
Capital expenditures during Q2 were $7.3 million, which primarily included the completion and tie-in operations of the third Montney well of the winter capital program, representing 64% of expenditures in the quarter. Net capital expenditures for the first half of 2013 were $41.7 million and include the strategic acquisition of undeveloped properties for additional Montney rights in the Bigstone area, for $13.7 million.
Notably, the producer has a net debt of $114 million on total credit facilities of $140 million. Delphi's long-term debt to equity ratio is a little high at 46.38, but compared to its industry's average of 66.44, suggests that although the producer uses its financing capital extensively, it still uses it efficiently.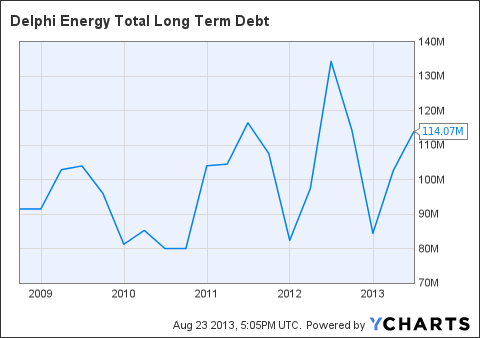 However, with a 5-year operating margin average of -17.79% compared to its industry's average of 22.97%, it indicates that Delphi records a loss of $0.17 (before interest and taxes) for every dollar of sales. That ratio suggests that the company has been unable, over the last five years, to pay for its fixed costs such as interest on debt with generated income.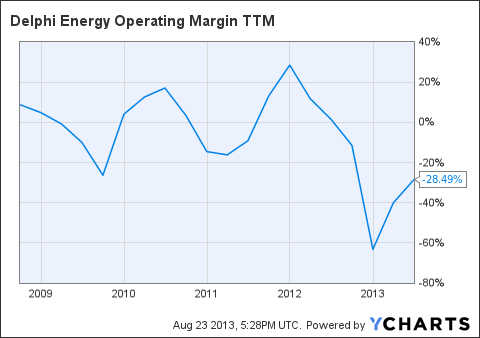 The chart above shows its current operating margin ratio of -28.49%. This situation is a cause for concern regarding its ability to achieve profitability in a reasonable future.
Net debt includes bank debt plus working capital deficiency excluding the fair value of financial instruments plus the long-term portion of the restricted share units' liability.
Future Outlook
Delphi plans to drill an additional three wells in East Bigstone prior to the end of 2013, with two of the three wells scheduled to be completed, and on production by year-end. Wet weather has delayed the rig move to the first location, but drilling is expected to commence soon. The capital program is expected to be a continuous one rig drilling program with up to eight wells planned for 2014, supplemented with the addition of a second rig to the program in the latter part of 2014.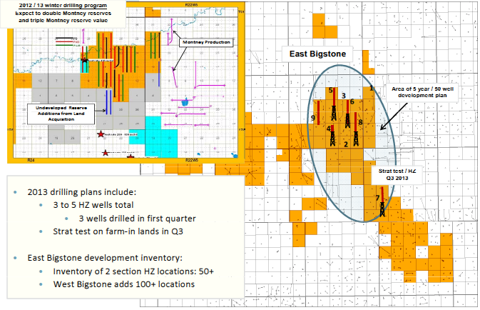 Source: Delphi Energy Presentation, August 2013
As we have seen earlier, the refined drilling and completion techniques utilized on Delphi's recent wells have delivered a step change in the economics of the Montney play in the area, which is positioning the company for long-term self-funded growth. Delphi now has a current project inventory that will provide economic growth beyond a 10-year horizon.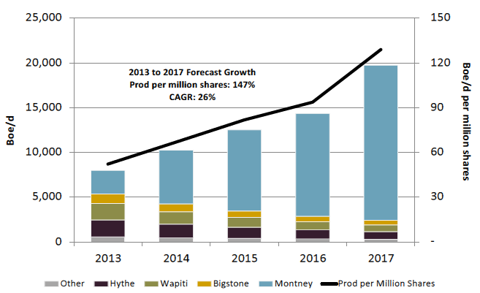 Source: Delphi Energy Presentation, August 2013
Notably, Delphi forecasts production for the second half of 2013, to average 8,600-9,000Boe/d, a 16% increase from the first half of 2013. For 2014, Delphi is estimating the production to average between 9,500-10,000Boe/d on a capital program of $80 to $90 million.
Furthermore, Delphi's 5-year growth plan contemplates production growth to 20,000Boe/d by 2017, with targeted annual growth of 25% in production per share and annual growth of 45% in cash flow per share.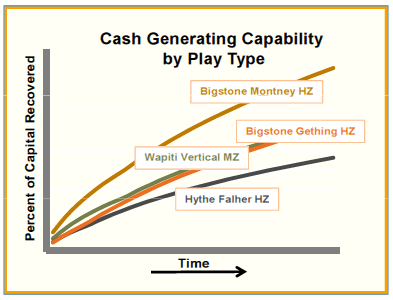 Source: Delphi Energy Presentation, July 2013
Capital spending over the next five years to achieve that result under the plan is projected to be $560 million funded at 90% from cash flow, the drilling of 50 Montney horizontal wells and the funding of the expansion of Delphi's facility on which it owns at 100%.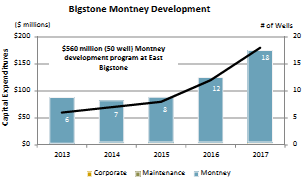 Source: Delphi Energy Presentation, July 2013
The production profile of the new wells, with lower initial declines and greater condensate yields resulting in materially greater present value of the reserves and significantly reduced payout times, is expected to have a favorable impact to the company's cash generating capability and underlying asset value.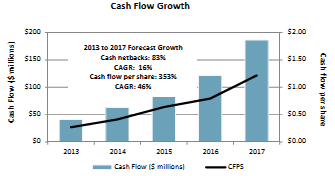 Source: Delphi Energy Presentation, July 2013
The company expects the net capital spending for 2013 to average $78 million to $82 million. Total debt at year-end is expected to be between $130 and $135 million. The following chart illustrates the financial flexibility of the producer. The latter still has a funding capacity in excess of $170 million on its credit bank line, allowing it to pursue new opportunities.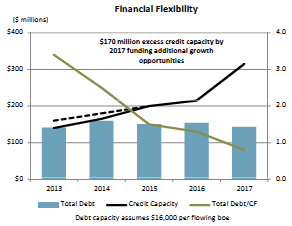 Source: Delphi Energy Presentation, July 2013
Delphi expects AECO natural gas prices to average approximately Cdn$3.00/Mcf and Edmonton light oil prices to average approximately Cdn$94.00/Bls, resulting in cash flow for 2013 of approximately $38 million to $41 million. For the remainder of 2013, the producer has approximately 59% of its natural gas production hedged at an average price of Cdn$3.59/Mcf and approximately 36% of its crude oil and condensate hedged at a floor price of Cdn$94/Bls.
The producer continues to explore additional options to further accelerate its Montney drilling program, through additional non-core asset dispositions and joint-venture relationships and alternate non-dilutive financing structures.
Delphi's proved and probable reserves, as of December 2012 was assessed at 43,062Mboe with a reserve life index of 14.2 years. During 2012, the producer increased its proved and probable reserves by 7%, with 29% growth in reserves per share. Furthermore, reserves growth has increased by 150% from 2008 to 2012.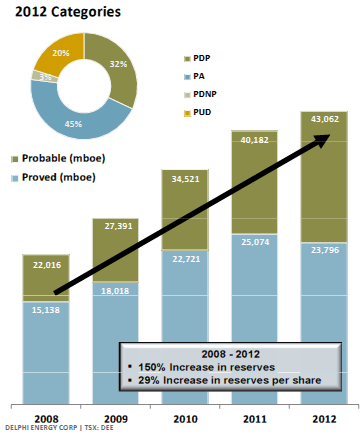 Source: Delphi Energy Presentation, July 2013
Bottom Line
I believe that Delphi represents a great opportunity to get involved in the Montney play: it offers great potential to benefit from the growing value of the company's shares within a few years. As a matter of fact, the Montney Formation has been estimated to hold 200-350Bcf (billion cubic feet) per section, as discussed earlier.
The Bigstone development is going well according to the producer's plan and shows very good potential. The average production achieved by Delphi is approximately 7,635Boe/d and should continue to grow to get above 10,000Boe/d next year.
In addition, I like the company's focused development strategy towards an asset that offers a potential production that will ensure a significant growth as well as generating substantial cash flow to fund other opportunities.
Although I believe that the company is in a financially fair situation, it is important to note that Delphi's long-term debt will need a constant attention because management finds it hard to pay for the fixed costs from its operating activities without relying on its financing capital.
Therefore, Delphi needs to minimize its operating costs on its Montney production in order to maximize its cash netbacks. Even with improved netbacks, it still had been negatively impacted by adjustments for the quality of product delivered and transportation costs.
As discussed earlier, the producer said that actions had been taken in order to rectify these issues. One is expecting better results for Q3 to ensure that Delphi's operating and financing model is working according to the current projections.
In conclusion, here are the upsides for a potential investment in Delphi Energy:
Concentrated land base of over 400 sections in the Montney Formation, with an average working interest of 78% in 50,400 acres and 23,040 acres of undeveloped lands

A 5-year growth plan shows potential, including a production growth of 20,000Boe/d by 2017 with an annual growth of 45% in cash flow per share

Montney field cash netbacks potential of over $30/Boe at $3.50/Mcf

A compound annual growth rate of 26% between 2013 and 2017
On the downside, the identified risks are the following:
Long-term debt to equity ratio is relatively high
Poor operating margin to equity ratio needs improvement
Exposure to the volatility of the commodity's prices could put pressure on operating costs and its long-term debt
Profitability has not yet been achieved and the future realization of profit is hard to predict
Disclosure: I have no positions in any stocks mentioned, and no plans to initiate any positions within the next 72 hours. I wrote this article myself, and it expresses my own opinions. I am not receiving compensation for it (other than from Seeking Alpha). I have no business relationship with any company whose stock is mentioned in this article.