US markets are close to their yearly highs right now. That means that many individual stocks are near 52-week, or maybe even all-time highs as well. When stock prices are elevated like this, it might be a good time for companies to raise cash through selling shares of equity. Interest rates, while still fairly low, have risen, and smaller names might face high interest expenses. Today, I'm going to look at five names I think would benefit from selling equity now. I'll look at the reasons why, and how much I think they should/can raise.
Netflix (NASDAQ:NFLX):
Reason - Content purchases, customer service, reduce debt.
Amount Suggested - $1 billion, roughly 3.85 million shares.
Netflix closed above $278 on Friday. I believe they could get $1 billion for a little less than 4 million shares, between pricing shares a little lower and the underwriting discount. Netflix had 58.922 million shares outstanding at the end of Q2, so shareholders would be diluted by about 6.5%. Because Netflix is not buying back stock and executives are being paid with a lot of stock options, investors are already being diluted. A little more dilution is not an issue here, especially since Netflix is not very profitable at the moment.
Netflix needs money to purchase content, and that's not exactly a surprise. However, many have been critical of the company's poor cash flow situation, and worry about the company's ability to keep spending. Netflix bears point to nearly $6.37 billion in content liabilities as of the latest quarterly filing, of which roughly $4 billion is not on the balance sheet. A year ago, those numbers stood at $5.02 billion and $3 billion, respectively, so there definitely has been growth there. We know that Netflix has not stopped their spending spree, recently signing deals with Scholastic and The Weinstein Company. It will be interesting to see the content liabilities section at the next quarter's report.
One of the reasons I mentioned above was "customer service." What do I mean by that? Well, I think Netflix is better off by paying for content through an equity raise than a price raise. In the long run, I think a short-term hit to investors would be better than a price raise, which would cause subscribers to cancel. Netflix shares have been rallying due to subscriber growth, and a price raise for its services would kill that momentum. I think investors would be fine with this, as it would help the balance sheet and provide for more content purchases down the road.
The last use of the money could be to pay down debt. Netflix took out $500 million in long-term debt earlier this year. The only concern I have about them paying back these monies is the following statement from the above linked quarterly filing:
The Company may redeem the 5.375% Notes prior to maturity in whole or in part at an amount equal to the principal amount thereof plus accrued and unpaid interest plus a make-whole payment equivalent to the present value of the remaining interest payments through maturity.
That make whole payment worries me a bit, so Netflix would have to use a substantial amount of the money raised through equity to pay back this debt. That would certainly reduce interest expenses, so it would all depend on that "present value" that they would calculate above. For now, I think investors would rather see them use the money for content than debt.
Amazon (NASDAQ:AMZN):
Reason - Reduce debt, content purchases, capital expenditures.
Amount Suggested - 10 million shares, roughly $2.75 billion.
Amazon closed Friday at $290, so I think they could sell shares for at least $275. Given that most investors I talk to believe shares are worth less than half of that, this seems like an incredible deal for Amazon. With 457 million shares outstanding at the end of Q2, Amazon would dilute investors by less than 2.2%. Given that Amazon is not really profitable, investors almost wouldn't notice the dilution. In certain quarters where Amazon is losing money, a higher share count would actually help earnings per share numbers.
I mentioned in my most recent Amazon article that Amazon's balance sheet continues to get worse. Amazon continues to spend on content, fulfillment centers, and other items, which is burning through cash. One of the items I referenced above for a potential use of funds is the continued investment in the business in terms of content (to battle Netflix) as well as capital expenditures.
Because Amazon is not very profitable, interest expenses are piling up in a sense. By the time you get down to interest expenses on the income statement, they are really hurting Amazon. The table below shows the magnitude of those expenses in this year's Q2 period compared to the prior year period. Dollar values in millions.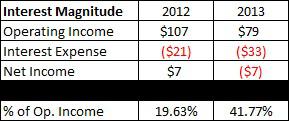 So interest expenses went from being less than 20% of operating income to more than 41.75%. It's hard to be profitable when this happens. According to Amazon's most recent 10-Q, they have certain debt issues with rates well above 6% (some of which are due in less than one year). Maybe they should pay those back and reduce their interest expenses.
Dendreon (NASDAQ:DNDN):
Reason - Reduce debt, survival.
Amount Suggested - $75 million, 30 million shares.
This one is going to be painful. After a huge analyst downgrade on Friday, Dendreon shares dropped nearly 9% to a new 52-week low. With 157.8 million shares outstanding at the end of Q2, you would be talking about 19% dilution here. Additionally, I've thrown in a huge discount to Friday's close because of that large dilution. Dendreon needs a rally in shares so maybe they could get $100 million in cash for 30 million shares. Right now, that doesn't look possible.
As I detailed after their latest quarterly disappointment, Dendreon is getting closer to needing this money just to stay in business. The company continues to miss revenue targets, and has burned through a tremendous amount of cash in recent quarters. Over the past four quarters, their cash and investments balance has dropped from $510 million to $281 million.
At the end of Q2, Dendreon had $100 million more in liabilities than assets. They also have almost $28 million in debt due within a year, and who is going to give them more debt? If Dendreon can refinance, the interest rates will be extreme, or it will be a convertible security that is highly dilutive anyway. Dendreon could ease some concerns over the continuation of the business by raising some cash now. They should have done this when shares were above $4 or even $5, but that's just another knock against a management team that has been questioned several times already.
Pandora (NYSE:P):
Reason - Strengthen balance sheet, increased marketing push, reduce debt.
Amount Suggested - $70 million, 4 million shares.
Here's another one where things would have looked better before Friday, as Pandora dropped almost 13%. Pandora had 174.5 million shares outstanding at the end of the April quarter, so this would have only represented about 2.3% dilution at that point.
When Pandora announced their quarterly results recently, I noticed that the balance sheet was getting worse. So I dug into some of their past results and put together the following table showing some key balance sheet metrics. Dollar values in thousands.

*Liabilities to Assets ratio.
**Shares outstanding number at end of prior quarter. Company has not filed 10-Q yet with outstanding share count for this quarter.
You can see that they've burned through a chunk of cash, and balance sheet metrics are getting worse. The company also took out $10 million in debt during the quarter, so they could always pay that back. Raising equity would improve the balance sheet, and I don't think it would be too costly for investors currently.
I also think the company could use a fair amount of this money on a strong marketing push. Apple (NASDAQ:AAPL) is launching a radio service, and while the debate rages on to the impact on Pandora, Pandora will need to market themselves more. Perhaps a couple of TV commercials, maybe even a Super Bowl commercial, would be a good idea. Another small growth company, SodaStream (NASDAQ:SODA), used a Super Bowl campaign to boost its presence. SodaStream got added publicity when their first commercial was banned, and SodaStream has had a strong year so far in 2013. Maybe Pandora could do the same with the upcoming Super Bowl.
Tesla (NASDAQ:TSLA):
Reason - business growth, inflated valuation, pay back debt.
Amount suggested - 5 million shares, $750 million.
Tesla closed at nearly $162 on Friday, so I think they could net at least $150 per share in a sale. Raising $750 million would basically double the company's cash balance, so I think that's a decent figure to work with. Tesla finished Q2 with a little more than 121.4 million shares, so 5 million shares would dilute shareholders by a little more than 4%.
I polled a bunch of my readers and followers on what name(s) should sell equity right now, and Tesla appeared to be the favorite. Many investors think Tesla shares are in a bubble now, even CEO Elon Musk, so the company would be wise to sell with prices this high. In less than six months, shares have gone from roughly $35 to $162, a huge rally. Tesla's market cap is just under $20 billion, for a company that is only expected to produce 40,000 cars next year.
Raising more cash would obviously help the company's growth strategy over the next couple of years. The company did issue convertible debt a couple of months ago, so perhaps they could also use a sale of equity to repurchase these notes. If Tesla's stock price stays high, why not have the equity hit now (if you think the notes will be converted anyway). Why pay interest for the next couple of years? Now, these convertible notes are very complex, so I would encourage you to read about all the specifics on page 16 of their latest 10-Q filing. Reducing interest expenses would certain help with profitability, something that has been lacking and is a key point for critics.
Final Thoughts:
These five names all could use some extra cash, and right now, selling equity is the way to go in my opinion. With stock prices elevated, and many of these names seeing huge rallies recently, you would think it is the perfect time. Amazon and Netflix could each use the money to pay down debt and purchase more content, in their ongoing battle for streaming supremacy. Dendreon may need capital just to survive at this point. Pandora could use the money to strengthen its balance sheet as well as increase its marketing push. Tesla could use the money to grow the business, pay down debt, and cash out while share prices are high. These are five names I believe would benefit from a sale of equity. What are your five?
Disclosure: I have no positions in any stocks mentioned, and no plans to initiate any positions within the next 72 hours. I wrote this article myself, and it expresses my own opinions. I am not receiving compensation for it (other than from Seeking Alpha). I have no business relationship with any company whose stock is mentioned in this article.
Additional disclosure: Investors are always reminded that before making any investment, you should do your own proper due diligence on any name directly or indirectly mentioned in this article. Investors should also consider seeking advice from a broker or financial adviser before making any investment decisions. Any material in this article should be considered general information, and not relied on as a formal investment recommendation.