The basis of this article is to provide:
1. A brief overview of about Akorn Inc.
2. An analysis of Akorn's core business
3. Evaluation of sales, market/sector, and financials (2013 Q1 and Q2)
4. Opinionated conclusions and price targets
Akorn Inc. (NASDAQ: AKRX)
Executive Summary:
Akorn Inc. ("Akorn," "AKRX" or the "Company") is a generic pharmaceutical company with a market cap of roughly $1.6 billion (at time of writing). A quick analysis of Akorn reveals that the company has experienced substantial revenue growth over the past three years. Subsequently, Akorn has increased its share price from the $1.80 range to the $16 range (a total return of roughly 789%). Despite the significant increase in valuation, Akorn still remains a solid long term investment. Estimated price target for 2013 is $17.72 (8.7% gains) with possible gains of 133% if held to 2015 (under various assumptions of future revenue).
The following attributes make Akorn an attractive investment at its current valuation:
Strong Revenue Growth: Akorn has shown to be a quick grower. Over the last three years, Akorn has grown its revenue from $86.41 million in 2010 to $256.16 million in 2012 (a CAGR of 43.65%). The current outlook for the year 2013 is expected to be within the $305 million to $315 million range with GAAP net income within the $47 million to $50 million range.
Akorn's Advancing the New Vision Plan: The plan has proven to be a successful growth strategy for the company. Simple in its nature, the plan was designed to improve research & development, infrastructure, and to develop new business initiatives. Since 2010, results have been observable in all three categories.
Experienced Management Team: CEO Raj Rai brings over 15 years of experience in healthcare services to Akorn. Since joining Akorn back in 2009, Mr. Rai has transitioned the company from being a heavy bleeder to a highly profitable pharma with great long term prospects. The executive team collectively brings over a century worth of experience to Akorn.
Growing Product Portfolio: As of 8/18/13, Akorn has roughly 150 USFDA approved products listed on their website (counting various dosages/formulations). These products range from diagnostic and therapeutic ophthalmic pharmaceuticals, OTCs, niche hospital drugs, and a variety of injectables. Currently, there are 57 ANDAs on file with the FDA. The company has also completed another 16 products in which are expected to be filed with the FDA in the near future.
Global Footprint and continued efforts to pursue global opportunities: Akorn operates pharmaceutical manufacturing facilities in Decatur, Illinois, Somerset, New Jersey, and Paonta Sahib, Himachal Pradesh, India (acquired from Kilitch Drugs India). Akorn's global footprint reaches through The USA, Canada, some of South America, Russia, Australia, Switzerland, United Kingdom, Ukraine, and many others. Akorn plans to increase sales in various regions around the world where the pharmaceutical spend is projected to grow double digits within the next few years, such as the CIS countries, Middle East, Africa, and Latin America.
Possible Acquisition Target: Considering the large amount of M&A activity seen the last few years (especially in the healthcare sector), the possibility of Akorn becoming a target is probable. The company has experienced significant revenue growth over the past three years and continues to strategically allocate capital to ensure further future growth. Akorn's strong revenue growth along with its small market cap of only $1.6 billion makes the company a probable buyout target.
Introduction to Akorn Inc:
Akorn Inc. is a generic pharmaceutical company focused on the development, manufacture, and marketing of products in areas of: ophthalmology, antidotes, anti-infectives, pain management, and anesthesia. Akorn Inc. has three main segments of business: ophthalmologic pharmaceuticals, specialty therapeutics/ injectable pharmaceuticals, and contract manufacturing. Akorn's products are multi-source and branded pharmaceuticals sold in the United States and across the globe. Akorn has a wide range of customers which include physicians, optometrists, hospitals, surgical centers, clinics, long-term care, wholesalers, group purchasing organizations, retail pharmacies, and other pharmaceutical companies.
Manufacturing Facilities:
Decatur, Illinois: Currently, there are two company-owned facilities in Decatur, Illinois. Of the two facilities, only the Grand Avenue facility is used for manufacturing. The Grand Avenue facility is a 65,000 square-foot manufacturing facility in which is used for the following: dye products, liquid injectables, lyophilized injectables and ophthalmic solutions for Akorn's ophthalmic, hospital drugs & injectables, and contract services agreements. The Whyckles Road facility has 76,000 square-feet of building space and is used for packaging, warehousing, distribution and office space.
Somerset, New Jersey: Akorn NJ, a wholly-owned subsidiary leases a 50,000 square-foot facility in Somerset, NJ. This facility is used for drug manufacturing, research & development (not the main facility for R&D), and administrative activities. This facility manufactures ophthalmic solutions and ointments for Akorn's ophthalmic and service contract segments; as well as gels for Akorn's hospital & injectables segment. First phase capacity increases and modernization were recently completed at this facility.
Paonta Sahib, Himachal Pradesh, India (acquired from Kilitch Drugs India): In 2012, Akorn completed the acquisition and integration of certain manufacturing facilities from Kilitch Drugs. Through this acquisition, Akorn has increased its capacity six-fold, while also gaining capacities for sterile injectable production. Akorn's wholly-owned subsidiary, AIPL, owns and operates approximately 245,000 square-feet of pharmaceutical manufacturing, warehousing and distribution facilities situated on approximately 14 acres of land. These manufacturing facilities produce: liquid generic pharmaceutical injectables, oral and injectable cephalosporins, sterile injectable carbapenems, hormones, and oncology products. The Paonta Sahib facility currently manufactures product for Indian contract customers and for export to Africa, Asia, and other unregulated markets. A top priority mentioned in the 2012 annual share letter was for these facilities to implement the USFDA sight approval strategy so that products produced at these facilities can be sourced to the U.S. marketplace. Akorn's goal is to trigger USFDA inspection in late 2013 or early 2014. Once approved, the Indian facilities are intended to supplement Akorns existing manufacturing capacity and provide opportunity for expansion of product menu as well as provide additional capabilities.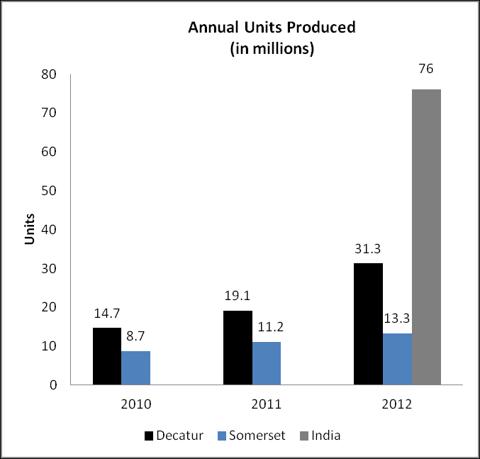 Notes on manufacturing: Recently mentioned in the Q2 conference call was a concern that as more products become approved, "is there a possibility that manufacturing capacities could reach their limits within the coming 12 to 18 months?" The response by CEO Raj Rai was that there is no concern for the next 12 to 18 months in regards to manufacturing capacity, but there could be limitations in the long term should the Akorn India facilities not meet FDA compliance.
*Graph info: Values retrieved from 2012 annual report.
Research & Development Facilities:
Vernon Hills, Illinois: Akorn recently relocated to this larger facility during the first quarter of 2013. Previously, Akorn operated a R&D facility in Skokie, Illinois. A majority of Akorn's internal product development will take place at this facility following a stable transition from the Skokie facility. The manufacturing facilities in Decatur, IL and Somerset, NJ will provide support for latter phases of product development. The goal of this new facility is for Akorn to have centralized and dedicated R&D. Akorn believes that this new facility will allow the company to significantly increase the size of their product pipeline as well as shorten the time between the starting of a project to filing for approval with the FDA. The facility was designed to accommodate 35 to 40 ANDA fillings per year and to expand into the development of specialty formulations such as carbapenems (beta-lactam antibiotics), hormones, and oncolytics (cancer fighters).
Somerset, New Jersey: This facility is more of a supplementary/old facility for R&D activity. Following the transition to the Vernon Hills facility, it is assumed that Akorn will discontinue any R&D activity at the Somerset facility.
Merger & Acquisition Activity:
On May 3, 2011, Akorn acquired AVR Business Trust and its subsidiaries for $26 million in cash. The subsidiaries include Advanced Vision Research, Incorporated and Advanced Vision Pharmaceuticals, LLC (collectively referred to as "AVR"). AVR develops and markets a line of OTC eye care products which are primarily marketed under the TheraTears® brand name. These products are carried by major drug retailers throughout the United States and are being marketed in various foreign countries.
On December 22, 2011, Akorn acquired three NDAs from H. Lundbeck A/S (referred to as "Lundbeck"). For an initial payment of $45 million and a likely $15 million payment on the third anniversary of the closing date, Akorn acquired Nembutal®, a Schedule II controlled drug, Diuril® and Cogentin®. Another $4.6 million was paid for Lundbeck's existing inventory of the three acquired products.
On February 28, 2012, Akorn acquired selected assets of Kilitch Drugs (India) Limited for Akorn's subsidiary, Akorn India Private Limited ("AIPL"). Akorn paid approximately $60.1 million in cash at closing, which included acquisition related costs of $4.9 million. The primary assets acquired were Kilitch's pharmaceutical manufacturing complex in Paonta Sahib, Himachal Pradesh, India and its ongoing book of business. Through the agreement, Akorn also acquired selected assets of NBZ Pharma Limited, a company affiliated with Kilitch, from which Akorn acquired rights to manufacture and distribute certain pharmaceutical products. These facilities currently manufacture products for contract services in India and for export to unregulated countries. Akorn plans to obtain USFDA and international certification in order to manufacture products for export to the U.S. and other regulated markets.
Minority Stakes:
On August 2, 2011, Akorn entered into an agreement to acquire a minority ownership in Westborough, MA, based Aciex Therapeutics Incorporated ("Aciex"). Akorn paid $8 million in cash for the Minority interest and an additional $2 million for Series A-2 preferred stock. Akorn's total ownership of Aciex is below 20%. Aciex is an ophthalmic drug development company with a focus in developing novel therapeutics to treat ocular diseases. Aciex's pipeline consists of both clinical stage assets and pre-IND assets. In addition to Akorn's stake in Aciex, Akorn signed a global licensing agreement for a single novel over-the-counter eye care product and a manufacturing agreement for one of Aciex's lead prescription products. Based on information retrieved from Aciex's website, both their clinical and pre-IND staged assets are designed to fill significantly unmet therapeutic needs.
Executive Management:
CEO Raj Rai:Joining the Akorn team in 2009, Mr. Rai has since transformed Akorn into a very productive and profitable company. Prior to joining Akorn, Raj Rai was president and CEO of Option Care, incorporated a leading pharmacy services provider of home infusion therapies and specialty pharmaceuticals. During his time at Akorn, the company has drastically improved its pipeline/R&D, increased manufacturing capacities, and increased its revenue from $75.9 million in 2009 to $256.1 million in 2012. CEO Raj Rai holds a B. Tech degree in Mechanical Engineering from REC Warangal (India) and an MBA in Finance from Wayne State University.
CFO Timothy Dick: Prior to joining Akorn, Timothy Dick worked for Walgreens-Option Care Inc, where he served as Vice President, operations improvement & analysis with responsibility for finance, pricing, and process improvement. He also held leadership/ management positions for Option Care, Inc., Johnson & Johnson and Peace Health. Mr. Dick holds a BBA in accounting from University of Texas at Tyler and an MBA in Finance from the University of Michigan's Ross School of Business.
COO Bruce Kutinsky, Doctor of Pharmacy: Chief Operating Officer, Dr. Kutinsky is an entrepreneurial executive with over 20 years of healthcare experience. He is well known for his ability to develop, communicate, and align a corporate vision to investor financial commitments. Prior to joining Akorn, Dr. Kutinsky was the Vice President of Strategic Solutions for Walgreens businesses. During his time at Walgreens, Dr. Kutinsky was responsible for supporting the strategic process and the development of long range plans to achieve goals established in synch with the enterprise-wide corporate strategy. Dr. Kutinsky also held Vice Presidency and Presidency positions at Specialty Pharmacy for Option Care and Specialized Alternative Care. Dr. Kutinsky holds a Doctor of Pharmacy degree from the University of Michigan.
Collectively bringing well over a century worth of experience (or an average of 18+ years of experience for each member), the overall executive team has the experience and talent necessary to continue to generate future revenue and shareholder value. The team has proven their ability to produce; especially when under the proper leadership of CEO Raj Rai.
Largest Shareholder: Dr. John Kapoor has served as Chairman of the Board since October 1990. Dr. Kapoor is also the president of EJ Financial Enterprises, Inc (a healthcare consulting and investment company). Between personal holdings and the John Kapoor Trust holdings, Dr. Kapoor controls roughly 30 million of the 96.2 million shares outstanding (31% ownership).
Akorn's Core Business and Products:
Akorn has three man segments of business; ophthalmics, hospital drugs & injectables and contract manufacturing. Akorn also recently brought back a vaccine & biologics segment that is now included in the hospital drugs & injectables segment. Akorn markets and distributes select vaccines in response to drug shortages.
The Three Core Business Segments:
Ophthalmic Segment: Sales of diagnostic and therapeutic ophthalmic drugs and over-the-counter eye care products.
There are approximately 68 ophthalmic USFDA approved products on Akorn's website (as of 8/18/13). Diagnostic products, primarily used in the office setting; include mydriatics & cycloplegics (dilators), anesthetics, topical stains, gonoscopic solutions, angiograph dyes and others. Therapeutic products, sold primarily to wholesalers, chain drug stores and other national account customers, include antibiotics, steroids, steroid combinations, glaucoma medications, decongestants/antihistamines and anti-edema medications. Non-pharmaceutical products include various artificial tear solutions, preservative-free lubricating ointments and eyelid cleansers (10 products listed on Akorn's website). For the year 2012, revenues from ophthalmic products represented 50.64% of total revenue; making ophthalmics Akorn's largest business segment. Akorn's goal is to be in a leadership position in ophthalmics within the next five years. In 2012, Akorn filled a total of 55 ANDAs; 25 of which were for ophthalmic products (market value of $2.236 billion).
"New" Products:
1) AK-Fluor® (fluorescein injection, USP): Indicated in diagnostic fluorescein angiography or angioscopy of the retina and iris vasculature. In other words: A special dye used to map/observe vascular tissue in the retina and iris.
2) Akten® (lidocaine hydrochloride ophthalmic gel): Akten® is a local anesthetic indicated for ocular surface anesthesia during ophthalmological procedures. In other words: A solution to prevent pain/sensation during eye procedures.
3) Latanoprost Ophthalmic Solution: Used to treat high pressure inside the eye due to glaucoma (open angle type) or other eye diseases like ocular hypertension. Latanoprost is a generic of Pfizer's Xalatan®. The annual sales of Xalatan® were about $1.6 billion. Mylan Inc. also produces a similar generic.
Thereatears®:
Acquired from Advanced Vision Research, the Thereatears® brand name allowed Akorn to penetrate the OTC consumer product category of the world wide ophthalmology market. Akorn introduced ten private-label eye care products that compare to leading brands in the dry-eye and eye-allergy category. Additionally, Akorn introduced a new allergy product called Thereatears® Eye Itch Relief. Since the spring of 2012, Akorn has leveraged its existing relationships with food, drug, and mass merchandise retailers in order to expand the companies store brand business. These OTC products are sold through major chain drug stores, big box retailers, as well as directly to optometrists, ophthalmologists, and other eye care practitioners/clinics.
Hospital Drugs & Injectables: Sales of diagnostic and therapeutic injectables and other hospital drugs, as well as biologics & vaccines.
Akorn Inc. markets a line of niche hospital drugs and injectable pharmaceutical products, including antibiotics, anti-infectives, controlled substances for pain management, anesthesia, and other selected pharmaceutical products. Akorn also markets Td vaccine (Tetanus) from time to time (due to the profitability of vaccines during drug shortages). This segment of products is predominantly sold to hospitals through the wholesale distribution channel. For the year 2012, hospital drugs & injectables represented 40.51% of Akorn's total revenue. Nembutal® is one of the top selling products in this segment.
Nembutal®: Part of a drug group known as barbiturates, Nembutal® is used as a parenteral sedative, short-term hypnotic (treatment of insomnia), preanesthetic and anticonvulsant (for emergency control of certain acute convulsive episodes).
"New" Products:
1) Adenosine Injection, USP: Generic form of Adenocard® (Astellas Inc.). This product is indicated for the treatment of irregular/rapid heartbeat (restores normal sinus rhythm in patients with paroxysmal supraventricular tachycardia "PSVT"). An example of use: Wolff-Parkinson-White syndrome. Adenocard® (the branded equivalent) has shown to restore normal sinus rhythm in 93.4 % of cases (Astellas website).
2) Clindamycin in 5% Dextrose Injection (in 3 different doses): Clindamycin is a generic equivalent to Pfizer's Cleocin Phosphate®. Clindamycin is indicated for the treatment of serious infections caused by susceptible strains of bacteria. "According to IMS Health, US sales for the branded version of clindamycin in 5% dextrose were USD 52.2 million for the 12 months ending in December 2012" (Sandoz Inc. Website).
3) Dehydrated Alcohol Injection, USP: Indicated for therapeutic neurolysis of nerves or ganglia for often temporary relief of chronic pain. Such conditions include: inoperable cancer and trigeminal neuralgia (a condition which causes intense pain in the face).
4) HydrALAZINE Hydrochloride Injection, USP: Used to reduce hypertension (high blood pressure) when 1) cannot be given orally or 2) when there is an urgent need; examples include: a hypertensive crisis, pre-eclampsia, and eclampsia (seizures and coma during pregnancy that are not preexisting or organic brain disorders).
5) Levofloxacin Injection, for Intravenous Use (20 mL & 30 mL): Levofloxacin is a generic form of Levaquin® by Ortho-McNeil-Janssen Pharmaceuticals, Inc. Indicated for the treatment of serious infections caused by susceptible strains of bacteria. "Levaquin® (the branded equivalent) is used to treat bacterial infections of the skin, sinuses, kidneys, bladder, or prostate. It is also used to treat bacterial infections that cause bronchitis or pneumonia, and to treat people who have been exposed to anthrax or plague" (drugs.com).
6) Pantoprazole Sodium for Injection: (Drug class: Proton Pump Inhibitor) A generic equivalent to Protonix IV. Indicated for the short term treatment (7-10 days) of Gastroesophageal Reflux Disease associated with a history of Erosive Esophagitis. In other words: A treatment for people who have had chronic acid reflux and now have significant damage to their esophagi. Other indications include: pathological hypersecretion including Zollinger-Ellison's syndrome, a rare condition where a tumor (often in the pancreas) causes increased production of gastric acid, eventually causing damage to the esophagus. Pfizer's Wyeth was producer of Protonix, in which achieved sales of $1.9 billion in 2007.
Contract Services: Sales of various drugs that are manufactured by Akorn for others to sell under their own brand names.
Contract manufacturing services only accounted for 8.85% of Akorn's total revenue for the year 2012. Akorn currently has some manufacturing contracts with NBZ Pharma Limited (India) in which sell Akorn manufactured products to India and other unregulated markets.
Financials, Sales and the Healthcare sector:
Selected Financial Information:
 

Three Months Ended (March 31,)

Q1 Report (GAAP)

2013 Q1

2012 Q1

(Values in thousands)

 
 

Revenue

$73,854.00

$51,717.00

Cost of sales

$34,709.00

$20,816.00

Gross Profit

$39,145.00

$30,901.00

 
 
 

Operating Income

$18,589.00

$7,662.00

Net Income

$10,842.00

$3,108.00

 
 
 

Net Income Per Share:

 
 

Basic

$0.11

$0.03

Diluted

$0.10

$0.03

 

Three Months Ended (June 30,)

Q2 Report (GAAP)

2013 Q2

2012 Q2

(Values in thousands)

 
 

Revenue

$77,012.00

$63,287.00

Cost of sales

$34,920.00

$27,560.00

Gross Profit

$42,092.00

$35,727.00

 
 
 

Operating Income

$22,251.00

$18,776.00

Net Income

$12,637.00

$9,706.00

 
 
 

Net Income Per Share:

 
 

Basic

$0.13

$0.10

Diluted

$0.11

$0.09
* Info from 2013 Q1 & Q2 Reports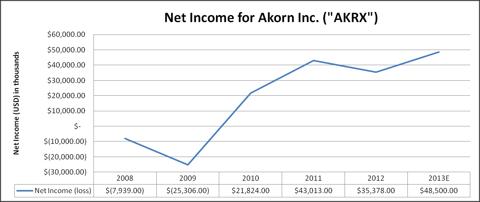 *Information retrieved from Akorn's annual share letters and recent Q2 announcement. (Values are GAAP)
Overview of Business Segments: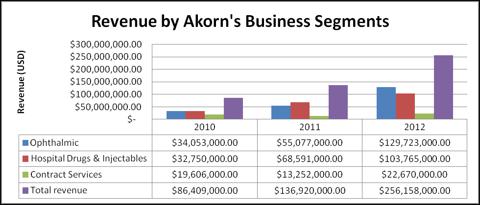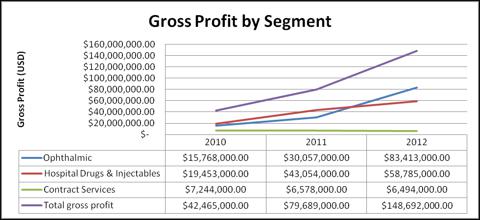 * Info retrieved from Akorn's 2012 annual report
Discussion: Over the years, the general trend not only indicates Akorn's total revenues significantly increasing, but their ophthalmic segment has grown to be Akorn's dominant business segment. One can assume that this will remain the general trend since Akorn wants ophthalmics to be their primary niche.
More Financials:
| | |
| --- | --- |
| Assets (Values in thousands) | 2013 Three Months Ended (June 30,) Q2 |
| CURRENT ASSETS: | (Unaudited) |
| Cash and cash equivalents | $58,412.00 |
| Trade accounts receivable, net | $57,707.00 |
| Inventories | $56,703.00 |
| Deferred taxes, current | $7,385.00 |
| Prepaid expenses and other | $4,836.00 |
| TOTAL CURRENT ASSETS | $185,043.00 |
|   |   |
| Total Assets | $390,248.00 |
| Total Current Liabilities | $39,151.00 |
| Total Long-Term Liabilities | $124,905.00 |
* Obtained from 2013 Q2 report
Sales Notes & Markets:
Latanoprost Ophthalmic Solution: Launched in third quarter of 2012, sales of Latanoprost were dismal due to manufacturing issues by third parties; resulting in a temporary delay of sales. Since then, Akorn has received the FDA ok to manufacture the drug themselves at their Somerset facility. Based on data obtained from IMS, Akorn reported to have 12% of the unit market share (at Q1).
Nembutal®: Sales of Nembutal increased by 14% for second quarter of 2013.
Key Distributors of Akorn's Products:
(From 2012 annual report)
 

2012

 

2011

 

Gross Sales

Net Revenue

Gross Accounts Receivable

 

Gross Sales

Net Revenue

Gross Accounts Receivable

AmerisourceBergen

19%

14%

29%

 

23%

23%

29%

Cardinal

23%

17%

30%

 

27%

25%

34%

KcKessson

16%

11%

14%

 

16%

15%

9%

Combined Total:

58%

42%

73%

 

66%

63%

72%
In 2012, 2011, and 2010 (not shown), a high percentage of Akorn's sales were to large wholesale drug distributors. None of these distributors are an end user of Akorn's products. Akorn reported in the 2012 annual report "that should sales of any one of these distributors diminish or cease, we believe that the end users would likely find little difficulty obtaining our products either directly from us or from another distributor. However, the loss of one or more distributors, together with a delay or inability to secure alternative distribution source for end users, could have material negative impact on revenue, business, financial condition, and results of operation." Akorn last reported that they considered their business relationships with these three distributors to be in good standing and that they have fee for services contracts with each of them.
ANDAs On file at FDA as of 2012 (has increased to 57 ANDAs since).
Below shows market sizes of ANDAs based on data from IMS;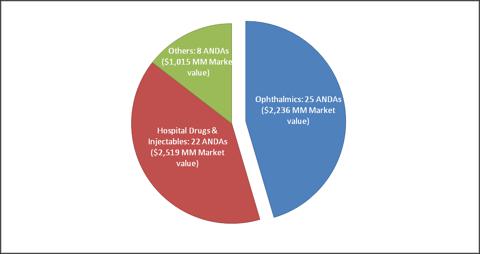 The above does not show future sales but it does show the size of the markets Akorn intends to enter.
Healthcare sector outlook:
In the last few years, the healthcare sector has been pressured to produce cheaper and more efficient products/services. The general trend is that generics drugs and biosimilars are gaining more and more ground due to their significantly cheaper costs. With an aging population and relatively recent political pressure, generic drugs and more efficient therapies will have the advantage in this transforming market. Overall, with many drugs going off patent and the pressure to reduce costs, the opportunities for generics and specialty drug companies are favorable.
The following table shows, by segment and current product status, the number and total IMS market size of products/ANDAs expected to launch each year for Akorn.
 
 
 
 
 
 
 
 
 
 
 
 
 

IMS Market Size of Expected Launch Products

 
 
 
 

Expected # of Products*

 

(in millions)**

 
 

Current

 
 
 
 
 
 
 
 
 
 
 
 

Segment

 

Product Status

 

2013

 

2014

 

2015

 

2013

 

2014

 

2015

 

Ophthalmic

Brand

 

0

 

2

 

2

 

$0

 

$235

 

$130

 

Generic

 

3

 

7

 

1

 

$120

 

$115

 

$0

Injectable

Brand

 

1

 

5

 

5

 

$70

 

$520

 

$280

 

Generic

 

2

 

1

 

2

 

$55

 

$40

 

$15

Other

Brand

 

0

 

2

 

0

 

$0

 

$415

 

$0

 

Generic

 

1

 

3

 

2

 

$5

 

$345

 

$695

Total

 
 
 

7

 

20

 

12

 

$250

 

$1,670

 

$1,120
*We have generally used a standard 30 months from filing date to determine launch timing of our pipeline products. Based on the guidance provided by the FDA, we should not expect GDUFA fees to yield a reduction in FDA review time until after 2015. Also note that we have excluded from our analysis products which are not yet filed, as well as filed products where the product patents extend beyond this forecast horizon.
**The IMS market size is based on the trailing 12 months ended September 30, 2012, excluding any trade and customary allowances and discounts. The IMS market size is not a forecast of Akorn's future sales of the applicable products.
*Data above obtained from businesswire.com*
Notes: Data aids in projecting sales based on overall market sizes. This chart is used in models in this report. The models assume a 10% revenue capture from overall IMS market value for each segment.
Models and Price Targets:
| | | | | | |
| --- | --- | --- | --- | --- | --- |
| Core Business Growth |   | GR | 2013E | 2014E | 2015E |
|   | low | 19% | $ 305,000,000.00 | $ 362,950,000.00 | $ 431,919,000.00 |
| Total Revenue from Core Segments | mid | 21% | $ 310,000,000.00 | $ 375,100,000.00 | $ 453,871,000.00 |
|   | high | 23% | $ 315,000,000.00 | $ 387,450,000.00 | $ 476,563,000.00 |
 
 

2010

2011

2012

2013E

2014E

2015E

Ophthalmic

 

$34,053,000.00

$55,077,000.00

$129,723,000.00

 
 
 

Hospital Drugs & Injectables

 

$32,750,000.00

$68,591,000.00

$103,765,000.00

 
 
 

Others

 
 
 
 
 
 
 

Contract Services

 

$19,606,000.00

$13,252,000.00

$22,670,000.00

 
 
 

Total revenue

 

$86,409,000.00

$136,920,000.00

$256,158,000.00

$310,000,000.00

 
 
 
 
 
 
 
 
 
 

Ophthalmic

 
 
 
 

New 2014 Business -->

8% CAGR after 2014

$35,000,000.00

$37,800,000.00

Hospital Drugs & Injectables

 
 
 
 

$56,000,000.00

$60,500,000.00

Others

 
 
 
 
 

$76,000,000.00

$82,000,000.00

 
 
 
 
 
 
 
 

Ophthalmic

 
 
 
 
 

New 2015 Business -->

$13,000,000.00

Hospital Drugs & Injectables

 
 
 
 
 
 

$29,500,000.00

Others

 
 
 
 
 
 

$69,500,000.00

 
 
 
 
 
 
 
 

Total Revenues from New Business

 
 
 
 
 

$167,000,000.00

$292,300,000.00
 
 

2014E

2015E

TOTAL REVENUE -->

Low

$529,950,000.00

$724,219,000.00

Mid

$542,100,000.00

$746,171,000.00

High

$554,450,000.00

$768,863,000.00
Explanation:
1) The top chart assumes Akorn's "core" segments grow at a 19%, 21% or 23% CAGR (low, mid, or high) for the next two years. These "cores" imply Akorn's current business with ophthalmics, injectables, and contract manufacturing and excludes new future products (Top Chart).
2) The second chart is a model based on the chart obtained from Businesswire.com. The data obtained from Businesswire provides a range of the overall market size for various drugs. The chart above assumes that Akorn obtains all the applied ANDAs and captures 10% of the markets for each drug. Example: Based on the chart from Businesswire, the total expected IMS market size for the year 2014 is about $1.67 billion (model above assumes 10% market share of that total --> $167million total of new business for the year 2014). Following the year 2014, the New Business revenues grow at 8% CAGR (since "new business" implies added ANDAs revenue after FDA approval).
3) The final chart is the addition of the company's Core Business Revenue and New Business Revenue (Estimated).
Net Income Estimates:
 
 

2013E

2014E

2015E

GAAP Net Income (Ratio on Avg = 15.9 %)

$48,500,000.00

$86,193,000.00

$118,641,000.00
| | | | |
| --- | --- | --- | --- |
|   | 2013E | 2014E | 2015E |
| Net Income Per Share (Basic) | $ 0.50 | $ 0.88 | $ 1.21 |
| Number of shares (Basic) | 96,200,000 | 97,200,000 | 98,200,000 |
|   |   |   |   |
| Net Income Per Share (Fully Diluted) | $ 0.43 | $ 0.75 | $ 1.02 |
| Number of shares (Fully Diluted) | 112,000,000 | 114,000,000 | 116,000,000 |
* Net Incomes found by applying the 15.9 % ratio to the total revenues.
Price Targets:
Based on Price to Sales
| | | | |
| --- | --- | --- | --- |
|   | 2013E | 2014E | 2015E |
| Price to Sales x6 | $19.33 | $32.70 | $45.59 |
| Price to Sales x5 | $16.11 | $27.26 | $38.00 |
| Price to Sales x4 | $12.89 | $22.30 | $30.39 |
Discussion:
Akorn currently trades near a Price to Sales ratio of 5.5x. If Akorn trades with a 5.5 p/s till year end 2013, the price target/range would be near $17.72 per share ($310 million revenue for 2013). Akorn trades at roughly a Price to Earnings ratio of 39x TTM.
Akorn Share Price as of 8/18/13: $16.30
2013 Price target = $17.72 (8.7% Gain)
2014 Price Target = $27 (65.6% Gain)
2015 Price Target = $38 (133% Gain)
NOTE TO INVESTORS: 2013 is a relatively slow year for Akorn, the larger gains are estimated in/after 2014.
RISKS TO MODEL:
1) Model assumes approval of ALL ANDAs, should some of the ANDAs be denied, this will adversely affect the projected revenue.
2) Nembutal® sales are expected to increase, the recent 2013 Q2 report indicated increased sales of Nembutal®, should sales diminish (due to possible competition), this would cause projected revenue to decrease.
3) Akorn trades at both a relatively high Price to Sales and Price to Earnings ratio, these ratios were used to get an idea of future price targets for the stock price. Should Akorn be deemed overvalued to investors, this will reduce price targets.
4) Failure to manufacture products. The expected date for FDA decision for the India manufacturing facility is late 2015 or early 2016, should this facility be denied approval, the future beyond this point could be compromised (sell off probable due to manufacturing constraints expected by this time).
5) Litigation and the FDA. The model doesn't assume lawsuit or possible payoff to other parties nor does it assume the FDA pulling a significant number of drugs from Akorn's portfolio. The possibility of a "grandfathered" drug being pulled is high (non detrimental), but a major drug like Nembutal or another high revenue drug would reduce revenue projections.
6) The model does not assume a buyout.
Notes: Revenue past 2013 are estimates based on the information obtained from Businesswire, should ANDAs be responded to later than expected, this would change the predicted revenue for each year.
General Trends:
AKRX and S&P 500 (Yellow line) 1 Year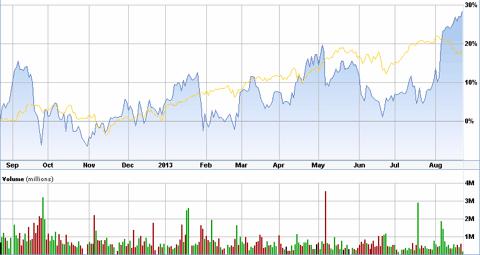 Notes: Over the last year, Akorn has shown to follow some general trends in the market. The long term trend is very different as seen below. The conclusion is that over the last year (since the stock has slowed down), the stock has followed relatively with the overall market. Once Akorn experiences further growth, the idea is that the stock will outperform by a larger margin. Should problems arise in the overall markets, this could influence Akorn's stock negatively.
AKRX and S&P 500 (Yellow line) 5 Years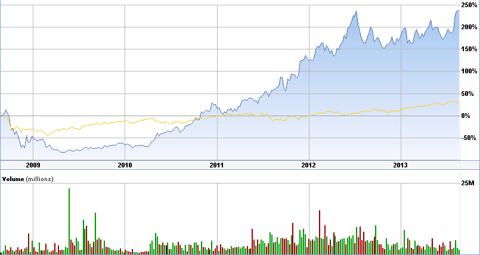 *Above stock charts taken from Etrade
Conclusions/Discussion:
Akorn, undoubtedly trades at a large P/E ratio, but the company is expected to grow significantly over the next few years. Since there is so much pressure to reduce healthcare costs, generics, and lower cost alternatives continue to experience growth. The generic pharmaceutical business is very competitive. Akorn competes with companies like Mylan, Allergan Pharmaceuticals, Novartis, Bausch & Lomb, and Apotex (to name a few). Despite the competition, Akorn has shown itself able to successfully grow its business and pipeline. With the help of highly experienced management, Akorn has grown into very profitable niche pharmaceutical company. Akorn has a healthy balance sheet with roughly more than $58 million in cash/cash equivalents and only $124 million in long term liabilities (2013 Q2). Along with a healthy balance sheet, Akorn has grown its revenue from $86 million in 2010 to more than $256 million in 2012 and is estimated to achieve $305 million to $315 million for 2013. Furthermore, with 57 ANDAs on file with the FDA and recently completed R&D facility in Vernon Hills (which was designed to accommodate 35-40 ANDA fillings per year), Akorn has positioned itself for continued revenue growth. Aside from future revenue growth, the India facilities are expected to receive USFDA approval in 2015/2016. The India facilities, with their increased production capacities and international ties, will further expand Akorn's global footprint and grow Akorn's business for 2016 and beyond. Subsequently, Akorn plans to increase sales in various regions around the world where the pharmaceutical spend is projected to grow double digits within the next few years, such as; the CIS countries, Middle East, Africa, and Latin America. If successful, these global expansions would provide further probability of significant revenue growth. Overall, Akorn, with its strong balance sheet, increasing revenues, dedicated R&D, competent leaders, healthy business relationships, and growing global footprint, is well positioned for growth for years to come.
Rating: BUY with a price target of $17.72 for 2013*
*As long as the overall markets hold up, the stock should reach this price target. This is because of the influence the overall market has on Akorn's stock over the past year. Furthermore, should the company report exceptionally high earnings, the overall market will have less and less influence on Akorn's stock going forward (assuming no major market fluctuations).
Personal Opinion:
Since Akorn's stock sometimes experiences volatility, buying with on a dollar cost averaging method might be the best way to maximize long term gains.
Final Note:
I address my opinions in this article and encourage readers to forge their own opinions before trading/investing. Price targets addressed in this article are estimates and nothing more. Readers should do their own research and estimates before executing any transactions. I do not receive compensation from any other party, except seeking alpha.
Disclosure: I am long AKRX. I wrote this article myself, and it expresses my own opinions. I am not receiving compensation for it (other than from Seeking Alpha). I have no business relationship with any company whose stock is mentioned in this article.