My local Starbucks (NASDAQ:SBUX) is always hounded. Whereas 10 years ago, I would have balked at a $2 drip coffee, today, I freely purchase one multiple times a week. Oh, and the brand in my Keurig - yeah, that's Starbucks too.
Unfortunately, I am late on the Starbucks bandwagon. Over the past 52 weeks, Starbucks has moved more than 46 percent higher, more than 2.5 times the S&P 500's gain of 18 percent. Much of that increase has come this year as the stock moved from the mid-$50s to an all-time high of $74.27. On Friday, it closed at $71.97 - 3 percent below that high. The median analyst target is $79.70, which would represent an 11 percent upside from the current price.
SBUX is valued with a forward price-to-earnings of 22.8 and a trailing P/E of 29.5, not particularly rich compared with competitors Dunkin' Brands (NASDAQ:DNKN) - at 23.8 - and Green Mountain Coffee (NASDAQ:GMCR) - also at 22.8. Despite the lower forward P/E, Starbucks has much less debt than Dunkin' and has been able to grow quarterly revenues twice as fast - 13.3 percent compared with 5.9 percent.
The below chart discusses Starbucks' 52-week performance. It is hard to not notice the two prior gap openings in the price following earnings reports (circled on the chart). The price opened substantially higher and then retraced all or part of the gap before moving to the upside once more. Interestingly, that mirrors current price action as well.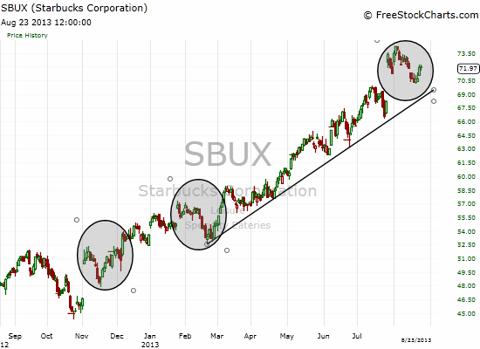 When looking at the chart, compared with these three factors, I believe Starbucks has the perfect recipe for success. Here are the three main reasons that it will continue to outperform the market: (1) strong revenue growth; (2) a strategic plan for the future; and (3) a management team that can implement.
Strong top-line growth. Recent earnings growth across companies in the market has been accompanied by a struggle to achieve revenue growth. Revenue growth in the S&P 500 this quarter is averaging at 1.7 percent, though revenue among consumer discretionary companies averaged gains of 7.1 percent. SBUX beat both of these numbers, gaining 13.3 percent in Q3 versus a year ago.

Strong top-line growth also contributes to profit growth in a much more sustainable way than cutting costs. SBUX profits grew 20 percent year-over-year, double the 10.7 percent average among consumer discretionary and substantially higher than the 4.1 percent among other S&P 500 companies.

International growth. Revenues in the Asia region gained by 30 percent in the most recent quarter, a result of the 500 new stores opened this year. And Starbucks has plans for China to become its largest non-U.S. market as the company doubles its locations from 700 to 1,500 by 2015.

And the potential in China is huge. Euromonitor reported that in 2012 an average Chinese person consumed just two cups of coffee a year - compared with 134 cups for the global average. As Starbucks expands more into teas, which encompass 54 percent of China's hot-drink market, it should be able to win customers and build a brand.

That international focus led the company to reshuffle its top executive team in May. Which leads me to my third point…

Management - specifically, Howard Schultz. Howard Schultz is a visionary. And, around him, I believe that Starbucks has one of the best management teams of any public company. In fact, in 2012, Fast Company named Starbucks as one of the 50 most innovative companies - right up there with top-tier tech companies, and one of three food and beverage companies on the list (Chipotle and Chobani were the others).

As Fast Company describes, Schultz empowers employees to create new products - Via, La Boulange, salads and lunch products - that can win new customers, instead of just adding new flavors and brands to current products. Starbucks' management has learned from its failed attempt to expand too quickly and instead of trying to sell the same amount of stuff at more stores, it is working to sell more and more stuff at the same number of stores. That is a winning strategy, and as long as Schultz is directing it, the company is in good hands.
I expect Starbucks to continue to outperform the S&P, with a share price that will eventually top $100, as the company continues international expansion and accelerates plans to become a larger source for food options.
However, with uncertainty looming regarding the path of the Federal Reserve's tapering, now is the time to take a measured approach to entering equity positions. I would favor entering one-third of a position at current levels, with another third entered on 5 percent pullbacks.
Disclosure: I have no positions in any stocks mentioned, and no plans to initiate any positions within the next 72 hours. I wrote this article myself, and it expresses my own opinions. I am not receiving compensation for it (other than from Seeking Alpha). I have no business relationship with any company whose stock is mentioned in this article.