Profile
Ares Commercial Real Estate Corporation (NYSE:ACRE), a specialty finance company, originates, invests in, and manages middle-market commercial real estate loans and other commercial real estate investments. The company''s investments include transitional senior mortgage loans, stretch senior mortgage loans, subordinate debt mortgage loans, such as B-notes and mezzanine loans, and other CRE debt and preferred equity investments. The company has a market cap around $330 million and was founded in 2011 with its headquarters in Chicago.
Thesis
Income investors have seen principal fall in the wake of the Federal Reserve's comments about tapering. ACRE provides investors the ability to get a yield of 8%, which is likely to increase with rates going forward. The ability for ACRE to raise its dividend in a rising rate environment will mean investors will be able to protect their principal.
Multifamily Market
More than 62% of ACRE's portfolio is in multifamily lending. Given that the substantial amount of the income stream is dependent on the stability of this sector, it's important to see what the future is like for the multifamily market.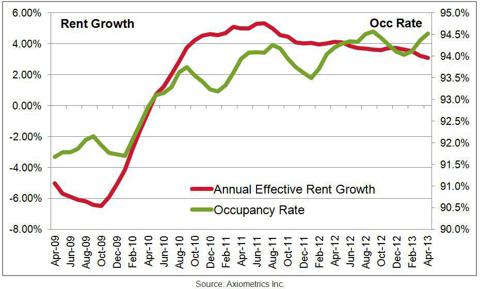 Occupancy rates have been on the rise and are near 94.5%. Rent growth is still rising even though the rate has steadily slowed over the last two years. The fundamentals are still very strong and there is no clear sign of any fall in market.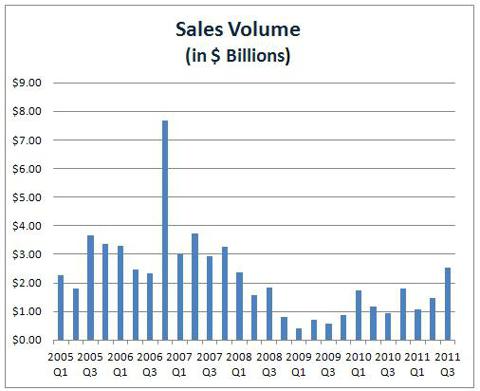 Four of ACRE's properties are multifamily buildings located in New York City. As you can see from the above chart, New York City transaction volume is seeing a nice and consistent rise. In Q3 2011, $2.5 billion in multifamily properties were sold in NYC.
This data is important to look at because ACRE is in the business of lending money to properties. If transaction volume is high, it means that ACRE has more room to do business and the ability to go after the right transactions.
A Dilution Heard Around The World
One of the most concerning events with ACRE was a recent dilution that took place. ACRE issued 18 million in new shares and received net proceeds of $243 million. The new shares were underwritten at $13.50.

When ACRE issued shares at $13.50, it was extremely disappointing. This is because the stock was a $1.50 higher than the new offering price. Normally, when there are secondary public offerings, a discount is typical, but a discount of 9% is steep given the new issuance took place under book value.

The new offering happened at a P/B of less than 1. I'm not a fan of a company that does this. However, there are some positives that have come out of this offering.
Insiders purchased 9% of the new offering which should help calm investors. I believe management was in a hurry to do an offering because there seems to be a great amount of potential for growth.
ACRE netted about $242 million in proceeds from this offering. Well they have already closed $267 million in new loan commitments about 40 days after the offering. So as you can see, the company is clearly on a strong path for growth.
Now investors may be concerned and wondering about the likelihood of another offering. I believe the chances of a new offering are extremely low because of its credit lines with Wells Fargo, Citigroup and Capital One. The total credit lines for all three banks were increased a $150 million to $450 million. Between the cash and credit lines, ACRE still has around a $180 million it can use for new investments.
So there is plenty of cash still available to use. The other important piece is that the weighted average life of the portfolio is about 2.5 years. So there will be some paydown of the portfolio going forward. This will free up some capital that the company will need to redeploy. So while the new offering might concern investors, they should take comfort knowing that the financial position of ACRE is so strong, another offering is not likely.
Rising Rates And Dividends
As most income investors might know, the Fed's recent comments about tapering means that rates are likely to rise soon. Fixed-income investments are likely to take a hit as investors will now require a higher return. This means that the value of these investments has to fall.
The great thing about ACRE is that most of its investments are all floating. In fact 97% of the remaining principal is floating over 1-month LIBOR. If we look at the three bank facilities, the rates are LIBOR with spreads ranging from 200 bps to 350 bps.
The weighted average yield is 6.8% between both the senior and subordinated debt. So there is a very nice spread that exists given where LIBOR rates are.
The business model for ACRE is simple ... borrow money at a cheap floating rate and lend at a higher floating rate. This model allows ACRE to hedge itself against a rate rise as it can essentially protect its spread on its investments.
Also remember that ACRE is a REIT and therefore must distribute 90% of its taxable income to investors. This is a great investment because all the potential growth and interest spread will be realized by common investors.
The stock now has a yield of 8%. So not only are investors getting an incredible yield, but it is protected by the LIBOR floating spreads. In addition to this, there is plenty of upside in dividend growth due to the additional $180 million that can be used for new investments.
Valuation
As of the most recent quarter, ACRE had a book value of $14.50 per share. The stock is trading at a P/B of .86. Normally when I see stocks trading under book value it is because the market is concerned about the future of the company. Well I just don't believe this to be the case. ACRE now has record originations with an increased line of credit for further investments. The company is not going to be experiencing any issues with rising rates given its entire portfolio is nearly floating.
ACRE is planning significant growth by increasing its direct sales team through the acquisition of Alliant. ACRE will now be able to grow its transaction volume significantly and also be able to focus on the right deals. Alliant has originated $6 billion in more than 1,000 loans. So the acquisition is a very attractive one for ACRE and should put the company on a strong growth path.
These characteristics are incredibly attractive and with a P/B of .86, investors can buy a terrific growth company with an 8% dividend. We are at a critical time when grabbing yield is difficult given the future of rates. ACRE is a fantastic hedge against the future of rising rates.
Disclosure: I have no positions in any stocks mentioned, but may initiate a long position in ACRE over the next 72 hours. I wrote this article myself, and it expresses my own opinions. I am not receiving compensation for it (other than from Seeking Alpha). I have no business relationship with any company whose stock is mentioned in this article.