Recently a reader on Seeking Alpha had expressed concerns over Advanced Micro Devices' (NASDAQ:AMD) approaching debt. There was an article published on Seeking Alpha at the beginning of the year in which debt was also a hotly debated topic, but part of the debate revolved around data from a popular website which I believe has incorrect amounts of debt listed.
In my opinion AMD's debt is one of the biggest weights on the stock price. I also feel the debt is the greatest risk to shareholders. That being said I have remained long AMD, realizing that I'm trading safety for higher potential ROI.
This is the due diligence I have done regarding the debt that I would like to share.
Approaching Debt
From AMD's 2012 Annual Report:

From Morningstar: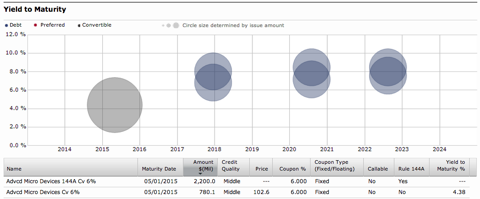 Comparing the data between Morningstar and AMD's 2012 10-K reveals a ~$2.4B discrepancy. The size of this discrepancy is larger than AMD's total outstanding bond debt. Looking through previous press releases, it seems there was only one bond offering in April of 2007 for $2.2B, not two. The 2012 10-K lists the bond debt in 2015 at $555M (see pages 65 and 96).
$555M is still a decent amount, but it is much less crushing than the ~$3B I believe Morningstar incorrectly shows. Given the due date of May 2015, this means AMD would have to profit ~$70M per quarter between now and then to raise the necessary capital without having to touch cash reserves. As Mr. Read stated during the last conference call, AMD is expected to return to profitability at the midpoint of guidance this quarter. As stated in my previous article, I'm not as concerned with Q3 provided no major negative news comes out during the conference call, but instead I'm looking at Q4 as shaping up to be more of an indicator of AMD's chances going forward.
Larger Companies Depend on AMD
According to GeekWire, Microsoft (NASDAQ:MSFT) has shipped around 78M Xbox 360s, whereas Sony (NYSE:SNE) has managed to ship 80M PS3s. Using a rough ASP of ~$250 for each of the consoles, this represents about $40B in console sales since the outgoing generation of consoles have launched (excluding the Nintendo Wii and Wii U, which also feature AMD graphics IP).
Once in awhile buyout rumors surface regarding AMD. Personally as a shareholder I feel that a buyout would not be in my best interest, but given AMD's ~$1B in cash vs $2B in debt and current market cap of just under $3B, I could see AMD as a potential target for either Microsoft or Sony. Samsung (OTC:SSNLF) would also make an interesting candidate. Samsung operates its own foundries, employs processors based both on ARM and x86 ISAs, and has a healthy budget for R&D if it would like to use AMD's IP to create an SoC that could be used in competition against Apple (NASDAQ:AAPL).
This is all just my pure speculation, but I use it to illustrate the point that at AMD's current market cap and current financial situation, AMD could appear as an attractive buyout to many larger companies. For example, Microsoft's net income during the most recent quarter was ~$5B. Again, I personally do not want to see a buyout of AMD happen. I feel I stand to make more provided AMD is able to return to profitability.
What I feel is the most likely scenario if AMD needs to raise capital
If you follow the money backing AMD, you'll find The Mubadala Development Company.

Mubadala is a company owned by the government of Abu Dhabi that is "focused on the investment and development across multiple sectors" and "is an active investor in sectors and geographies that hold exciting potential and tangible returns..."
Mubadala also owns a subsidiary, the Advanced Technology Investment Company, or ATIC. ATIC owns Global Foundries in its entirety. Also noteworthy is the fact that Mubadala owns shares in AMD equaling a ~20% stake in the company.
In 2007, Mubadala purchased 49M shares of AMD at $12.70 a share. In 2009 when Global Foundries spun off from AMD, Mubadala also purchased another 58M shares for $125M, representing a share price of $2.15. Taking these two purchases into account (there are also warrants outstanding for an additional 35M shares), Mubadala owns 107M shares of AMD at an average share price of $7 per share. Mubadala also has 2 board seats at AMD.
With each stake Mubadala takes in AMD, it becomes one step closer to returning AMD into a vertical company, similar to Intel (NASDAQ:INTC), given that Mubadala owns Global Foundries through a subsidiary. According to their website, as of 2012 Mubadala's assets totaled just over $200B. I feel that in any worst case event the most likely scenario would be an attempt by Mubadala to take AMD private, which should buy me some time to get out without too much of a loss (or perhaps at a profit depending on the hypothetical buyout proposal). My current cost basis for AMD is around $3.40 a share.
Conclusion
As I feel AMD is still a speculative play, I closely monitor the investment and know where my walk away points are that should minimize my losses to acceptable levels. However I do feel there is money to be made here so I comfortably, but cautiously, remain long. In any worst case scenario I believe it is likely that the Mubadala could attempt to gain a larger stake in AMD, providing me the liquidity needed to get out of my position.
My articles regarding AMD are typically positive, but I wanted to share my thoughts on my overall exit strategy and the rationale behind it.
Lastly as an aside, on August 26th Microsoft will be presenting the Xbox One APU at the Hot Chips Symposium. AMD has also unveiled details for future architectures at Hot Chips in the years prior (although it looks like the presentations this year are on existing architectures), so this week we could see some interesting news as to the technological future of the company. At this point I'm most interested in the information surrounding the Xbox One APU.
Disclosure: I am long AMD, INTC. I wrote this article myself, and it expresses my own opinions. I am not receiving compensation for it (other than from Seeking Alpha). I have no business relationship with any company whose stock is mentioned in this article.
Additional disclosure: I actively trade my AMD and INTC positions. I may add or liquidate shares at anytime.