The goal of taking a short position in a security is to profit from the decline in value of that security. So, when there is a large amount of short interest, it is often wise to tread carefully before making an investment - if a lot of money is riding on a stock going down, it's probably with good reason.
However, in addition to a red flag, elevated short interest can also be an attractive quality in the right situations. In order to close out a short position on a stock the short seller must buy back shares to return to his lender, an act that itself drives demand, and therefore the share price, higher (just as it was driven lower at the time of the original short sale). If the share price of a shorted stock appreciates, the short seller may want to cover his position in order to avoid further losses. When a highly shorted stock undergoes rapid price appreciation, short sellers will buy shares back to avoid ever larger losses, causing further appreciation and more pain for any remaining shorts. This phenomenon is known as a short squeeze, and can be a catalyst for significant gains for those in a long position.
Below I highlight three companies' stocks that may be poised to benefit from their relatively high short interest. Each of these stocks has seen significant recent price appreciation while their short interest has declined, signaling that the shorts are on the losing side of momentum and setting the groundwork for near-term gains.
Navidea Biopharmaceuticals (NAVB)
Navidea is a small biopharmaceutical company with a market cap of $360M based in Dublin, Ohio, that specializes in the development of precision diagnostics products. This is a stock that I'm very familiar with, have written about previously, and am currently invested in. Despite an initial setback getting FDA approval for its flagship product, 2013 has been a fantastic year for the company in every way but for the share price: Its first product, Lymphoseek, eventually gained FDA approval and had its commercial debut last quarter, it secured a significant line of financing from Platinum Montaur, its largest shareholder, that will fund further development of its pipeline, and its Alzheimer's Disease diagnostic has garnered quite a bit of positive attention recently.
Navidea had 21.45M shares sold short, 18.3% of the float, as of July 31. While this is still relatively high, as the chart below shows, the short interest has been falling steadily since mid-April, which may indicate that the bears want out of their positions.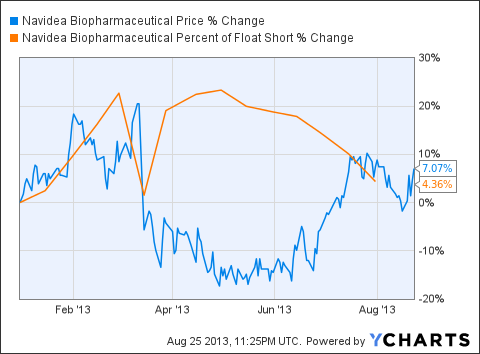 A note about the charts: like the blue line indicating the stock price, the orange line for the short float percent indicates its position relative to the beginning of the year. This is done solely so that the stock price and short float can be displayed on the same chart with the same units. Therefore, in the chart above the short percent of the float is not 4.36%, but rather 4.36% higher than it was at the year's start. The number of shares short and the percent of float short is always noted in the paragraph above the chart.
Invensense (INVN)
Invensense is a 1.49 B market cap company that designs and sells motion tracking devices, known as MEMS, for use in consumer electronic devices. The MEMS this San Jose, California, company makes typically end up in smartphones, tablets and gaming consoles, allowing them to react to the user's movements (eg. reorienting the screen when turning the device).
Invensense has great growth prospects as its revenue is strongly tied to mobile growth, but at a P/E of nearly 28, its valuation is quite high. This might explain the 14.55 M shares, or 19.5% of the float, sold short as of July 31. However, with YoY revenue growth of 42.6% reported this past quarter, rumors abounding of becoming a supplier to consumer tech giant Apple, and what appears to be favorable progress in its litigation proceedings with rival STMicroelectronics (NYSE:STM), INVN has a lot going right for it at this time.
The sharp decrease in the percent of the float short coincides with Invensense's latest quarterly report.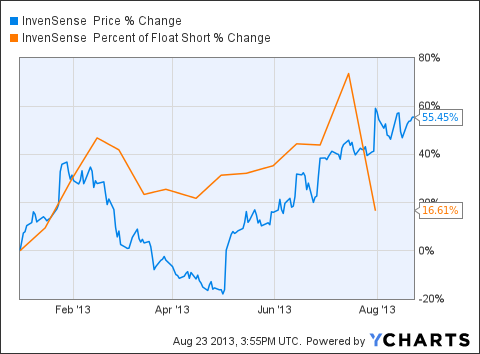 Terex Corp. (TEX)
Terex manufactures a wide variety of industrial machinery products, including cranes, aerial work platforms and construction and materials processing machinery. The company is based in Westport, Connecticut, and has a market cap 3.41 B.
Market conditions for Terex have been weak lately. The industrial sector is heavily cyclical and sensitive to prevailing economic conditions. The company makes more than 30% of its revenue from Europe, which is still struggling to recover from its financial crises. A surprisingly poor quarter reported from industrial giant Caterpillar (NYSE:CAT) earlier this year as well lowered revenue and earnings guidance issued by Terex in June probably also made the stock seem vulnerable.
Most of the economic reports lately have pointed to slowly improving conditions in Europe and domestically. Better economic conditions usually portend increased infrastructure and construction spending, which bodes well for Terex. The company also significantly beat its average analyst estimate for EPS in the latest quarter by $0.10 coming in at $0.65 per share.
As of July 31, Terex had the lowest percentage of shares shorted of the stocks mentioned here with 11% of the float, or 11.78M shares sold short. It appears that the stock bottomed shortly after the revised guidance was announced and the short interest has been on the decline since.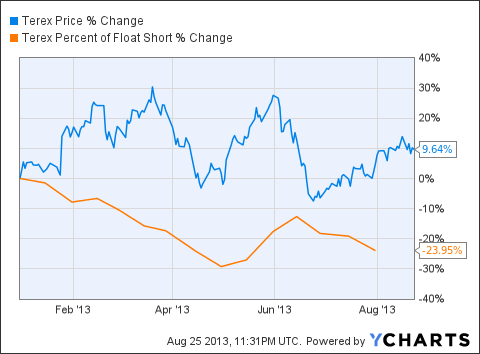 Conclusion
All three of these companies have recently seen their high short interests peak then fall accompanied by significant share price appreciation. I see this combination of trends is positive for the stocks in the near term as it puts greater pressure on remaining shorts to cover their positions, potentially resulting in further gains.
Those with established positions or looking to take positions in any of the stocks discussed should be very interested in the next set of short interest figures reported for mid August to see if the short interest is continuing to decline or the trend is reversing, as it could affect the price movement and momentum in the near term.
This article is by no means meant to be a thorough analysis of the stocks it discusses. Individuals should perform their own thorough due diligence before investing.
Disclosure: I am long NAVB, INVN. I wrote this article myself, and it expresses my own opinions. I am not receiving compensation for it (other than from Seeking Alpha). I have no business relationship with any company whose stock is mentioned in this article.
Additional disclosure: I have owned shares of NAVB since late 2012 and traded INVN most of the year.