Madison Square Garden (NASDAQ:MSG) presents an opportunity for investors to own a piece of a two major professional sports teams - the New York Knicks and Rangers. As Seeking Alpha writer Chris Katje suggests, "MSG is a pure play investment in the sports industry": rare to find in our public markets. Indeed, the majority of MSG's media segment earnings (and all of its Sports Segment) are related to the performance of the Knicks and Rangers. However, the company also owns important assets such as Fuse, a music television network, and boasts an Entertainment segment that puts on live shows like the "Radio City Christmas Spectacular."
MSG may primarily be a sports company, but this analysis will evaluate the stock by taking in consideration all its revenue streams in order to fully determine the firm's intrinsic value. This article will walk through each of the company's segments (Media, Sports and Entertainment) and perform a sum of the parts valuation of the stock.
MSG Media
The Media segment is MSG's largest by both revenue and operating profit. It includes the regional cable sports network, MSG Networks, and Fuse, a multi-platform network dedicated to music.
MSG networks has three channels: MSG, MSG HD and MSG+ which broadcast Knicks, Rangers and Liberty games and other New York area teams including the Islanders, Devils & Sabres (NHL) and the New York Red Bull (Major League Soccer). College sports and other original programming are available to the 8+ million subscribers, most of which live in the NY, NJ, CT tri-state area.
Fuse reaches audiences through a subscription TV channel as well as mobile, online and YouTube. Currently, Fuse has 53 million viewing subscribers and is available in 31 million homes. Competing against music titan MTV (NYSE:VIA), Fuse has built relationships with popular artists to deliver programming that includes shows like "Top 20 Countdown" and used to produce a late night program hosted by Cee Lo Green.
The MSG Media segment EBITDA totaled $342 million for the last fiscal year, ending June 30, 2013. Applying a fairly conservative EV/EBITDA multiple of 10.5 that is consistent with similar media/entertainment companies, I estimate a segment enterprise value of about $3.6 billion.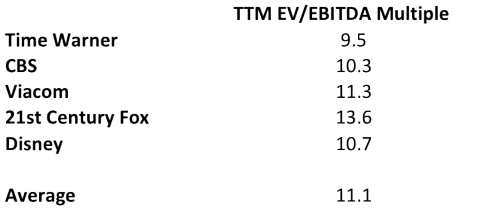 Is this $3.6 billion price tag reasonable? Given the precedent transactions in the regional sports network and cable space, I believe it is.
MSG's primary competitor in the New York City Area, the YES Network, was recently valued at $3 billion when News Corp (NASDAQ:NWS) acquired a 49% stake in the YES Network. At that time, YES had 11.8 million subscribers and charged $2.99 per month. Currently, MSG (along with MSG+) has 8.2 million subscribers and charges $4.91 per month. While YES is the most watched regional sports network, SNL Kagan estimates that MSG actually generates a bit more revenue than YES does.
Turning to Fuse Network, let's compare Fuse to Bravo and Oxygen, two networks that have been acquired by NBC Universal (NASDAQ:CMCSA).

Not only does Fuse generate lower subscription fees per month, but it also has a smaller household reach than Bravo and Oxygen did when they were acquired. Furthermore, Fuse's ratings are nowhere close to either of the two networks. It's unlikely that Fuse would fetch the $1 billion that Oxygen did on the open market, but a $500 million valuation seems reasonable.
With MSG's estimated value at around $3 billion based on YES Network's valuation and Fuse's $500 million price tag based on comparisons to previous sales of the Oxygen and Bravo networks, the $3.6 billion valuation produced by the EV/EBITDA multiple passes an initial sniff test.
MSG Sports
Accounting for 35% of the company's total revenue, MSG Sports owns and operates several professional franchises, headlined by the New York Knicks and Rangers. Other assets include the WNBA's New York Liberty and the Connecticut Whale, the Rangers' minor league affiliate. The division also produces and promotes live boxing and college basketball games.
Valuating a sports franchise is no easy task. As franchise valuation expert Joe McNulty explained at MIT Sloan's Sports Analytics Conference explained, "If you had four valuations performed by the four Big 4 accounting firms, all four valuations would come out different."
Perhaps traditional valuation methods are inappropriate for franchises, however. From Shahid Kahn, who paid $760 million for the Jacksonville Jaguars, to a Magic Johnson-led ownership group who shelled out a record $2 billion for the Los Angeles Dodgers, the ultra rich have demonstrated that they are willing to pay great premiums to own a sports franchise. After all, a professional sports franchise is the ultimate play toy. And when these teams are treated as entertainment rather than business, you can throw any rational valuation methods out the window.
In this analysis, I use Forbes magazine's valuations of the Knicks and Rangers as a starting point. As detailed below, the Knicks are Forbes' most valuable NBA franchise, at $1.1 billion. The Rangers are worth $754 million, the second most valuable NHL squad. The current renovations at Madison Square Garden (the arena), which started in 2011, and will cost about $980 billion, have increased the value of the two franchises significantly. With new executive suites and improved amenities for both fans and players, those investments certainly boost the value.
Forbes incorporates each team's local media deals in their valuations, as TV and radio deals are major revenue sources for many franchises-especially the ones in New York City. This media value is captured in a bucket the magazine calls "Market." For the purpose of valuating MSG as a whole, I adjust Forbes' figures to account for the fact that both Knicks and Rangers games are televised on MSG Networks, which is part of the company's Media segment. Not doing so would result in double-counting this value. The Knicks generate about 49% of their media revenue locally, while the Rangers are at 70%- I discounted the Forbes "Market" valuations by those percentages, respectively.
The result is a valuation of the Knicks at $874 million (ex MSG media) and the Rangers at $501 million.
It is important to note that franchise value can be quite volatile. Given the nomadic nature of NBA players due to free agency, team valuations can swing wildly depending on whether or not teams can land a superstar. Certainly, having the right personnel makes a tremendous impact on team performance, as well as ticket and merchandise sales.
For example, the Knicks were "worth" around $500 to $600 million from 2005 to 2009, when the team did not make the playoffs in any of those seasons. Since 2010, Carmelo Anthony's arrival in the Big Apple has propelled the team into the postseason. And while the Knicks haven't had much success in NBA playoffs, the quality of the basketball product has improved significantly since Isaiah Thomas' tenure. Throw in "Linsanity" during 2012 and the stadium upgrades and the Knicks' value has almost doubled in just a few years. However, had New York won the Lebron James sweepstakes in the summer of 2010, we could be talking about a valuation closer to $1.5B or even more.
MSG Entertainment
The Entertainment business produces a diverse collection of concerts, shows and other live entertainment. Among the most well-known productions include the Radio City Christmas Spectacular, featuring the Rockettes. In addition, MSG hosts concerts by various artists from Prince to Phish to Justin Bieber in its venues, which includes The Garden as well as Radio City Music hall and the Chicago Theatre. In the past 12 months, the Entertainment segment accounted for almost 20% of revenues, but posted an operating loss.
There aren't many comparable pure-play companies that are publicly traded, but a match I found was Live Nation Entertainment (NYSE:LYV), which is a producer of live concerts events and owns many performance venues, just like MSG. Live Nation posted 2012 revenue of $5.9 billion while MSG Entertainment did just $252 million in sales (TTM). With negative EBITDA, I'll resort to using an EV/Revenue multiple. Live Nation rocks a 0.62 EV/Revenue multiple. Applying that same value for MSG Entertainment results in an enterprise value of $155 million.
Valuation Summary
Based on a sum of the parts valuation, I estimate MSG's total equity value to be around $4.1 billion.
Using an EV/EBITDA multiples comparison to other media companies, the Media segment's enterprise value totals $3.6 billion. The precedent transactions in the television network space are in line with the EV/EBITDA multiple valuation. I believe MSG Networks could fetch around $3 billion on the market and Fuse could do $500 million based on previous deals.
Employing an adjusted Forbes sports franchise valuation, I estimate the Knicks and Rangers to be worth about $1.4 billion. This excludes the value of both team's local media deals, which are attributed to the Media segment.
The Entertainment segment is valued at just over $150 million. The division has negative operating profit, so an EV/Revenue multiple was applied for this analysis.
Overall, the resulting valuation translates to a $54 share price based on the current shares outstanding. At market close on August 23, shares of the company were trading at $59.27, representing a slight premium to the fair value.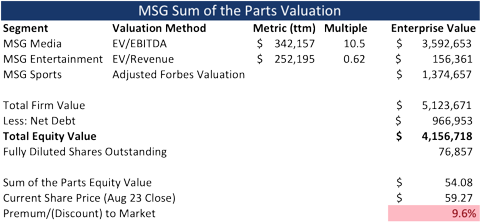 Conclusion
As management mentioned in the company's recent FY 2013 Q4 earnings call, there are plenty of reasons to be optimistic about MSG's future. After a few years of uncertainty, both the NHL and NBA have long-term labor agreements in place. Furthermore, the MSG regional sports network has established a stable fee revenue base that is only expected to expand. Management notes that they "now have the clearest path in front of [them] than in any other point since [their] spin-off from Cablevision in early 2010." With this stability, the company will turn its focus to finding opportunities to grow the business.
That being said, I believe the stock to be slightly overvalued at around $60/share. Should shares take a dip and reach the $45-$50 range, I believe it would be a solid buy.
Disclosure: I have no positions in any stocks mentioned, and no plans to initiate any positions within the next 72 hours. I wrote this article myself, and it expresses my own opinions. I am not receiving compensation for it (other than from Seeking Alpha). I have no business relationship with any company whose stock is mentioned in this article.