With the latest short data in for Sirius XM (NASDAQ:SIRI), it appears that nearly 11 million shares were covered by those holding short positions since the last reporting period. All in all that totals around $42 million worth of shares that were covered on these positions given the closing share price during the period.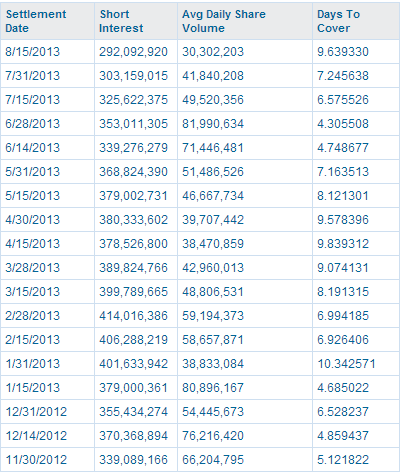 For those keeping score, it is always interesting to note the difference in share prices between data points and whether or not shorts had reasonable chance to profit, or whether it is possible that their short bets were misplaced. If you've been following through 2013, you'll notice in the table above that on a slowly increasing share price shorts have reduced their net positions and likely covered at a loss. The last reporting period is no different showing shorts covered 11 million shares at prices above where they could have covered previously.

Good for the longs. And this is what I have been stressing since 2012. Shorts in Sirius XM should have covered long ago and left for other opportunities. Once Liberty Media (LMCA) initiated the process of buying hundreds of millions of shares to go to control of Sirius XM, the writing was on the wall. Demand for shares would outstrip supply even with Sirius XM's excessive number of shares outstanding. On top of this, Sirius XM's announced $2 billion buyback coupled with a $0.05 dividend made being short Sirius XM even more risky. The cherry on top? Strength in auto sales driving large numbers of new gross and net subscriber additions to Sirius XM's ranks. That equals strong company performance in the background of all this buying activity.
And it doesn't stop there. Recent news from Sirius XM has flown under the wire a bit, but don't expect the street to ignore the potential implications of certain company actions for very long. Sirius XM's acquisition of Agero's connected vehicle unit as well as Sirius XM's initiation of its Service Lane program bode well for the future of the company.
I don't expect the story to change for the worse any time soon, and thus I will continue to plead with shorts. Please, for your own sake, cover now and exit your short positions. The right side of Sirius XM has been and will continue to be the long side going forward. Take lead from other shorts who have been covering at a reasonable pace, and shift your position to the long side. We'll leave a light on for you.
Disclosure: I am long SIRI. I wrote this article myself, and it expresses my own opinions. I am not receiving compensation for it (other than from Seeking Alpha). I have no business relationship with any company whose stock is mentioned in this article.
Additional disclosure: I am long SIRI January 2014 $2, $2.5, $3 and $3.5 calls.