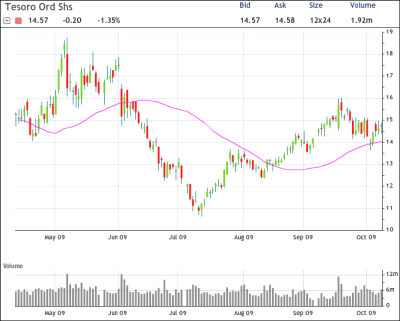 Tesoro (TSO) had a strong run between July and September, but now some traders seem to think that the oil refiner is running out of energy.

optionMONSTER's Depth Charge tracking system detected heavy buying of the November 14 puts, which traded 7,841 times against open interest of 1,212 contracts. Most of the big trades priced at $0.85.

TSO fell 1.35 percent to $14.57 in late morning trading. The stock rallied more than 40 percent between mid-July and mid-September, but is down 3 percent since then. It needs to lose another 9 percent by expiration for today's put buyers to turn a profit.

The company is scheduled to report earnings before the market opens on Nov. 9 and is holding an analyst meeting the following afternoon.

Puts account for about 96 percent of the total options activity in TSO today, which reflects a bearish tone.
(Chart courtesy of tradeMONSTER)